Cheer's Gabi Butler Defends Netflix Series After Viewer Backlash Against Parents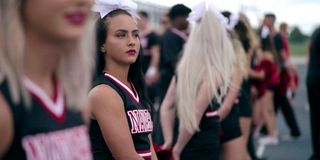 Viewers cheered for Navarro College's nationally-ranked cheerleading squad during and after binge-watching Netflix's six-episode docu-series Cheer. The hard-working team drew a lot of attention, but so did Gabi Butler's parents. Cheer didn't exactly paint them in the best light, leading to the pair getting a lot of online flak. However, Butler isn't holding any grudges and defended the Netflix series after the viewer backlash against her parents.
While on camera, Gabi Butler's parents fought, told her what to post on social media and when, and advised her to eat jackfruit instead of eggs so that she'd be able to go longer with eating. However, as with all docuseries, the context is sometimes left out, and Cheer director and producer Greg Whiteley explained in February that he owed Butler's parents an apology for the way he portrayed them in the Netflix show. Speaking with Metro.co.uk, Butler revealed she had zero hard feelings toward Whiteley. Here's what she said:
Greg Whiteley's guilt over his portrayal of Gabi Butler's parents aside, it sure sounds like the cheerleader was undeterred by what Whiteley showcased in the Netflix documentary. What's more, Butler seemed to understand that because a docu-series can only show so much, viewers were never going to get a "complete great reaction to everything."
While Gabi Butler's parents were critiqued for being overly controlling, the Navarro College cheerleader herself didn't see anything wrong with what they were doing. Butler also went on to defend the jackfruit scene, claiming that there was a lead-up to that conversation that wasn't included in the final cut of Cheer. As it turns out, Butler was just asking her mom Debbie for advice on how to tone up her body. It was only then that Debbie suggested eating jackfruit as an option.
Gabi Butler surmised that people overreacted to the scene and made it "into this huge thing" when there seemingly wasn't anything worth reacting to. The athlete was confident enough in her relationship with her parents to not allow any bad blood to form between her and Greg Whiteley over anyone's portrayal. It sounds like a no harm, no foul type of situation more than anything, at least for everyone beyond the parents.
That said, Gabi Butler shared some disappointment about one thing, though it had little to do directly with Netflix's Cheer or her parents. The Navarro College cheerleading squad was gearing up to compete in the National Cheerleaders Association Championship in Daytona Beach back in April. However, the championship was cancelled ahead of its April 8 kick-off due to the global health crisis. Butler was devastated since this was her last year on the squad. Still, here's hoping she finds a way to get involved with a second season if it happens.
All six episodes of Cheer are currently streaming on Netflix. For more on what to watch on the streaming service, be sure to check out our handy Netflix schedule.
Your Daily Blend of Entertainment News
Thank you for signing up to CinemaBlend. You will receive a verification email shortly.
There was a problem. Please refresh the page and try again.