Love Is Blind, The Circle And 9 Other Reality TV Shows On Netflix You Can't Help But Binge Watch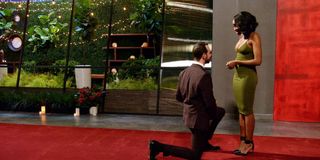 CinemaBlend is partnering with Tidal to bring you fresh content to stay in and stream with each day. We're also offering a free 30 day trial. You can sign up for the package with Tidal here.
Netflix is already one of the most popular streaming services in the world for its licensed and original content. With the addition of Love is Blind and The Circle, major networks should be even more worried now, because Netflix is coming for the reality TV shows crown too.
Netflix reality shows often spark conversations and trend on most major social media platforms. The streaming service knows a good thing when it acquires or creates it, so it recently renewed most of its hit reality TV shows, like The Circle and Love is Blind for multiple seasons. Netflix also renewed other popular reality programming, like Sparking Joy with Marie Kondo and Rhythm+ Flow, for second seasons. All of these series won't start streaming on Netflix until 2021, which makes now the perfect time to watch these series and other reality TV shows.
The Circle
The Circle is a combination of Big Brother and Catfish. It starts with eight original players moving into an apartment complex, where they'll stay isolated from each other. Their only way to communicate is through the Circle app. Some players play as themselves and others make up characters that they feel will gain them popularity. Every couple of days, new players are "blocked" (eliminated) from the Circle and new players take their spot. The object of the game is to have the other contestants vote you most popular and win the $100,000 prize.
The Circle is so addictive because we now live in a world ruled by social media and mobile devices. It's part of the norm to start some relationships and make friends first online before ever meeting in person. This makes the concept of the series plausible and enthralling. The Circle also is just an interesting show from a psychology and gamer point-of-view. How will these people use only their words to manipulate, gain trust, build bonds, and charm their way to the prize? It's the kind of series that may not sound thrilling on paper, but works so well in practice. Stream it HERE (opens in new tab).
Love is Blind
Love is Blind is a series about singles dating and falling in love only through communication. They are blocked off by a wall and only talk in pods. After their time in the pods, the singles can decide to leave the experience or explore their connections by becoming engaged. They then spend about a month together in the real world before deciding to go through with the wedding or not.
Love is Blind takes the messiness of The Bachelor but somehow makes it more messy? It's an interesting series because both cynics and romantics find something they can enjoy about the series. Romantics get to watch two strangers fall in love and then marry. Cynics get to watch a big train wreck if the couples realize they're incompatible and call off the wedding. Love is Blind reveals both the fairytale and nightmare of new relationships. Stream it HERE (opens in new tab).
Nailed It!
Nailed It is a competition reality series about ordinary people and occasional celebrities making cakes, but wait, there is more. These contestants aren't professional bakers nor are they amateur bakers like on The Great British Baking Series, instead sometimes these people are known kitchen disasters. They must try to recreate professional grade-cakes in a few hours.
Nicole Byer hosts Nailed It and brings enthusiasm and character to the series. Her infectious nature is made even better with the complete travesty of cakes created by the contestants. It's an enjoyable series because you're laughing with the contestants not at them. They know their cake sucks and they're enjoying the crazy process as much as you are enjoying watching it. Nailed It is definitely one of Netflix's best food reality shows. Stream it HERE (opens in new tab).
Ultimate Beastmaster
Ultimate Beastmaster is an international competition where athletes and everyday people compete in a series of obstacle challenges to win the title "Ultimate Beastmaster."
The series combines the obstacle course style of American Ninja Warrior with the country pride of the Olympics. Ultimate Beastmaster draws you in because of the personal stories of those competing and the skills the competitors show. These obstacle courses aren't easy, so it's thrilling watching contestants finish them with ease and confidence. By the end of each season, you have your favorites and truly care who takes home the title. Stream it HERE (opens in new tab).
Queer Eye
Queer Eye consists of life coach Karamo Brown, hairstylist and beauty guru Jonathan Van Ness, Chef Antoni Porowski, interior designer Bobby Berk, and fashion designer and stylist Tan France. These men travel around the world to help those in need revamp their lives. They give them a physical makeover but also help them overcome obstacles in their personal or professional lives.
Queer Eye is feel good TV because of its heartwarming stories and ability to make you curl up in a corner in cry. You'll end up binging Queer Eye because it is full of empowering stories and moments. It binds its sentimental stories with a bit of humor and life hacks in between. Stream it HERE (opens in new tab).
Chef's Table
Each episode of Chef's Table focuses on a different world-renowned chef and their journey. Over the course of Netflix's six volumes, the series has profiled at least 24 different chefs.
Chef's Table is a reality show and docu-series that showcases and humanizes these professional chefs. If you're a foodie or just a fan of cooking shows, then you may have heard or seen some of these people before, but not like this. Chef's Table offers an intimate look into the genius behind some of the world's most popular restaurants or famous foods. The series offers a fascinating portrait of each food artist. Stream it HERE (opens in new tab).
Storage Wars: Northern Treasures
Storage Wars: Northern Treasures is a series that follows different groups of storage hunters. These people go to public auctions for storage lockers and bid on them with the hope of finding treasures that they can sell.
Much of Storage Wars: Northern Treasures feels scripted, but the show is really a fascinating look at a very niche group of people. They spend all their time, energy, and resources traveling around looking for gold amidst junk. Despite the scripted feel, Storage Wars: Northern Treasures is oddly riveting. These people have made fortunes on something that most people wouldn't even consider. The series puts a big flashy microscope on a unique way of life and makes it thrilling. Netflix only has one season of the Canadian version of Storage Wars available, but we hope that they'll gain access to more seasons and versions soon. Stream it HERE (opens in new tab).
Cheer
Cheer follows the Navarro college cheer squad as they prepare for a big national competition. The series follows their head coach Monica Aldama, and specifically profiles some of the interesting characters and stars on the team, like Gabi Butler, Jerry Harris, La'Darius Marshall, and Lexi Brumback.
By Episode 2 of Cheer, you're completely enthralled in these athletes' stories. Jerry Harris's story is especially captivating. His spirit along with the rest of the team gets you invested in their success. Cheer has a bit of a love-hate relationship with Coach Monica. It paints her as this tough, perfectionist coach who pushes her cheerleaders to extremes, but she is also shown as this compassionate mother figure who pushes them because she cares. It's nice to see a reality program show human duality. Cheer makes you root for Navarro college all the way to the end. Stream it HERE (opens in new tab).
The Rap Game
Jermaine Dupri acts as mentor on The Rap Game, a series about aspiring rappers whose ages range from 12 to 18. These rappers compete in weekly challenges to increase their spots in weekly rankings. The first few seasons, Jermaine Dupri didn't eliminate anyone. The ranking just helped to increase contestants' odds of winning the grand prize. Dupri also used them to build tension and competition among the contestants and their parents. He changes this format by Season 5 with eliminations spontaneously happening all season. At the end of the competition, Dupri picks someone to sign to his label.
The Rap Game is an interesting music competition series because it feels like the underrated gem Making the Band, but without the hilarious hijinks of P-Diddy. The Rap Game is part lifestyle reality and part competition reality TV. The series also works as a case study in the making of a child star, and the ways the music industry pushes kids to grow up in order to achieve their dreams. Stream it HERE (opens in new tab).
Rhythm + Flow
Rhythm + Flow is a series that follows up and coming rappers as they go from the audition process to weekly challenges. T.I, Chance the Rapper, and Cardi B are judges on this reality series.
Rhythm + Flow is a great series to watch for those interested in the hip-hop industry. This show puts heavy emphasis on the artists being true to their identity and original material, unlike many reality singing competitions that focus on how well the artists can cover other's music and fit into the industry standards. Rhythm + Flow also nicely balances showcasing the colorful judges without overshadowing the charismatic contestants. Stream it HERE (opens in new tab).
Billy On The Street
Billy on the Street is a reality TV show that consists of mini-segments hosted by Billy Eichner. His segments usually revolve around him roaming around New York City asking residents questions. Most of the questions are nonsensical but always hilarious.
Billy on the Street is a reaction-based reality TV show, which means most of the comedy comes from Billy Eichner and the New Yorkers responses to his games and questions. Eichner is a master at developing instant witty responses. He feeds off the energy of New Yorkers and the result is golden. Stream it HERE (opens in new tab).
Love is Blind and The Circle have proven that Netflix has a unique perspective and enough freedom to test out unusual but compelling concepts. We cannot wait to see what Netflix comes up with next.
Your Daily Blend of Entertainment News
Spent most of my life in various parts of Illinois, including attending college in Evanston. I have been a life long lover of pop culture, especially television, turned that passion into writing about all things entertainment related. When I'm not writing about pop culture, I can be found channeling Gordon Ramsay by kicking people out the kitchen.
Your Daily Blend of Entertainment News
Thank you for signing up to CinemaBlend. You will receive a verification email shortly.
There was a problem. Please refresh the page and try again.