Whoa, Brooklyn Nine-Nine's Writers Apparently Threw Away All Their Season 8 Scripts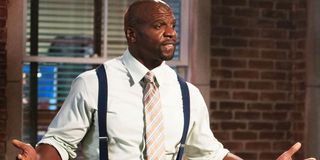 Brooklyn Nine-Nine was renewed for Season 8 back in 2019, and the writers were already in the midst of penning episodes for the season. However, following the deaths of George Floyd, Breonna Taylor and others, the Black Lives Matter movement and thousands of other protesters have decried police brutality, with much attention brought to how cops are stereotypically portrayed in the media. Brooklyn Nine-Nine, even as a silly comedy, has not evaded such criticism. Now, it seems the show's writers are moving forward with some changes and the first step was to throw away all of their Season 8 scripts.
Terry Crews previously revealed that the Brooklyn Nine-Nine cast, along with showrunner Dan Goor and the writing team, got on a Zoom call for an important discussion about current events. At the time, Crews mentioned that the NBC sitcom would be tackling the issues of racism and police brutality in Season 8, though it was still unclear how the show's writers planned on taking on these topics. Crews recently explained that part of readjusting the show to address these issues meant having to start the creative process from scratch. Here's what he told Access Daily:
What that will mean for Brooklyn Nine-Nine in Season 8, and how these "somber talks" with the cast and writers will translate onscreen, remains to be seen. But the fact that such a distinct change is happening at all is a step in the right direction for the fan-favorite comedy.
Terry Crews went on to discuss his own experiences with cops, having had a gun pointed at his head despite the police having "the wrong guy" in that situation. Crews said that Black people have always known these kinds of incidents were happening, but that "now white people are understanding." That said, the actor believes that throwing out previous Season 8 scripts and starting anew will be a good opportunity for Brooklyn Nine-Nine to dig deeper.
Elsewhere, unscripted shows like A&E's long-running Live PD and Paramounts' Cops were cancelled, while the Season 2 premiere of the Bad Boys spinoff L.A.'s Finest was postponed. There are still a vast number of cop shows on the air, from SVU to Chicago P.D. to The Rookie, and there's no telling what the TV landscape will look like and what other changes might be happening when Fall TV rolls around.
Brooklyn Nine-Nine does not yet have a Season 8 premiere date scheduled on NBC, but stay tuned to CinemaBlend for updates. For more on what to watch in the meantime, be sure to check out our 2020 summer TV premiere guide.
Your Daily Blend of Entertainment News