Watchmen's Regina King Explains The Only Way She'd Return For A Season 2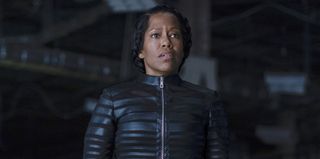 Watchmen Season 1 told such a powerful and relevant story and as a result, received critical acclaim at the time of its release last year. HBO even made all nine episodes free to watch online and on demand during the weekend of June 19. The series, which is based on the graphic novel by Alan Moore, may have come full circle, but it ended on an ambiguous note that left many wondering whether there would be a second season. Recently, series star Regina King explained why there was only one way that she'd ever return for a potential Season 2 of Watchmen.
Watchmen's Season 1finale saw Regina King's Angela ingest the egg left behind by Doctor Manhattan. With one foot hovering over the water, viewers waited with baited breath to find out whether she'd inherited Doctor Manhattan's powers only for the credits to roll. Speaking with Reese Witherspoon in an interview for Variety's Actors on Actors, King was asked whether she would return for a Season 2 of Watchmen. Here's what she said:
Regina King went on to say that reading the pilot of Watchmen blew her away because it included so many "historical things that actually happened" and were made central to the HBO show. What's more, she described Damon Lindelof as a "great collaborator," so it's pretty easy to understand why the actress wouldn't return for a Season 2 if he wasn't involved.
To be sure, Damon Lindelof has made it clear that he's not really interested in returning for Season 2 of Watchmen. The showrunner explained how the series was only designed for one season and that he'd set out to tell the story he wanted to tell. If there's no chance of Lindelof coming back to helm another season, then it seems we already have the answer as to whether Regina King will be involved.
Personally, Watchmen was a beautifully contained nine-episode story and just because it had an ambiguous ending doesn't mean it should have a second season. Whether or not Angela absorbed Doctor Manhattan's powers is something that will likely be debated for some time, but it was such a perfect ending that there's seemingly no way Season 2 could ever live up to its legacy.
All nine episodes of Watchmen are currently available to stream on HBO Max and HBO Now. The series has also been released on Blu-ray and DVD if you're not up for streaming at all (or don't have HBO). For more on what to watch in the coming months, be sure to check out our 2020 summer TV premiere schedule.
Your Daily Blend of Entertainment News