Looks Like Watchmen Season 2 Probably Won't Be Happening At HBO After All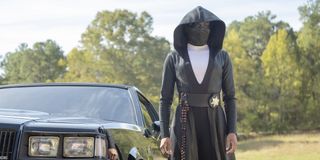 Damon Lindelof's TV adaptation of Watchmen was much different than its movie counterpart, but it stood out on its own despite it picking up at a different time from Alan Moore's beloved graphic novel. After the show aired its season finale, it left many wondering about the future of the series and whether it could come back for Season 2. However, despite what seemed to be possible, it looks like Watchmen Season 2 won't be happening at HBO, after all.
Though Watchmen's Damon Lindelof has "given my blessing" for HBO to carry on the series without him, he told USA Today that he's not interested in coming back for a second season. While HBO president Casey Bloys said it's "hard to imagine" doing the show without him and his creative vision, Lindelof made it clear that he already told the story he wanted to tell. So, if HBO still wants to do a Season 2, it's still technically possible, it would just be without Lindelof's input.
While the future of Watchmen seemed to hinge on Damon Lindelof's involvement, Casey Bloys said the show could morph into an anthology series, like FX's American Horror Story or HBO's very own True Detective, rather than picking up where Season 1 left off. Here's what he also recently had to say about the possibility:
In just eight episodes, Watchmen made a major impact. The critically-acclaimed series reimagined its source material to reflect present day issues, even though it left out graphic novel characters like Nite-Owl II. Knowing the way the series wrapped up Regina King's Sister Night story arc makes it hard to imagine the existence of a Season 2 that followed what we got. Now, given Lindelof is a "no," an anthology might be the next best option if the show were to continue.
While it was unclear whether or not Watchmen should be considered a regular drama series or a limited series with regards to the Emmys, Damon Lindelof stepping away from the show makes the answer much clearer. It's still up to HBO, and not Lindelof, to decide whether the network wants to pursue another round at all. If not, I suppose HBO'd just have to submit Watchmen in the limited series category instead and that's OK. Previously, Casey Bloys told THR that Watchmen's Emmy submission ultimately depends on Damon Lindelof's plans for the show, but that's no longer the case.
Watchmen, which landed on our list of the ten best superhero TV shows of the decade, is currently available to watch on HBO. For more on what to watch, be sure to check out our complete 2020 midseason schedule to find out when every new and returning show is set to premiere.
Your Daily Blend of Entertainment News