Is Yellowstone Killing Off Wes Bentley's Jamie In Season 3?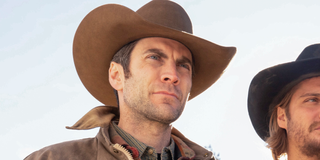 Yellowstone has had a lot going on in Season 3, and we are only two episodes in. Promotional art released prior to the kickoff may have hinted at an explosive potential plot twist. Is the hit drama going to shake things up with a jaw-dropping death by killing off Wes Bentley's Jamie?
It is time to go through the many clues that indicate Yellowstone could be gearing up to have John Dutton lose another son, and he has a lot less in common with this one. Season 3 has already spelled out that Jamie is on his last leg of loyalty with his father, but could he be on his last leg – period? Time for a Yellowstone deep dive!
Season 3 Key Art Spells Trouble
First up, let's go over what brought about my Yellowstone theory to begin with. As you can see above, the promotional poster for Season 3 shows Kayce, Monica, John, Beth, and Rip peering down at what looks like a freshly dug grave. (An alternate version shows John by himself.) There is also a skull in the lower left-hand corner. Talk about ominous!
Everyone appears pretty solemn except Beth. (More on how she figures into things in a bit.) There is more than one foreboding aspect to the Season 3 poster, but the most important one is that Jamie is not standing with his family. It is important to note Jamie has appeared in the key art for Yellowstone's first two seasons. His absence here is deafening.
John Dutton's Prophetic Words
When Yellowstone started back, John had to make a tough decision. He had to choose his successor as livestock commissioner, and after Kayce and Beth turned down the job (sorry Rip), John selected Jamie. John's son was clearly excited and thankful for the opportunity. Cue John's response.
The Dutton patriarch told Jamie that if he betrays him again, he would be "dead" to him. Is John's vow going to take literal form? I would not expect John to kill Jamie himself. Yellowstone is not that dark (I think). Maybe there is an accident when they have an argument over Jamie betraying the family again, and John hurts him? Stay tuned.
Jamie's Betrayals Could Catch Up To Him
Jamie has a history of making choices that could catch up to him. Yellowstone has been carefully weaving that thread throughout its story, and Season 3 is no exception. Notice who Jamie is shaking hands with? Roarke. If more betrayals and secrets turn up, Jamie could be in boiling hot water. It is entirely possible that betraying John spells his doom.
The question is if John would actually handle that. For whatever reason, John has never liked or apparently loved Jamie. I could not see him purposefully hurting him, though. Yes, even though he beat Jamie up in Season 1. That leaves Rip and Beth as prime suspects to avenge the family, if the situation arose. However, Kayce and Monica are in the Season 3 poster too.
Beth And Jamie's Feud Could Explode
Yellowstone has been building up to the origins of Beth's hatred for Jamie for multiple seasons without an answer to date. Could the truth of what Jamie did set a lethal reprisal in motion? It depends on what he actually did. Right now, all I have are theories, and none of them would get Jamie killed.
Of course, the truth could be more ominous than anyone expects in Season 3, and that could be why Kayce, Monica, John, Rip, and Beth would all be in on covering up something unfortunate happening to Jamie. Beth is another person who could push her brother and accidentally end his life on Yellowstone.
Jamie's Latest Trouble
The latest turmoil to hit Jamie had nothing to do with him, but it could catch up to him nonetheless. A livestock official who messed up last season on Yellowstone added two more deaths to his list. He called Jamie from jail during Episode 2 of Season 3 to inform him.
It has put Jamie's fresh run as the livestock commissioner in trouble. What happened should not lead to Jamie getting killed unless he gets caught in the middle of something. If tensions flare, that could happen. As for John, he will not be pleased that his son's run in the office he held is already facing a controversy. Could he get into it with Jamie over that?
Someone Could Want Revenge
The seeds to Jamie's potential demise were set in motion last season on Yellowstone. That is when Jamie killed Sarah, the reporter who did the expose on John Dutton with Jamie as her prime source. To the outside world, Sarah's death was the result of a terrible drowning accident. Sarah's loved ones, including her girlfriend, could be suspicious enough to take action.
Before Season 3, Jamie's ex-girlfriend basically told him that she had figured out that Sarah's death was no accident, and Jamie was to blame. Could one of Sarah's loved ones also pick up on the truth and take action, resulting in Jamie's demise? If so, why would the Duttons help bury Jamie? It is a wrinkle. All told, I could also see Rip hurting Jamie over the Beth situation.
This is one Yellowstone theory that I hope I am wrong about. Wes Bentley and Jamie bring so much to the show that it would not be the same without him. He is an original character, and Jamie's vital ties to the Dutton family only make them an all more complicated bunch. As a show, there are too many story possibilities where Jamie is concerned.
Last season, Jamie's ex-girlfriend claimed she was pregnant with his child. The first two episodes of Yellowstone Season 3 have yet to give fans an update on that front. If it is true, it only adds another layer of complexity where Jamie and his future within (or outside) the Dutton family is concerned.
John possibly learning he has a grandchild by the woman who influenced Jamie to betray him is a huge bombshell that could go off in spectacularly dramatic fashion. A baby and tons of family drama? Until Season 3's key art came out, Yellowstone seemed to be doubling down where Jamie is concerned. I hope that is the case.
Whenever viewers find out what happened between Jamie and Beth, it would be dissatisfying to have him die the very same season. There would be nothing for them to work through, and Yellowstone fans probably agree that they want to see the aftermath after so much lead-up. Season 3 could see Jamie survive yet.
Find out if Jamie survives throughout this summer as new episodes of Yellowstone air Sundays at 9 p.m. ET on Paramount Network. If you want to catch up on what Jamie has been up to, you can watch the drama when it becomes available on NBCUniversal's upcoming streamer, Peacock, which launches nationally on July 15.
Like a contented Hallmark movie character, Britt happily lives in the same city she grew up in. Along with movies and television, she is passionate about competitive figure skating. She has been writing about entertainment for 5 years, and as you may suspect, still finds it as entertaining to do as when she began.
Your Daily Blend of Entertainment News
Thank you for signing up to CinemaBlend. You will receive a verification email shortly.
There was a problem. Please refresh the page and try again.