Yellowstone: 9 Takeaways From The Season 3 Premiere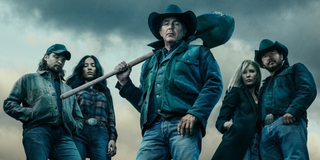 (Image credit: Paramount Network)
Beware: Spoilers for the Season 3 premiere of Yellowstone are discussed below.
Now that you have been warned, prepare to dive headlong into the explosive and contemplative Season 3 premiere of Yellowstone. Fans have anxiously awaited the episode for nearly a year, and it proved more than worthy of the wait. The Season 3 premiere shows off some fresh faces and precarious new positions for the Duttons.
Picking up right after the aftermath of last season's conclusion, the Duttons are still raw, but battle-ready to protect their ranch. Suffice it to say, Yellowstone's fantastic theme song leads the way to more drama, heartbreak, and explosive encounters. These are the major takeaways from the Season 3 premiere.
Yellowstone Needs To Keep Josh Holloway (At All Cost)
Did you notice that Season 3 newcomer Josh Holloway is billed as a guest star in Yellowstone's Season 3 premiere? Then you may have gotten a little worried about Holloway's smooth-talking Roarke Morris. The ever-charismatic Holloway burst onto the scene opposite Kelly Reilly's enigmatic Beth, and from there, it was just more greatness.
Yellowstone needs to keep Josh Holloway around at all costs. While the series may foresee him and the threat he represents as a one-off adversary for the Duttons (à la the Beck brothers), Holloway's introduction spoke to a character in no hurry to leave. He has heightened the electricity of Season 3 tenfold.
John Lost Some Power, And It Could Hurt Him
In the aftermath of the measures needed to save his grandson last season on Yellowstone, John Dutton had to give up a little power. Okay, a substantial bit of it. John resigned as Livestock Commissioner, a position that had given him significant influence in the ranch's backyard.
Do not worry, the position did not leave the Duttons' hands entirely. After Kayce turned down the job, John reluctantly handed over the reins to Jamie, per Beth's counsel. Yes, Beth's. John warned Jamie that if he betrayed him again, Jamie would be "dead" to him. Ouch! Jamie looked pensive after hearing that even though he affirmed he was up to it.
Jamie's Promotion Could Spell Trouble
I could not leave the Jamie twist there, could I? A lot is riding on Jamie's promotion in Season 3. Can Jamie really stay loyal to his dad? I have doubts. That said, he has killed to stay in his dad's good graces. Plus, the Season 3 premiere made it clear that Jamie is not really cut out for the cowboy life he envisioned for himself.
While he may want it to be different, Jamie's place in a suit, fighting for the Duttons with a briefcase, not in a saddle. Yellowstone has set up an unexpectedly sudden return to Jamie's former life. With so much power within reach, will he resist it? Stay tuned.
Beth And Jamie Did Not Fight
File this under "big surprise." Jamie and Beth had some tension in the kitchen, but overall, Yellowstone's dueling siblings failed to come to any major blows during the Season 3 premiere. Beth still took a dig at Jamie to their dad, and her feelings about her brother remained palpable.
The Yellowstone mystery lingers on despite the tease that viewers would see Season 3 explore Beth and Jamie's relationship more. That also means all three of my theories for what caused Beth to hate Jamie remain in play. Regardless, it was surprising that Beth pushed for Jamie to be named Livestock Commissioner, but she knows that even Jamie has his uses.
Beth Has Major Chemistry With Roarke
If you already saw the previously released clip of Beth and Roarke's first meeting, the pair's explosive chemistry may not have been as shocking. Nevertheless, Josh Holloway and Kelly Reilly's initial interaction on Yellowstone can only be described as chemistry-laden. It was also thought-provoking as Beth worked overtime to get Roarke off her family's land.
I still wholeheartedly ship Beth and Rip, but even I have to admit when there is fiery chemistry between actors. Kelly Reilly is one half of two incredibly chemistry-filled dynamics on Yellowstone, and I am here for it. Season 3 is getting flirty, and it looks good.
Monica And John May Be Bonding
Monica and her father-in-law, John Dutton, have not had the most fabulous relationship due to what happened pre-Yellowstone and since the series premiered. Now that Monica and Kayce are finally living together at the ranch, she is in even closer quarters with John. Based on the scene they shared in the Season 3 premiere, it seems they may be making some headway.
I would love nothing more than for Monica and John to have a real father/daughter relationship. Monica, like John's daughter Beth, tells him how it is, and I think he benefits from hearing her opinion. Plus, they both love Tate, and he is enough to bridge any divide between them.
John Is An Amazing Grandfather
As expected, poor Tate was still reeling from his brutal kidnapping last season. He was suffering from ongoing nightmares that not even his mother could entirely soothe. Cue John and his summer campout! After Tate shared that he was suffering from night terrors, John gave his grandson some advice for dream control.
John's dream about pulling over to help some people who "want something else" is curious and speculation-inducing. Whatever it means, John being vulnerable and sharing his own nightmare with Tate seemed to help. In the end, his grandson reminded him of his own advice, "change the ingredients." Yellowstone is never better than when these two share a sweet scene like this.
One Truce Is Staying Intact
Thomas Rainwater and John Dutton may have yet another common enemy on their hands. The two called a truce last season over the Becks and the Season 3 premiere showed no signs of it ending. In fact, Thomas Rainwater's right-hand man spoke well of John, which seemed to hit home with him.
Meanwhile, the same group that ran into Kayce and Rip on the Duttons' borders also paid a visit to Thomas Rainwater's. It would seem that he and the Duttons will be sharing another foe on Yellowstone. Will they somehow combine efforts in a way that drives them off? Anything is possible. Season 3 just got started.
Beth And Rip Still Have Me Riveted
It would not be a proper rumination on Yellowstone without a little talk about Beth and Rip. The show may still be acting coy with where the pair's romance is heading, but Beth did refer to Rip as her "boyfriend" in the Season 3 premiere. It is not the first time Beth has called him that either.
Beth and Rip ended up enjoying his new house together (on the ranch's property). The chemistry, the maddening suspense of it all, continues to make Beth and Rip's coupling one of television's most dynamic. Kelly Reilly and Cole Hauser spin gold in every scene their characters share.
One question I have is what is going on with Jamie's impending fatherhood. Before last season ended, Jamie's ex dropped the bombshell announcement that the pair were expecting a baby. If you had not seen that episode of Yellowstone, you would have never known that occurred as of the Season 3 premiere.
Now, it is just a matter of seeing what else Yellowstone has up its sleeve. After watching the Season 3 premiere, I grew even more grateful for that early Season 4 renewal. This show deserves it. I just hope it can keep Josh Holloway around. Hopefully, Season 3 is just the beginning because he and it are off to a terrific start.
Find out what happens next on Yellowstone when the third season continues airing throughout this summer on Sundays at 9 p.m. on Paramount Network. If you want to catch up on all of the drama so far, stream Yellowstone when it becomes available on NBCUniversal's upcoming service, Peacock. It launches nationally on July 15.
Your Daily Blend of Entertainment News
Like a contented Hallmark movie character, Britt happily lives in the same city she grew up in. Along with movies and television, she is passionate about competitive figure skating. She has been writing about entertainment for 5 years, and as you may suspect, still finds it as entertaining to do as when she began.