Yellowstone: 10 Things To Remember Before Season 3 Premieres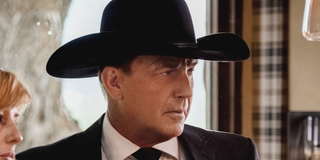 Yellowstone left fans without a cliffhanger, but with the promise of a lot more to come. Well, the time has almost arrived for the Kevin Costner starrer to deliverer as fans' wait is almost at an end. Ahead of the Season 3 premiere, there are some critical things you need to remember before it arrives.
From where the Duttons stood with each other and the outside world to other factors, Yellowstone got a lot done last season. Having signed off nearly a year ago, it is a lot to remember before Season 3 premieres. Thankfully, that is why this list of key things is here. Time to get to it!
John Dutton's Cancer Status
John Dutton's health was at the core of Yellowstone's very first season. A shadow that encompassed much of what viewers knew about John's motives for making amends with his estranged son, Kayce, and trying to secure the ranch's legacy by putting the family back together.
Last season, Yellowstone resolved John's health crisis right out of the gate. Believing that his cancer had returned, John happily turned out to be wrong. The premiere revealed that he actually had a ruptured stomach ulcer instead. One emergency surgery later, and he is good to go in Season 3.
Where the Ranch Stands
Things have been worse for the titular ranch. John managed to stave off his enemies from last season – the Beck brothers. Unfortunately, Jamie also revealed that the ranch had been hemorrhaging cash and had not turned a profit in five years.
There have been hints that John could sell a part of the ranch in Season 3, so fans will have to stay tuned. Beth did not provide the best outlook for her inheritance's future. She ominously indicated that it may be nearing its end. Fans will have to see if her inkling proves true.
Rip And Beth Are (Sort Of) Dating
After a lot of smoldering looks, cute dialogue, and beautiful scenes together, Beth and Rip really seemed to be nearing a new relationship status on Yellowstone. Rip even told Beth that he loved her last season. So far, Beth has not seemed to meet Rip in entirely committing to their connection, but this fan desperately hopes that is coming.
Cole Hauser has teased developments on the Rip and Beth front in Season 3. I can only hope they manage to work through whatever comes their way, whether that be newcomer Roarke or some other adversity.
Kayce And Monica Are Going Strong
When Yellowstone started off last season, I was super nervous that the hit Western was going to break up Kayce and Monica for good. Thankfully, that did not happen. Instead, the charming couple found their way back together and reunited before the season ended, much to this viewer and their son Tate's happiness.
Season 3 should see Kayce and Monica's marriage start off in a good place. Or at least, I hope so. They have a lot to recover from as a family. The parents suffered their son being kidnapped, and Tate will still be working through that when Yellowstone returns.
Jamie Is A Killer And Maybe A Soon-To-Be Dad
First things first, last season on Yellowstone Jamie killed a reporter to suppress his tell-all interview about his father. This ended up keeping it from making headlines, but suspicion of Jamie's guilt in the purported "accident" (murder) did not escape his one-time girlfriend, Christina.
She confronted him and ultimately dropped another Yellowstone bombshell. According to his ex, Jamie is going to be a dad. A revelation that readily rocked Jamie's world, and she did not leave it at that. Christina insisted that Jamie choose between his father and his child.
Beth Has Never Loathed Jamie More
Ever since Yellowstone began; it was clear that siblings Beth and Jamie did not always get along. However, last season it became apparent that Beth all-out hated Jamie to the point she said some incredibly vile things towards him. Thus, the mystery of what has sparked Beth's rage towards her brother.
For his part, Jamie seems clueless. Whatever the secret reason is for why Beth detests Jamie -- fans have only been left to speculate. The Season 3 premiere could theoretically provide some answers. Yellowstone's showrunner indicated they were coming, and I hope they are. It is time.
Thomas Rainwater And John Dutton Have A Truce
John Dutton and Thomas Rainwater had been at odds before they joined in an alliance with the now-deceased Dan Jenkins against the also now-deceased Beck Brothers. Yellowstone left the one-time foes' truce in-tact, and the Season 3 trailer indicated it will remain so when the series returns.
Thomas Rainwater will be dealing with some issues with regards to his handling of the casino. A new character is said to clash with him. Fortunately, it seems that John Dutton and Thomas Rainwater are at peace, though. Time will tell if things are able to stay that way in Season 3.
Beth And Tate Survived Horrible Ordeals
Yellowstone saw the Duttons endure their share of adversity last season, and no one felt the brunt of it more than Beth and her nephew, Tate. Beth was the first to face it as Malcolm Beck sent men to brutally attack her. Rip rescued her, but not before she was horribly beaten and possibly raped.
Beth's nephew, Tate, was kidnapped right before last season's finale, leading to the worried Duttons taking action. While they got Tate back, he was clearly traumatized, having had his head shaved, and God knows what else. Like his aunt, he will need time to recover.
Kayce Could Be A Wanted Man
When Kayce went to rescue his son on Yellowstone, he killed Malcolm Beck's brother. The sheriff threw in with the Duttons beforehand to aid in the effort. However, one whiff of the murder getting to higher powers and Kayce could be done.
There is no way for the death of Malcolm Beck's brother to appear as anything other than a crime scene. So, there should be some scrutiny. John has helped Kayce out of some tight spots before, and last season's finale opens the door for Kayce to end up in another one in Season 3.
Rip Finally Got John's Recognition
John Dutton did not take Rip Wheeler's decades of loyalty at face value on Yellowstone. He tested him, and the result was Rip staying the course and proving his devotion to John, despite some tough things that had to be swallowed.
Season 3 should open with John and Rip in a better place than ever. At the end of the last season, John acknowledged Rip as an equal to his biological sons and gifted him with his late son Lee's old house to prove it. It was a huge and poignant moment for Rip and his relationship with John.
Did I tell you that a lot happened last season on Yellowstone? No wonder I am really excited about the Season 3 premiere, and I know I am not alone in that. The series is absolutely riveting, and with new characters joining in, it should be eventful.
One of my greatest hopes is that Kayce and Monica stay together as a united force throughout all of Season 3. Both of Yellowstone's previous seasons saw the couple endure a lot of highs and lows. It is time for them to stick it out together, beginning to end. Oh, and I want to know why Beth hates Jamie. Will, any of that happen?
Use all of this knowledge when Yellowstone Season 3 premieres on Sunday, June 21 (Father's Day), on Paramount Network. The third season is one of this summer's premieres. If you want to see what was recapped for yourself, Yellowstone will be streaming on NBCUniversal's upcoming service, Peacock, which launches nationally on July 15.
Like a contented Hallmark movie character, Britt happily lives in the same city she grew up in. Along with movies and television, she is passionate about competitive figure skating. She has been writing about entertainment for 5 years, and as you may suspect, still finds it as entertaining to do as when she began.
Your Daily Blend of Entertainment News
Thank you for signing up to CinemaBlend. You will receive a verification email shortly.
There was a problem. Please refresh the page and try again.