Michael Che Has A New Show In The Works At HBO Max, But What Does That Mean For SNL?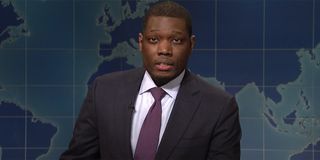 HBO Max is currently gearing up for a lot of original content and will be adding SNL's "Weekend Update" host Michael Che for one of its brand new shows. It's all very exciting, but what does it mean for fans of Che's sketch comedy bits?
First and foremost, let's talk a little bit about Micheal Che's upcoming show. Currently untitled, the new project will focus on Che and sketch comedy work. So, unlike on SNL, he'll actually be getting up out of that "Weekend Update" chair and doing more focused comedy sketches and vignettes speaking to the Black experience. Those who enjoy Che's work will definitely be getting to see him still do comedy, but in a totally different way than on NBC.
The other good news it that the Michael Che project is also being set up at Universal TV, which is owned by NBC, where SNL is housed. It's a little bit weird it's going to HBO Max and not Universal's own streaming service, but I'm sure Che and co. were just happy for the pick up. Being housed at Universal TV means Che will likely be able to continue on SNL and his HBO Max show at the same time, particularly given the new series is only going to be six episodes, so that's basically good news.
It's worth pointing out, though, that projects like these are often how Saturday Night Live cast members start to pull away a little bit from the late night series. We actually heard from Colin Jost, Michael Che's "Weekend Update" partner a few months ago. At the time, Jost said he was "mentally preparing" to untangle himself from Lorne Michaels' long-running in his new autobiography A Very Punchable Face.
At the end of the day, there don't seem to be plans for either Michael Che or Colin Jost to be leaving Saturday Night Live tomorrow or even this upcoming season. Still, this happens every few years. People stick around on the show for a while and then suddenly, it's time for one or more cast members to swap out. The lineup for the sketch comedy series is changing and evolving all of the time.
In particular, it can take a while for people to warm up to new "Weekend Update" hosts. Right now, Michael Che and Colin Jost are sort of in a sweet spot with the content they are producing and I hope we get at least a couple additional seasons out of them. Yet, this is kind of how exits always start. Popular SNL personalities start getting offered side projects. At first they can manage to do both, but at some point the grueling work and long hours it takes to stick around on Saturday Night Live often ends up being law of diminishing returns, particularly as more and more fun additional projects are being offered.
So, while Michael Che's new HBO Max doesn't necessarily mean anything for "Weekend Update" right now, I can feel the end of an era coming on. And why not? Che's been chairing "Weekend Update" since 2014. That's a solid run on the Peacock network series and Colin Jost has been around for the same number of seasons in the "Weekend Update" segment. Change is generally a good thing, but it does take getting used to.
Meanwhile, Saturday Night Live has been renewed and will be moving forward next TV season, hopefully back in the in-studio format. We'll also keep you updated as the Michael Che HBO Max series starts gaining speed in development.
Your Daily Blend of Entertainment News
Reality TV fan with a pinch of Disney fairy dust thrown in. Theme park junkie. If you've created a rom-com I've probably watched it.