Why Agents Of S.H.I.E.L.D.'s Yo-Yo Only Wears Pants In The Final Season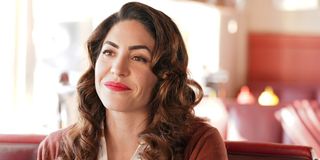 Making ripples, and not waves, has been the general mantra of Agents of S.H.I.E.L.D.'s Season 7. Time-traveling to different eras has gotten the protagonists into plenty of trouble, so who even knows what the present looks like now? On the plus side, blasting to the past has given the team an opportunity to wear some spiffy period costumes and hairstyles. That said, viewers have yet to see Natalia Cordova-Buckley's Yo-Yo wearing anything but pants, and the actress recently explained why that is.
Agents of S.H.I.E.L.D. characters have rarely worn everyday civilian clothes on the show. For Agent Coulson, for instance, it's typically been a suit and tie, while Agent May is more comfortable in a black leather jacket and combat boots. S.H.I.E.L.D. is changing things up in its final season, but while Daisy and Simmons have worn plenty of skirts and dresses in the 1930s and 1950s, Yo-Yo has opted to only wear pants thus far. According to what Natalia Cordova-Buckley told Collider about her period costume attire, the decision is purposeful. In her words:
Cheers to that! I love that about Yo-Yo, too. She's never willing to compromise who she is at her core, no matter what the situation or the attire. That said, she is willing to make adjustments. Onscreen, that translates to embracing the practicality of wearing pants with the addition of heels, as not to draw attention. When also framing that within the context of her powers of running at high speed, then the choice to wear pants makes a ton of sense. Heels can be discarded very easily, too. Skirts, not so much.
Speaking of wardrobe choices, Natalia Cordova-Buckley also revealed that she took home Yo-Yo's boots on the last day of filming Agents of S.H.I.E.L.D. She said that she'd been asking for them from Day One, and the production team finally gave her the go-ahead when all was said and done.
Natalia Cordova-Buckley explained that Yo-Yo's boots are "precious" to her because they're so integral to her character and that every step Yo-Yo took was in those boots. But she's not walking in them at all anymore... I'm not crying, you're crying!
Check out all of Yo-Yo's pants-donning action when Agents of S.H.I.E.L.D. Season 7 airs Wednesdays at 10:00 p.m. ET on ABC. For more on what to watch, be sure to check out our 2020 summer TV premiere guide.
Your Daily Blend of Entertainment News
Thank you for signing up to CinemaBlend. You will receive a verification email shortly.
There was a problem. Please refresh the page and try again.