Why Big Brother's Julie Chen Was So 'Robotic' When The Show Started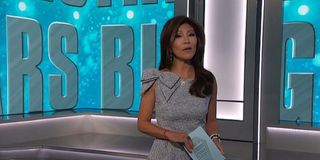 Big Brother All-Stars premiered last night and there have been some notable changes this season, most of which have to do with ensuring the safety and health of the contestants and production crew. Of course, the one thing that hasn't changed is Julie Chen's return as resident host for the hit reality TV show. Looking back on her time hosting Big Brother, Chen recently revealed why she came off as being so "robotic" when the show first began.
Julie Chen has been a staple of Big Brother since the reality series first premiered in 2000, hosting every iteration of the show (Celebrity Big Brother, Big Brother: Over the Top) in the meantime. Two decades is a long time to spend in any given job, but it's safe to say that Chen has evolved in her position as host over the years. However, the transition to hosting a reality competition series wasn't very smooth at first. Here's what Chen told EW Live on SiriusXM:
Cue the rimshot. Julie Chen did indeed come from a "news background," as the now-host was the news anchor for CBS Morning News at the time of Big Brother's premiere. The differences between the format and style of a reality show versus a news show must have been jarring to bounce between, to say the least.
Suffice it to say that the Big Brother All-Stars host has learned to "embrace the Chenbot" over the years as she got used to loosening up. A big part of finding the right balance between Julie Chen's news personality and her reality TV personality was also helped along by the eight years she spent on The Talk. Does Chen cringe when looking back at old footage? Absolutely, but at least she's gotten to a place where she can "laugh about it now."
That said, Julie Chen doesn't mince words and candidly revealed that it would have been "considered insubordination" if she hadn't taken up hosting Big Brother at the time. Yikes! Naturally, she took the job and, considering that it was a long time ago, one can hope that she's stayed on with the show for 20 years for reasons beyond how she initially landed the gig.
Big Brother All-Stars is back with new episodes, with the next episode airing on Sunday, August 9 at 10:00 p.m. ET on CBS. For more on what to watch, be sure to check out our 2020 fall TV premiere schedule.
Your Daily Blend of Entertainment News
Your Daily Blend of Entertainment News
Thank you for signing up to CinemaBlend. You will receive a verification email shortly.
There was a problem. Please refresh the page and try again.