How Big Brother All-Stars Is Keeping Cast And Crew Safe In The House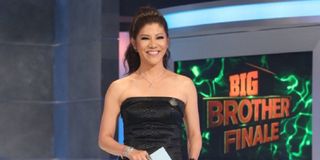 TV productions are slowly getting back to work by resuming filming with several new safety measures and protocols in place. Big Brother All-Stars is no different, despite the show already being about a group of people in quarantine. With the reality TV series returning soon, a few key changes are being made in addition to everyone getting a few house design upgrades, and host Julie Chen offered insights into how Big Brother All-Stars is keeping its cast and crew safe while in the house.
Say goodbye to Julie Chen giving hugs and paying personal visits to the Big Brother house. The host recently discussed all the changes being made to ensure the safety of everyone involved with the show, and that includes her staying far away from the Big Brother All-Stars contestants throughout the season. Groceries will be disinfected in advance of direct deliveries to the contestants and, of course, the live audience will be non-existent. As for how the contestants will be able to live in the house together, Chen revealed how Big Brother All-Stars is going about that process. Here's what she told ET:
Don't worry, Julie Chen is also being tested regularly. However, I'd wager that besides the testing and pre-quarantine measures, Big Brother All-Stars won't look all that different to viewers from the outset, which is what producers are hoping for. Contestants hooking up and sharing space inside the Big Brother house will still be allowed, since they would've already been cleared before joining. Considering that we're still very much in the throes of the pandemic, the safety protocols make absolute sense.
These safety guidelines will also be followed by the Big Brother All-Stars camera team and other crew members who won't be living in the compound where the contestants are staying. Here's how executive producer Rich Meehan explained it:
Well, that's good to know. These protocols are working to limit cast/crew interactions, which is honestly the best way to go about it in order to keep everyone healthy, safe and comfortable, while also not estranging crew members from families. That's not to say that the Big Brother All-Stars contestants won't still hear the crew around the house, but they just won't see them. Julie Chen concedes that the Big Brother house might be the one of the "safest places to be" right now. I'll take her word for it.
Big Brother All-Stars premieres on Wednesday, August 5 at 9:00 p.m. ET on CBS. Stay tuned to CinemaBlend for updates on Season 22. For more on what to watch in the coming months, be sure to check out our 2020 fall TV premiere schedule.
Your Daily Blend of Entertainment News
Your Daily Blend of Entertainment News
Thank you for signing up to CinemaBlend. You will receive a verification email shortly.
There was a problem. Please refresh the page and try again.