How Blue Bloods Will Be 'More Mindful' Of Social Issues In Season 11, According To Donnie Wahlberg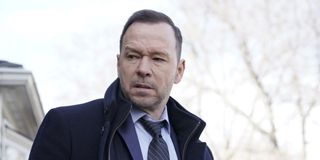 Protests in support of the Black Lives Matter movement have been ongoing since the end of May. That has sparked conversations about police brutality and other social justice issues, paving the way for a reexamination of the ways in which police have been portrayed on television. Considering that Blue Bloods follows an entire family of police officers and detectives, series actor Donnie Wahlberg recently explained how the show will be "more mindful" of social issues when it returns for Season 11.
Blue Bloods has not resumed filming, but that doesn't mean there aren't plans in place for tackling social issues in Season 11. The Reagan family doesn't always agree on everything, but they all seem to be on the same page when it comes to their line of work with the NYPD. In that vein, one has to wonder how the protests and discussions of dismantling police departments will be handled on Blue Bloods when the police perspective is the focal point. Here's what Donnie Wahlberg told TV Insider:
Whoopi Goldberg played City Council Speaker Regina Thomas in two episodes in Season 6 and Season 8, respectively. Regina was very vocal with her disapproval of the NYPD's broken windows policy, which historically sent cops into underprivileged neighborhoods and increased police misconduct.
With regards to engaging in "tough conversations," Donnie Wahlberg went on to say that current events are changing things and that Blue Bloods can't avoid approaching these topics. In his words:
Other cop shows are also trying to reanalyze and "be a part of the discussion." For example, Brooklyn Nine-Nine scrapped all of its Season 8 scripts and is changing things up moving forward. Addressing topics of police brutality and racism meant starting from scratch for the writers, with series star Terry Crews calling it an "opportunity."
At the end of it all, Donnie Wahlberg reflected on how Blue Bloods tackled social issues in the past and what the future holds. Here's how he put it:
Blue Bloods Season 11 does not yet have a scheduled premiere date, but stay tuned to CinemaBlend for updates. In the meantime, be sure to check out our 2020 fall TV schedule for more on what to watch.
Your Daily Blend of Entertainment News
Thank you for signing up to CinemaBlend. You will receive a verification email shortly.
There was a problem. Please refresh the page and try again.