Jay Cutler Quits Instagram After Kristin Cavallari's Viral Post With Former Laguna Beach Flame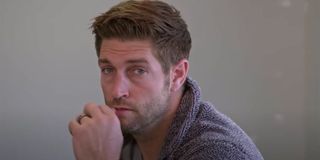 Jay Cutler no longer has Instagram. His account, which cheekily went by the name IfJayHadInstagram was shut down amidst his split from high-profile reality star Kristin Cavallari. The move comes as Jay Cutler had seemingly been active in recent weeks and after his former partner's recent trip back to Laguna Beach where she met up with old flame Stephen Colletti.
So, why did he cut out of social media completely? The rumor mill would indicate that Kristin Cavallari's post with Stephen Colletti may have been to blame. People were really here for that post online, including the likes of the Jersey Shore cast and more, but an unnamed source told E! the former Bears quarterback "was getting a lot of heat" over the Laguna Beach-oriented post.
Weirdly, at the time Kristin Cavallari posted the Instagram update, reports indicated she isn't embarking on a romance with Stephen Colletti, even if her fanbase is here for it. It's also true that people were pretty vicious online after Cutler and Cavallari initially split and that didn't stop him from posting on social media, so I find it odd that the Colletti flack might. In fact, Jay Cutler's taken more than a few shots online in recent days and perhaps this was the straw that broke the camel's back. It's not like he has to have a reason to justify cutting his fanbase out of his day-to-day routine.
The news comes just a few days after Jay Cutler seemed to be supportive of his former partner on Instagram. In fact, he even shared a nice compliment over her new cookbook, True Comfort, noting the new book was "taste tested and approved." This was after he'd shared a post showing the broken-up couple spending time together on Father's Day earlier in 2020.
Some of these posts actually led to some questions over who ran Jay Cutler's Instagram as he split from his ex Kristin Cavallari. But recently a bunch of his posts seemed to be about chickens and other random things on his property that seemingly made it clear he was in charge of his own content.
Like so many celebrities before him, it looks as if he's at the very least taking a break from social media. He may find over time that he doesn't really feel the need to come back, particularly given he had basically been retired from public life outside his gig on the now-cancelled Very Cavallari. Perhaps he'll be back one day, but for now he's certainly leaving his fans asking what life would be like if Jay had an Instagram.
Meanwhile, obviously if anything else cool comes out of this Laguna Beach trip Kristin Cavallari took, we'll be sure to keep you updated. Meanwhile the formerly married couple have already sold their Nashville home and have taken the necessary steps to separate their lives. They've even already reached a custody agreement already. So whether or not the Instagram thing was working for Cutler, at least that part of the divorce seems to be going smoothly.
Your Daily Blend of Entertainment News
Reality TV fan with a pinch of Disney fairy dust thrown in. Theme park junkie. If you've created a rom-com I've probably watched it.
Your Daily Blend of Entertainment News
Thank you for signing up to CinemaBlend. You will receive a verification email shortly.
There was a problem. Please refresh the page and try again.