The Fresh Prince Of Bel-Air's Drama Reboot Just Took A Big Step Forward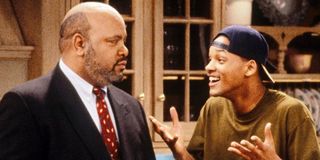 Nostalgia has become a powerful selling point when it comes to content these days, with many television networks and film studios attempting to capitalize on classic properties to draw in old and new audiences. So far, in the television realm, '90s hits like Full House or Saved by the Bell either have or will be rebooted. NBC hit The Fresh Prince of Bel-Air has also been eyed for a potential reboot for a while, but it would seem the project is now officially moving forward. However, it's not going to be what you might expect.
Last year, film director Morgan Cooper released a trailer for a re-imagining of The Fresh Prince of Bel-Air, only this version was a more realistic take on the story we all know. In the trailer, Will is depicted as a troubled youth who is arrested for gun possession following a brawl at a park. However, thanks to his wealthy Uncle Phil, Will is pardoned, and his frustrated mother sends him to live with his aunt and uncle in Bel Air in an attempt to straighten him out. You can check out the trailer for yourself down below:
Well, it turns out the trailer caught Will Smith's attention, as he is teaming up with Morgan Cooper to develop a dramatic reimagining of The Fresh Prince of Bel-Air based on Cooper's trailer. According to The Hollywood Reporter, this new series is currently being shopped around a number of streaming services including Peacock, HBO Max and Netflix.
Morgan Cooper, a Fresh Prince fan, is set to write, direct and executive produce the project. Original series producers Will Smith, Quincy Jones and Barry Medina will serve as executive producers alongside the original show's creators, Andy and Susan Borowitz. The Wire and Son of Anarchy's Chris Collins will also take on showrunner and executive producer duties while co-writing the script with Cooper.
The Fresh Prince of Bel-Air originally premiered in the fall of 1990 and quickly became a hit for NBC, thanks in part to Will Smith's status as rap star at the time. The show would run for six successful seasons before ending its run in the spring of 1996 with a two-part, series finale.
In the years since the show ended, Smith and the cast have remained close, but the film star was initially hesitant to create a Fresh Prince spinoff or reboot. However, just last year, it was reported that he was actively developing a reboot.
Although this new direction definitely wasn't what many of us were expecting, it is an intriguing concept. And it's hard to deny that Cooper's initial trailer was very well done.
It's going to be weird seeing new actors play the fan-favorite roles TV viewers have come to love but, with most of the original creatives involved behind the scenes, the project should (hopefully) be in good hands.
And if you still want to revisit the original Fresh Prince of Bel-Air, the series is currently available to stream on HBO Max.
Covering superheroes, sci-fi, comedy, and almost anything else in film and TV. I eat more pizza than the Teenage Mutant Ninja Turtles.
Your Daily Blend of Entertainment News
Thank you for signing up to CinemaBlend. You will receive a verification email shortly.
There was a problem. Please refresh the page and try again.