The Order Ending Explained: How That Death Sets Up Season 3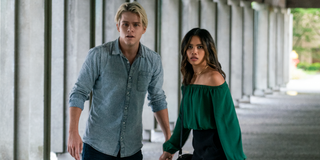 Spoilers for The Order Season 2's ending, and that major death are discussed below.
The Order came to a startling halt during Season 2's ending with the death of a major character. Now, it is time for The Order's shocking ending to get explained, along with how it sets up Season 3. For its part, Netflix has still not announced whether it will renew the sophomore supernatural drama.
While fans wait to learn the outcome, it is pertinent to jump into how the ending went down, and what it means for a potential Season 3. Thankfully, The Order's creator has sounded hopeful about its chances. You never know with Netflix these days, so keep your fingers crossed, and hope for some positive magic to come its way.
Season 2 of The Order debuted in June, and now that we are all in August, the wait for it get the thumbs up has grown hotter with the weather. It certainly left fans with a deadly cliffhanger they will want to have resolved. On that note, it is time to dig into the ending of The Order Season 2 and that death.
What Happened In The Season 2 Finale
A whole lot of magic! Okay, aside from that, a lot went on during the Season 2 finale of The Order. Firstly, Randall killed Bitsy to make the spell to get Lilith back, work. He was burying Bitsy's body as Season 2 was ending. Lilith is not actually back, though. After receiving an enthusiastic welcome from her love interest, Nicole, "Lilith," insisted she had been taken from her home and needed to return to it.
The Order then panned to show Lilith's face with a demonic brand. So, Lilith does not seem to be Lilith after all. Elsewhere on The Order, Alyssa stripped Vera of her magic and successfully extorted Vera for the Fors Factoram incantation. The eruptions were over, and Alyssa readied to make Vera pay for what she had done earlier on The Order.
How Alyssa Died
Alyssa had revenge or as she branded it "justice" in mind for Vera when Jack showed up and talked Alyssa down. After a romantic plea of sorts, Alyssa put down her knife and walked away, saying, "Goodbye, Jack." I got the sense their relationship may be over, but that is beside the point. With Season 3 in sight, The Order had death on its ending plans.
Vera ended up keeping her life (and Hamish to mystically close doors). With that settled, Alyssa prepared to leave before she got stopped by Midnight, who had possessed Gabriella to make his will come true. Midnight/Gabrielle picked Alyssa up, shaking her body like a ragdoll, as Jack helplessly watched. By the time he had reached her, Alyssa's throat had gotten ripped out. She died shortly after.
How Alyssa's Death Sets Up Season 3
Before Alyssa died, Jack begged her to give Vera back her magic. The hope there probably being so that Vera could save Alyssa's life. Alyssa either refused or was not strong enough to do it because Vera is still without her powers. The news is worse for Alyssa, who is without her life as Season 3 hangs in the balance.
The Order's creative powers have playfully insisted that Alyssa is genuinely dead. However, The Order being equally (if not more) magical than Game of Thrones tells me that Alyssa could very much arise to rejoin the living. As of Season 2's ending and Season 3's potential beginning, though, she is dead.
Why She May Be Dead When Season 3 Starts
Alyssa was nowhere near pulling a Jon Snow when The Order ended. She was every bit as dead as Game of Thrones' mega-popular character. Jack was last seen carrying her body into the woods where Randall and Gabrielle should theoretically be too. Nevertheless, Season 3 could open up with Alyssa still being dead, and her death could last for a while when Season 3 starts.
The question is if The Order will stick to its pattern of having two-episode arcs for a story. Hence, the reason episode titles get broken into Part 1 and Part 2. If that continues in Season 3, Alyssa could remain dead for at least the first two episodes. After all, Alyssa's death is a big thing for Jack and his friends to try to undo in one episode, and Hamish seemed in no hurry to help.
Why She Might Stay Dead
Alyssa's death remaining true would be a huge shocker for Season 3. Of course, no character on TV is safe these days. Despite its lethal history and executive producers' insistence to the contrary, Game of Thrones did bring Jon Snow back from the dead. However, The Order may have an entirely different endgame in mind. If Alyssa stayed dead, it would shake the show to its very core.
Everyone watching probably expects Alyssa to come back from the dead. It would be all the more shocking if she did not return, making The Order a show that not only toys with executing big ploys but sticking with them. As I have mentioned before, Sam Trammel's Eric is no longer alive, and that shocker put The Order on the record for such a twist.
Why She Could Come Back To Life
Alyssa is the love of Jack's young life. Plus, she has been a huge mover and shaker in the magic world. The Order made Alyssa a worthy opponent for Vera, and that is no easy feat. Death is not enough to hold back their rivalry. Alyssa being alive would create more stories than her death. Simply put, Alyssa has too much unfinished business to stay dead.
Judging by Jack's haste in bringing a magical book, and Alyssa's body into the forest – he agrees. Thus, I would be shocked if Alyssa did not come back to life someway and somehow. Just as I believe the real Lilith will somehow return. They are both too critical to the show, and in an interesting bit of trivia, they used to be best friends.
Do you think that Alyssa is really dead after The Order's Season 2 ending? Or is she readying to return as Season 3 sets up at least two episodes of Jack and others finding a way to make it so? Scroll down and vote in the poll below to make your opinion known.
This poll is no longer available.
On a related note, it will be intriguing to see what Alyssa's "death" does to Gabrielle. It is not her fault that Midnight possessed her and killed Alyssa. That said, she might feel guilty about it and work to help Jack revive his beloved. Gabrielle knows her way around magic, so you never know.
In related news, I loved the moment between Gabrielle and Randall during Season 2's ending. It will be interesting to learn what The Order could have in store for them. They have great chemistry! Will a potential Season 3 give rise to Gabrielle and Randall's relationship and end Jack and Alyssa's for good? Stay tuned.
Season 1 and 2 of The Order (opens in new tab) are now streaming on Netflix. They will soon be joined by more 2020 premieres. While you wait to see if The Order gets renewed for Season 3 and if Alyssa returns from the dead, check out this fall's schedules to stay entertained.
Your Daily Blend of Entertainment News
Like a contented Hallmark movie character, Britt happily lives in the same city she grew up in. Along with movies and television, she is passionate about competitive figure skating. She has been writing about entertainment for 5 years, and as you may suspect, still finds it as entertaining to do as when she began.
Your Daily Blend of Entertainment News
Thank you for signing up to CinemaBlend. You will receive a verification email shortly.
There was a problem. Please refresh the page and try again.