WWE's Sonya Deville Updates Fans After Stalker's Kidnapping Attempt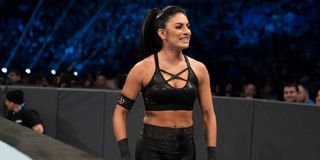 In the world of sports and entertainment, there are fans, and there are those who become so obsessed with celebrities that they wish to find them and inflict harm. The latter is always a scary possibility for anyone in the public eye. Unfortunately, this very thing happened recently to WWE superstar Sonya Deville. A stalker attempted to kidnap the wrestler on Sunday, August 16, though he was thankfully unsuccessful, with Deville providing fans with an update regarding the incident after the situation had calmed down.
A man identified as Phillip A. Thomas II drove from South Carolina to Florida specifically to track down Sonya Deville, as Thomas had reportedly been plotting for eight months to kidnap the WWE star and take her hostage. Per the Hillsborough County Sheriff's Office, the stalker had arrived at Deville's home, cut a hole in the patio screen, and waited until Deville went to sleep before entering the house.
However, the wrestler's security system alerted her to something being amiss and she was able to leave the house to alert authorities of the intruder. When the police arrived at Sonya Deville's home, Phillip Thomas was reportedly found inside with a knife, zip ties, duct tape, and mace, among other things. That particular report didn't include Deville by name, but ESPN confirmed (opens in new tab) that the house belongs to her. In a later tweet, Deville addressed the incident, which further confirmed the situation. In her words:
This sounds like a nightmare come true. Thankfully, Sonya Deville is safe and was able to get away unscathed. Following some investigation, detectives learned that Phillip A. Thomas II was specifically targeting Sonya Deville and he revealed to deputies that he was indeed attempting to take the female WWE star hostage.
Suffice it to say that the stalker was arrested and charged with attempted armed kidnapping, aggravated stalking, armed burglary of a dwelling, and criminal mischief. In a statement, Sheriff Chad Chronister had this to say about the situation:
Sonya Deville, whose real name is Daria Berenato, is still prioritizing her WWE career. However, she did express interest in playing The CW's Batwoman before Javicia Leslie ultimately landed the highly sought-after role.
For now, I'm just glad Deville is safe and hope that she never has another frightening experience with a stalker again. Stay tuned to CinemaBlend for updates on this story.
Your Daily Blend of Entertainment News
Your Daily Blend of Entertainment News
Thank you for signing up to CinemaBlend. You will receive a verification email shortly.
There was a problem. Please refresh the page and try again.