Kamala, The Ugandan Giant: 6 Things To Know About The Late Professional Wrestler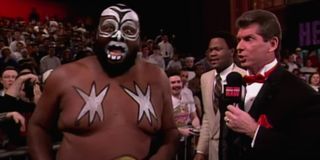 Former professional wrestler James "Kamala" Harris passed away at the age of 70, on August 9, 2020, in Brooklyn, New York, after battling a number of health conditions over the last few years. Known as Kamala, The Ugandan Giant in wrestling promotions like WWE (then-WWF), WCW, and various others around the world, the six foot seven, 380-pound grappler was known for his size, his strength, and boisterous voice, and entertained wrestling fans throughout his more than 30-year career in the business.
As the wrestling world mourns one if its most colorful stars, now is the perfect time took look back on the man, James Harris, and the wrestling persona, Kamala The Ugandan Giant, and what made him such a feared and respected presence in professional wrestling. Here are six things to know about the man who bodyslammed Andre The Giant years before Hulk Hogan became "the first" to do so…
After A Rough Upbringing In A Sharecropping Family, James Harris Found His Calling With Professional Wrestling
Kamala would spend most of his adult life wrestling in various promotions around the world as the feared African terror with his customary facepaint and tribal mask and spear, but James Harris, the man behind the character, was born into a sharecropping family on May 28, 1950, in Senatobia, Mississippi, just 40 miles south of Memphis, Tennessee. Growing up in a small shack with his parents and five siblings, Kamala wrote in his autobiography "Kamala Speaks" (via The Ringer) that his father was killed during a dice game but local authorities did nothing, recalling:
Kamala, his mother, and siblings would move to another town after his father's murder, but trouble wasn't far behind throughout the future wrestler's youth. Although a standout football player (thanks to his size and strength), Kamala bounced around the American south for a number of years before moving to Michigan, where, according to News Mississippi, he first met the wrestling legend Bobo Brazil and started his path towards wrestling.
The Ugandan Giant Persona Was Created With Jerry Lawler When Harris Went To Memphis
James Harris would wrestle under names like "Sugar Bear" Harris, "Bad News" Harris, and "The Mississippi Mauler" in the early days of his career in promotions in the American south and overseas, but when he returned to the Memphis area, specifically Jerry Lawler's Continental Wrestling Association in 1982, he would take on the name that would make him famous for years to come: Kamala.
During a 2006 conversation with Hobo Trashcan, Kamala explained that he met up with Jerry Lawler and another local promoter, the legendary Jerry Jarrett, and asked him if would be willing to take on such a big character that might be perceived by some to be racially insensitive, but the wrestler had no qualms about it, stating:
The character was an immediate hit in the Memphis area (one of the premiere wrestling territories in the country; it's where Andy Kaufman wrestled after all). And soon after, Kamala was going toe to toe with some of the biggest names in the industry.
After A Successful Feud With Andre The Giant, The French Superstar Invited Kamala To The WWF
Over time, Kamala began working marquee matches in Bill Watts' Mid-South Wrestling territory where he squared up against "The King of New Orleans" Junkyard Dog. The two powerhouse wrestlers would enter a feud with the victor getting a shot at wrestling Andre the Giant. In a 2001 interview with Slam Wrestling, Kamala revealed that although he and Andre sold out shows wherever they wrestled, the two initially didn't like one another, remembering:
The two would eventually work out their differences and go on to have a series of stellar matches, including one where Kamala bodyslammed the French monster, several years before Hulk Hogan at WrestleMania 3. After working with each other in several different promotions like World Class Championship Wrestling in Dallas, Texas, Andre invited Kamala to come to New York and work for the World Wrestling Federation.
Kamala Finally Got His WrestleMania Moment At The 17th Annual Showcase Of The Immortals
Despite being extremely popular in southern and mid-American promotions, Kamala didn't have the most successful of runs in the WWF over the course of his career. Between 1984 and 1993, the Ugandan Giant had three brief stints with the company, none of which resulted in a WrestleMania match, although he was fairly close to having one in 1993, but his WrestleMania 9 match with the late Bam Bam Bigelow was called off before the show.
Kamala would finally get his moments at the Showcase of the Immortals at WrestleMania 17 when he participated in the gimmick battle royal, a match consisting of some of the most colorful characters to wrestle for the promotion in the preceding years. The Ugandan Giant would get eliminated by Sgt. Slaughter in a match that was ultimately won by the Iron Sheik, but a WrestleMania match is a WrestleMania match.
Kamala Was A Prolific Singer, Recording More Than 100 Songs
James Harris was one of the most feared wrestlers to ever step into the ring, but the former member of the Dungeon of Doom had somewhat of a creative side as he displayed in the more than 100 songs that he wrote and recorded after catching the music bug back in 2003. During a 2007 conversation with Slam Wrestling, the man known as Kamala recalled getting his start with music around the time his career was slowing down, stating:
The song topics ranged from those about his niece, who he helped raise after her dad killed her mom, to songs about the unfair treatment of African American wrestlers who don't get paid what they should from promoters.
The Ugandan Giant's Later Years Were Plagued With Health Issues Including The Loss Of His Legs
In the years leading up to his death, James Harris' personal health had taken a downturn. Having been diagnosed with diabetes and had to have both legs removed because of the disease, effectively ending his wrestling career. Despite it all, Kamala remained optimistic about his condition and his outlook on life as seen here in a 2012 news report about the first amputation. His health continued to take a downturn in the years following and in early August 2020, just days before his death, ESPN writer Jason King sent out a tweet stating this Kamala's wife confirmed that he had contracted the coronavirus during one of his dialysis treatments. On August 9, 2020, Kamala went into cardiac arrest and passed away just days after being admitted to the hospital.
James Harris was 70 years old at the time of his death, and while a large chunk of his life was full of misfortune and pain, Kamala will be forever be remembered for his over-the-top personality, sheer size and strength, and unwillingness to stop fighting.
Your Daily Blend of Entertainment News
Philip grew up in Louisiana (not New Orleans) before moving to St. Louis after graduating from Louisiana State University-Shreveport. When he's not writing about movies or television, Philip can be found being chased by his three kids, telling his dogs to stop yelling at the mailman, or yelling about professional wrestling to his wife. If the stars properly align, he will talk about For Love Of The Game being the best baseball movie of all time.
Your Daily Blend of Entertainment News
Thank you for signing up to CinemaBlend. You will receive a verification email shortly.
There was a problem. Please refresh the page and try again.