The Bachelorette: Everything We Know About Tayshia Adams Before Season 16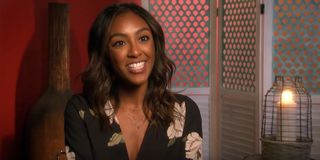 Woooooeeeeeee! Bachelor Nation, I hope you're all prepared because when Season 16 of The Bachelorette finally starts up, things are going to get buck wild. As you've likely heard by now, Clare Crawley, after months of waiting to start her run as head rose-giver, reportedly ended up falling for one of her suitors very early and will step away from Bachelorette duties during the season. While this hasn't been confirmed by the show or ABC just yet it looks like we're going to truly have The Most Dramatic Season Ever, and will be treated to Tayshia Adams coming in to take over Clare's abandoned Bachelorette spotlight.
So, what does this mean? It means we've got a completely different Bachelorette's life to get caught up on before Season 16 begins airing in September! And, we're here to help you learn everything you need to know about Tayshia, so that when she starts her time as the franchise's second black lead, you're fully apprised of her pertinent details and previous stops on the love train before she gets a chance to even send any hot, hopeful dudes home. Without further ado, let's get to know Tayshia!
Tayshia Adams Had Serious Heartbreak Before Bachelor Nation
Obviously, by the time most of the leads and potential mates make their way to The Bachelor or The Bachelorette, they've had their fair share of heartache, heartbreak, and probably even heartburn. But, Tayshia (who's now 29) had already faced divorce by the time she wound up as one of Colton Underwood's women on his 2019 Bachelor season. As she told Colton during one of their dates, the Newport Beach, California native had married her first boyfriend, Joshua Bourelle, whom she had been with for about six years total.
Unfortunately for Tayshia, she and Joshua struggled in their short-lived marriage, which only lasted for less than two years, and the couple split in October 2017, with the divorce becoming final in April 2018. After her split from Joshua, Tayshia dated model Chase Olswang for almost a year, before heading off on her journey to find love on TV with Bachelor Nation. And, her time on Colton's season was filled with a lot of highs and some pretty notable lows.
Tayshia Adams Was A Standout On Colton Underwood's Season 23 Of The Bachelor
Something that's been said of Tayshia since the rumors of her taking over as lead from Clare is that she won't be exciting enough to watch. Some have likely thought this because the former phlebotomist (who graduated from Concordia University) didn't spend a lot of her precious time getting into messy drama with her fellow potentials. (Minus, obviously, her ominous warning to Colton about some ladies "not being here for the right reasons.") Throughout the season, Tayshia was one of the more mature contestants, along with, of course, being one of the ones to really get a place at least close to Colton's heart. And, the duo had dates filled to the brim with smiles, kissing, bungee jumping and sky diving.
Tayshia managed, in fact, to foster an attraction from Colton which was strong enough for the soon-to-be fence jumper to keep her around until the fantasy suite dates. But! Colton decided to say goodbye to her after the woman he'd fallen for even harder, Cassie Randolph, dumped him during the evening portion of their date. Instead of choosing between the ladies he had left (Tayshia and Hannah Goodwin), he broke up with both the next day and went after Cassie. Tayshia handled that difficult, partially closed-door dumping well, and was originally considered to lead The Bachelorette in 2019, but left that mess to Hannah Brown and opted, instead for Bachelor in Paradise. This was where she roasted Colton as a bad kisser, but at least she did say he got better as his season went along.
Bachelor In Paradise: Tayshia And Derek Peth
It wouldn't be a bad idea to take note of how Tayshia and Derek Peth look in those photos above, because their short-lived Bachelor in Paradise romance was fraught with troubles. So, Tayshia admitted that Derek was the first guy in Paradise that she had the hots for, but he was all over Demi Burnett pretty much from Day 1, so they didn't really connect. That all changed when Demi's ex, Kristian Haggerty, showed up on the beach, and Demi said a tear-filled goodbye to Derek, because now Tayshia had a shot at the blue-eyed hunk.
What was the problem, then? Well, the issue was a not-so-little blond from Maryland named John Paul Jones. Tayshia had begun hanging out with the lad with the sensitive stomach when Derek took up with Demi, and JPJ was quickly over the moon for TayTay, while she was trying to keep her options open and not get involved in any of his drama. When JPJ realized that Tayshia and Derek were starting to get closer, well, he lost his absolute shit, and we'll get into details about that in a bit. Eventually, Tayshia had to make a decision, and she chose to stick it out with JPJ. Derek, not wanting to get involved with any other ladies in Paradise, opted to leave.
Bachelor In Paradise: Tayshia And John Paul Jones
Man, I don't think any of us saw a bit of this romance coming at all. This is especially true once the love triangle shit began to hit the Tayshia-shaped fan, because, even though JPJ had started in Bachelor Nation as a happy-go-lucky good time guy, his attitude changed very quickly when he saw that Derek and Tayshia were making sexy eyes at each other. Now, she did tell JPJ that she was keeping her options open, but because she didn't see many options before Derek was freed up, it meant that Tayshia spent most of her time with JPJ. He seemed to take that as a sign that Tayshia was more into him than she said, and was a bit blindsided when she opted to also put Derek in her rotation.
While JPJ had entertained other ladies in Paradise, he may have done that mostly to save face, because once Tayshia took up with Derek, he began declaring that he was in love with her, and went after Derek pretty hard. This included starting a shocking almost-shouting match with poor Derek... at a wedding, which led to Tayshia getting so upset over the disruption that she started crying. Then, JPJ came back for more verbal attacks toward Derek later on the beach, and managed to make his disturbing behavior even worse when he broke up the argument with what I can only call movie psychopath-level laughter.
Sooooo, Tayshia chose JPJ. And, he sweetly threw a beachfront prom for her when he found out that she never went to her actual high school prom, and also told her that he was in love with her. Immediately after JPJ's declaration of love, Tayshia told him she wanted to "get there" with him but wasn't and didn't think she could, basically saying that she didn't believe he knew what he wanted because he was still too immature. This led to JPJ leaving Paradise, and Tayshia, upset that she hurt him, leaving soon after.
But, wait! There's more! On the Bachelor in Paradise reunion special, we learned that Tayshia couldn't stop thinking about JPJ, his gag reflex and that nutty laugh, so she flew to Maryland to see if he would give her another shot, and...he did! The two dated for a few months, but weren't able to make a go of it, even without the cameras around, and split finally in October 2019.
Phew! That's it guys; we are all caught up on Tayshia's life before and during Bachelor Nation up until we get to see her date a bunch of dudes (who hopefully aren't all Clare's castoffs) on Season 16 of The Bachelorette. What type of guy would you like to see Tayshia with? Someone stable and reasonable like Derek, or a guy with a slightly chaotic energy, like John Paul Jones? Let us know in the poll below! The new season will finally (finally!) start sometime this September on ABC, on a new night, Tuesdays at 8 p.m. EST, so stay tuned to CinemaBlend for the latest.
This poll is no longer available.
Your Daily Blend of Entertainment News
Yennefer's apprentice, Gilmore Girl; will Vulcan nerve pinch pretty much anyone if prompted with cheese...Yes, even Jamie Fraser.
Your Daily Blend of Entertainment News
Thank you for signing up to CinemaBlend. You will receive a verification email shortly.
There was a problem. Please refresh the page and try again.