If You Haven't Seen Lady Gaga's Wild VMAs Masks Yet, You Really Need To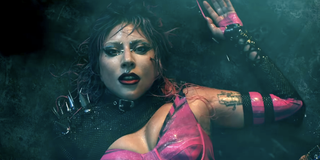 One of the great joys of paying attention to pop culture is watching award shows. Seeing celebrities all dressed up is fun, and it's even more fun when they step out in front of millions in something kinda goofy that literally no regular person would be able to get away with. Lest you think the pandemic would stop the famous folk who attended the MTV VMAs last night from showing up and showing out, we still got a number of outrageous outfits, with many of them coming courtesy of Lady Gaga, and, if you haven't seen her eclectic collection of masks yet, you really need to.
Lady Gaga is no stranger to wacky costumes that get people talking, but she was in rare form last night for her every minute on the VMA stage. Not only did she have several costume changes, but Gaga also decided to show the world what it looks like to have your mask game dialed up to 100, and came through with some options that would certainly make your next trip to the drug store more lively. Let's start with her performance mask, which included "Rain On Me," Gaga's song with Ariana Grande, which won Best Collaboration (and was one of Gaga's five total wins):
Kudos to Lady Gaga for having the mask that most looks like it could have come out of one of the Mad Max movies. As you may have gathered, this number has lights where her mouth would be, which moved along with her singing / talking. Honestly, I wouldn't mind having a mask like this at all. At the very least, we can tell that there's enough room for Gaga to move her mouth so that she can speak normally without the mask muffling her voice anymore than it already would. I would love to have a mask that didn't make me feel like I was trying to talk underwater. Does it look a bit creepy? Sure. But, maybe that's just what I need right now, OK?
But, relatively easy to move one's mouth parts in or not, I do not relish the thought of singing and dancing (and thereby huffing and puffing) inside of any mask. Our Gaga is a trooper, though, and she continued to show off by giving us fashion oddities as she picked up her numerous awards throughout her evening at the VMAs. I will take you now to her most-used protective facial covering, a nice sparkly number that, I'm sure, many of us would love to have in our maskdrobes. (Yeah, that's a wardrobe of masks. You have one by now, surely.)
Oooooh! It's pretty, right? What? What do you mean you don't see a mask? Alright, people, concentrate on Lady Gaga's face. Not the fact that a fashion designer bought up all the tin foil in someone's general store for her outfit. Good. Now, ignore the long, silver elf queen hair and the iridescent white / silver body suit. Great, you're doing so great. Go ahead and take in Gaga's slight silver antlers, or...alien antennae, so you can get your fill of that decision. Aren't you just so glad Gaga isn't doing her serious actor thing right now?
And, now you can zero in on her face, right? Cool! Isn't that a fantastic mask choice? The color makes it a good neutral; you can wear this one with jeans, pajamas, a ball gown, or even some fantasy cosplay, truly anything will work with it. Thanks for the inspiration, Lady Gaga! She also worked this look with an extreme fluffy cape and the same bodysuit, proving that it's a good go-to mask for all of your sartorial choices. But, she also stepped out in this number, which, I don't really know how to describe:
Geez. Fine, I take back what I said before: I do know how to describe it. This one has a real butterfly / pig vibe, does it not? I gotta admit, while this mask isn't as versatile as the silver one, the whole outfit does make Lady Gaga look like a sexy, fun-loving bird. I mean, who's to say that there isn't some adorably energetic butterfly pig bird living on an alien world, which only Gaga has glimpsed in the throes of musical inspiration? That's my (very sound) reasoning, and I'm sticking to it!
I'm going to finish this mask roundup with what I feel is the strangest of the bunch. That's right, y'all. Pig lady is not as creative as Lady Gaga's masks got last night. While this last one is, technically, a far simpler affair than the previous one, it still speaks volumes. Here we go...
I'm getting heart palpitations just looking at this. And, not the good kind, either, but rather the "I won't be able to sleep tonight because of the Cthulhus" kind. I know I can't be the only one for whom seeing folks in masks (especially if you round a corner and are suddenly confronted by a stranger or something) still seems a bit odd, so if i came upon even the most prettily dressed lady-person or man-dude and said person were wearing this mask, I'd be seriously taken aback. Likely to the point where I'd just run home and hide under my bed with some kind of weapon, just in case.
Things with tentacles are a no-go for me, and this look isn't helped with the blood-red color of the actual material, because it makes Lady Gaga look like she's been devouring folks all night in between accepting awards. Who knows, maybe she's been watching Lovecraft Country, and wanted to pay tribute to that show, while also honoring all of her Little Monsters everywhere. At any rate, Lady Gaga did not disappoint at the MTV VMAs, and anytime a celebrity gives us something good to talk about right now, it's worth relishing.
What's your favorite Lady Gaga mask from the VMAs? Let us know in the poll below! In the meantime, be sure to see what you can watch in the coming weeks by checking out our guide to fall TV!
This poll is no longer available.
Your Daily Blend of Entertainment News
Yennefer's apprentice, Gilmore Girl; will Vulcan nerve pinch pretty much anyone if prompted with cheese...Yes, even Jamie Fraser.