Jack Quaid And The Boys Cast React To Amazon's Big Season 3 Renewal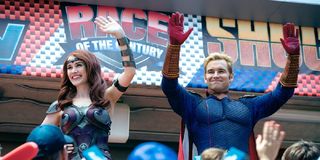 The Boys proved to be quite popular after landing at Amazon last year. Its diabolical twists kept viewers engaged and it stood out among the rest of the superhero TV fare. Luckily, the Amazon series has officially been renewed for Season 3! The news broke during The Boys' ComicCon@Home panel on July 23 and it was a definite relief, if not a surprising one. Of course, Jack Quaid and the rest of the cast took to social media to react to Amazon's big Season 3 renewal news.
Jack Quaid was so pumped about the Season 3 renewal news that he added a ton of emojis to his Twitter post that would mainly be understood by those who watched The Boys. It included a baby bottle, a baguette, and a few other cheeky images that you can check out in his reaction post below!
That poster looks pretty amazing, right? The Seven look like any typical superhero team, walking away from a threat that's been neutralized. But, I'd wager that the colorful smoke behind them was a part of a disaster that they caused to begin with, and that The Seven as we know them might not be the same team by the time Season 2 is over with. It's still a great announcement poster though.
Homelander's front and center in the poster, which means that Antony Starr will be offering up another fantastic (and also terrifying) portrayal of the disturbing villain. Suffice it to say that Starr is also pretty excited for Season 3 of The Boys and took to Instagram to share the poster. Starr's ready for another "crazy round of batshit." You can check out his whole post below!
Erin Moriarty also shared her excitement for Season 3 on social media. Moriarty's Starlight was one of the highlights of Season 1 and I can't wait to see where her story goes over the next two (!) seasons. Check out her reaction to the renewal news:
Jessie T. Usher was also ecstatic about Amazon making The Boys Season 3 official. There are a lot of exclamation points and words in caps so you know he's just super thrilled about it. As he says in the post, you really can't get in the way of The Boys.
It's pretty much excitement all around for everyone. Along with the renewal announcement, it was confirmed that Criminal Minds alum Aisha Tyler will host a Season 2 after-show called Power Rewind: Inside The Boys, which will offer some behind-the-scenes stories and more. And who knows? Perhaps The Boys Season 3 will finally bring in Jeffrey Dean Morgan for all the fun. We've all seen him as The Walking Dead's Negan and Watchmen's Comedian, so there's a lot to mine from him as another potential villain, just saying.
Amazon has been going strong with the early renewals. The upcoming Lord of the Rings series got a two-season order right out of the gate, while last year's freshman fantasy Carnival Row got a second season announcement before Season 1 had aired a single episode. So, it's nice that we won't have to wait until after The Boys Season 2 is over to hear back on whether the twisted superhero series will return for another go-around.
The Boys Season 2 will premiere on September 4 on Amazon Prime Video. For more on what to watch, be sure to check out our 2020 fall TV premiere guide.
Your Daily Blend of Entertainment News