Yellowstone Star Explains Jimmy's Fateful Decision, But I'm Still Angry At His Girlfriend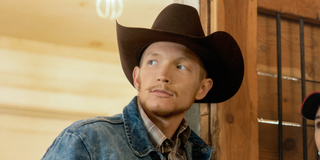 Spoilers for Jimmy's fate in the Season 3 finale of Yellowstone are discussed below.
Jimmy, Jimmy, Jimmy. Yellowstone toyed with viewers' feelings for Jimmy twice during Season 3, only to save the most severe blow for last. Jimmy is one of four characters that could be dead, heading into Season 4. While actor Jefferson White has explained his character's fateful decision, I am still angry at Jimmy's girlfriend.
In Yellowstone's Season 3 finale, Jimmy decided to (literally) get back on the horse after his girlfriend pressured him to risk his life in the rodeo again. This, despite Jimmy still trying to recover from the severe injuries he suffered in his rodeo accident. Well, Jimmy followed Mia's orders and got on the horse, which promptly bucked him off.
Jimmy lay unconscious and possibly dead as Yellowstone faded away. What on earth was going through Jimmy's mind for him to give in to Mia's demands? While it seemed like Jimmy was surrendering to his girlfriend's interference, Jefferson White had a different take on Jimmy's state of mind. On Jimmy's decision, White told Behind the Story:
According to Yellowstone's Jefferson White, Mia was providing Jimmy with the excuse he needed to do what he wanted, and that was to return to the rodeo despite nearly dying last time. Of course, I have to imagine that if Mia had argued for Jimmy to stay off the horse, she might have influenced him in another direction.
Yellowstone's one-time newbie to the ranch has had an incredible journey on the show. However, his life took its most jarring detours in Season 3. Jimmy's rodeo career took an unexpectedly severe turn when he was the subject of that life-and-death cliffhanger. While I liked Mia at first, her attempts to bully Jimmy were personally infuriating. On Mia's speech to Jimmy, Jefferson White said:
In my mind, Mia's argument had nothing to do with what is right for Jimmy. If she loves him, she should want him to be alive and healthy. Her solution guarantees neither. To me, it was all about wanting to replace John Dutton's control of Jimmy's life with her own. Like it or not, John has given Jimmy the life he has, and he owes John for it.
To revolt from John Dutton so he can satisfy his girlfriend's ego is not the answer if Jimmy wants freedom from the ranch. The ranch lifestyle has given him friends he never had, sobriety that eluded him, a job, a passion for rodeo, and paid his medical bills. Mia wanted him to flush all of that for her after dating on Yellowstone for about 90 seconds.
Unless Mia becomes the person that I thought she was, this avid Yellowstone shipper can no longer ship her and Jimmy. When she tried to belittle Jimmy's masculinity to get what she wanted, I was through. Not to mention, Jimmy knows she is speaking about something she knows next to nothing about -- the ranch.
For Mia to usurp the brand, she has to endanger Jimmy in two ways. The first being that Jimmy owes fealty to John, and as Yellowstone fans know, John will ensure he gets it. Jimmy needs to look no further than what happened with Wade Morrow to understand how that works out for those who try to betray the brand. Secondly, the rodeo almost killed Jimmy.
While I sensed that he still wanted to pursue it before Yellowstone's finale, Rip seemed to have gotten through to him. What would have happened if Mia had assured Jimmy that she loved him and did not need him to be a rodeo star? I cannot imagine him getting back up on the horse. Or at least, desiring to do so to the same degree.
She had a chance to ensure he did not possibly die again, and she made it worse. Mia basically insisted that if Jimmy did not do things her way, she would leave him. To be with her, Jimmy must risk literal life and limb. Why would a person who loves Jimmy make risking his life necessary to be with them?
Mia needs to love Jimmy enough to want him to live or move on in Season 4, while a desperate-for-love Jimmy needs to wait for a person willing to do that for him. During Season 3, Yellowstone revealed that Mia is Jimmy's first. That is an intense and unique kind of passion that has clouded Jimmy's ability to see clearly, in my mind.
Yellowstone Season 4 is currently filming, and time will tell if Jimmy is alive for it. In the meantime, enjoy this fall's premieres. You can relive Jimmy's previous bad decisions by watching the first two seasons of Yellowstone on NBCUniversal's new streamer, Peacock.
Your Daily Blend of Entertainment News
Like a contented Hallmark movie character, Britt happily lives in the same city she grew up in. Along with movies and television, she is passionate about competitive figure skating. She has been writing about entertainment for 5 years, and as you may suspect, still finds it as entertaining to do as when she began.