Yellowstone: 6 Game-Changers That Just Shook Up Episode 4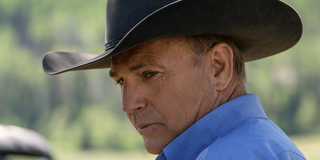 (Image credit: Paramount Network)
Warning: Spoilers for Yellowstone Season 3, Episode 4 entitled "Going Back to Cali" are discussed below.
Yellowstone did not waste any time clearing up that life-or-death cliffhanger in Episode 3 that left fans wondering for the past week. And after watching the latest episode, fans are probably hoping now more than ever that the hit Western drama will go on with no ending in sight, even if its co-creator recently weighed in with his overall endgame plans. Nevertheless, tonight's episode was as good and game-changing as it gets.
Beyond the issue of Jimmy's potentially deadly ordeal, Yellowstone also addressed some key turning points for the majority of its main characters, with Beth sharing a considerable part of herself with Rip as John Dutton readied his sons for the power-shift he was faced with implementing. Keep reading to check out everything that went down in Episode 4.
Jimmy Is Alive!
Back in Season 1, Yellowstone scared the daylights out of viewers by leaving the fate of Kayce's wonderful wife, Monica, in question. Monica survived that situation, and thankfully, Jimmy outlasted the cliffhanger and lived to see another day. I have to admit that the show really made me question if Jimmy would live, which not many shows are capable of doing at this point.
Episode 4 opened with Kevin Costner's John sitting by Jimmy's bedside, sharing the ranch hand's prognosis and his list of awful injuries. John also vowed to pay for Jimmy's expensive medical bills as long as Jimmy agreed to give up the rodeo. John's suggestion? Take up roping instead. There to also comfort Jimmy was his new Season 3 love interest, Mia. In some other news, he revealed to Mia that he was a virgin, though he certainly was not one by the time Episode 4 ended.
Beth Cannot Have Kids
Beth and Rip continued getting closer, and Beth even proposed to Rip, sort of. Things are surely going better in their relationship in Season 3 than I could have ever imagined. That said, Beth did end up pulling back a bit, but not before confessing something intensely personal: she cannot have children.
Rip said he did not want to have kids, but his time with Tate may tell a different story. By the end of Episode 4, Rip had lamented that the reason he has not pushed to make things official with Beth is that every time he gets close, she runs away. He indicated he would call her "wife" if she wanted him to, to which she said that "Beth" was fine. Two steps closer, but maybe one giant step back?
Kayce Accepted A New Position
The governor followed up on her bid for Jamie to become Attorney General and Kayce the livestock commissioner. John's romance with Lynelle paid off in a big way for him, as she was able to deliver on what she promised. Kayce did indeed get persuaded to take the position in Episode 4.
He did so, however, by saying he would do things his way, so Yellowstone viewers will have to see what that entails exactly. It will be interesting to see how Monica reacts to Kayce in this new Season 3 role and whether she is happy about how it could distract him from his family. For his part, Jamie is still in the dark about his upcoming promotion, per John's wishes. So it appears Jamie is about to make or break John's trust in him.
The Duttons Made A Potential New Enemy
If you were concerned that the Duttons were running out of enemies, Yellowstone has you covered. A biker gang cut the fence and helped themselves out to a visit. When Ryan, Colby, and Teeter confronted them, a fistfight broke out that Rip and Lloyd promptly brought to a victorious end for Team Dutton. When the bikers showed up again to get revenge, John, Kayce, and Rip were there waiting.
John flexed his intimidation muscles by making them dig a hole for their future corpses before letting them go with only a stern warning. The trailer for Season 3 hinted that the Duttons would get mixed up in something nasty. Based on that teaser's nuances, Yellowstone has not seen the last of the Duttons' battle with the bikers. A war with bikers is a kind of clash the Duttons are used to winning, though. (Fun fact: creator Taylor Sheridan played a friendly foe to a biker gang on Sons of Anarchy.)
Thomas Rainwater Recruited Reinforcements
The Duttons are not the only ones feeling the threat from Roarke and his associates, though; the local Native American reservation has too. Chief Thomas Rainwater readied his forces, and in doing so, he brought in lawyer Angela Blue Thunder. Yes, viewers finally got to meet Q'orianka Kilcher's new Season 3 character, and as previously reported, she is not Thomas Rainwater's biggest fan.
Angela seems to be the perfect person to contend with Roarke, making a strong impression as a savvy lawyer who knows what she wants, as well as who the Native American reservation needs as they prepare for a huge confrontation. Here is hoping Angela and Beth share a scene in Season 3, since the actresses would be amazing on-screen together! In related news, I also noticed some substantial chemistry between Angela and Thomas Rainwater... Just saying.
Beth Made Her First Strike Against Roarke
Roarke was not happy by the end of Episode 4, thanks to Beth. She made sure a "medium leak" got sprung about shorting a stock, which led to some bad activity for Roarke. Beth left Yellowstone's latest installment with that victory in her pocket. So is this the start of an extended winning streak for the Duttons? I highly doubt it.
Fans are probably in for a lot of push-and-pull for the Duttons well beyond the biker ordeal. Roarke has gotten characterized as a "threat" by Josh Holloway, and that much has already been shown in Season 3. Viewers only got to see a slight snippet of Roarke during Episode 4, but we shall see if he comes back with a vengeance next week.
Of all these Yellowstone game-changers, the one with Beth certainly took me by surprise the most, despite my previous theory that it might be the case. One of my theories for why Beth hates Jamie had to do with her no longer being able to have children due to something Jamie did. My current guess is that it came as a result of a car accident or something along those lines, but those details haven't been offered up just yet.
If Jamie is even partially responsible for why Beth cannot have kids, it makes sense that Kelly Reilly called the origins of their feud "tragic" when talking to CinemaBlend. Beth's revelation could tie back to why she verbally attacked Jamie after seeing Rip with Tate. She saw something she cannot biologically share with Rip (a child) and lashed out at Jamie because she blames him for it. Even if that isn't the case, hopefully Beth will be willing to adopt or to try other methods to start a family.
Tune in to see how these game-changers play out when new episodes of Yellowstone air throughout the summer on Sundays at 9 p.m. ET on Paramount Network. For a history lesson, the first two seasons will become available on NBCUniversal's upcoming streamer, Peacock when it launches nationally on July 15.
Your Daily Blend of Entertainment News
Like a contented Hallmark movie character, Britt happily lives in the same city she grew up in. Along with movies and television, she is passionate about competitive figure skating. She has been writing about entertainment for 5 years, and as you may suspect, still finds it as entertaining to do as when she began.