Yellowstone: Who Really Died In The Season 3 Finale?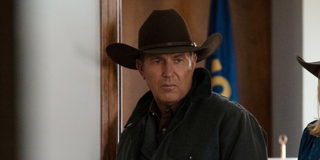 (Image credit: Paramount Network)
Be warned: spoilers for the Season 3 finale of Yellowstone, entitled "The World is Purple," on Paramount are discussed below.
Yellowstone has left fans with a lot of potential carnage to sift through. In the explosive season-ender, Yellowstone delivered an accident, a bombing, and two shootings. Four characters' lives now hang in the balance, which begs the question: who really died in the Season 3 finale? It is time to break it down.
Not even fan-favorite or major Yellowstone characters are necessarily spared from death after this finale, and the effects should be felt in Season 4 in some big ways. Thank goodness it has started filming! Due to the coronavirus pandemic, production guidelines are going to be hardcore. Filming will take place in a single location in Montana, and that is not all. Restrictions will double as a necessity to keep Yellowstone's cast and crew safe and prevent spoilers from leaking.
Yellowstone co-creator Taylor Sheridan confirmed filming would take place on a sprawling ranch property comprised of multiple zones. So, with no guarantees of answers anytime soon about who survived, it's time to speculate!
Jimmy
What Happened: Earlier in Season 3, Jimmy had been in a near-deadly rodeo accident that left him terribly injured. John Dutton made Jimmy promise not to continue pursuing the rodeo, and while he had seemed to make peace with that decision, Jimmy's girlfriend Mia had not. Bullied by his girlfriend, Jimmy decided to get up on the horse again.
Mia put it to him straight. Either Jimmy would risk breaking his neck again, or she would leave him. Mia even tried to shame his masculinity if he did not comply. Well, Jimmy went along with it, mounting a horse at the Yellowstone ranch. He was promptly bucked off of it. Yellowstone left Jimmy on the ground, unconscious.
Why He Might Be Dead: Jimmy was already at the center of one of Yellowstone's life-and-death cliffhangers in Season 3. Surviving the first time around was one thing; surviving a second time would be an entirely different story. Jimmy getting bucked and rendered unconscious so soon after his first injury spells potential death.
Why Jimmy Might Be Alive: It is safe to say that Jimmy is a fan-favorite, and his storyline still has a lot of potential. Jimmy provides the comic relief the show needs to offset its traditionally morose/contemplative mood. I could see Jimmy surviving, albeit with a severe injury. Hopefully, Rip will take that into account when he is inevitably angered by Jimmy's actions.
Beth
What Happened: Poor Beth! Last season on Yellowstone, she was beaten and possibly raped on the Beck brothers' orders. Move on to the Season 3 finale, and Beth seemingly got blown up. It all happened when Beth was moving out of her former office space. Remember, she was fired in the penultimate episode.
Beth and her assistant were packing things up when a box arrived, and the woman opened it before Beth could finish warning her not to. An explosion rang out, blowing out the windows of Beth's office as traffic on the street swerved around. The aftermath inside of the office was not shown.
Why Beth Might Be Dead: The intensity of that explosion was incredible. It caused traffic to react outside, and Yellowstone purposefully avoided showing the aftermath. There was just one big boom. Beth was pretty close to it too, which means she is at least injured, if not mortally so.
Why Beth Might Be Alive: It is believable that there might have been enough distance between Beth and the bomb for her to survive, and it's all but impossible to imagine Yellowstone without Kelly Reilly. A lot may depend on how the bomb was made, who made it, and how good it actually was.
Kayce
What Happened: While on the phone with his wife, Kayce discussed the proposal some "kingmakers" had made about him running for governor of Montana. Goodbye to John's girlfriend! As Monica understandably lamented Kayce taking on yet another thing, gunfire rang out, to which Kayce pushed over his desk for cover.
A gunman entered, and the scene stopped there. Fans of the Western will have to let their imaginations run wild with what happened next until Season 4 arrives to clarify things. It is unclear if Kayce was facing more than one gunman. If it is a single shooter, that changes things.
Why Kayce Might Be Dead: Kayce is an incredible shot and skilled soldier. He has the training necessary to take on more than one gunman. But what about a hit squad? If there was more than five people, I could see Kayce not being able to stave them off. He could get overwhelmed and run out of ammo. Thus, leading to his demise.
Why Kayce Might Be Alive: Kayce is used to taking on numerous enemies and coming out on top, and this could be another one of those instances. Plus, he is too integral to Yellowstone, and his story was entering yet another chapter with the governor pitch. I think a career beyond his wildest dreams could be coming for him in Season 4.
John
What Happened: John Dutton did not take his nightmare seriously enough. The Season 3 finale saw the dream he told Tate about in the premiere come to fruition. John was driving and noticed a woman stranded on the side of the road. He went to help her and her young son fix their flat tire. John's good deed did not go unpunished.
As he was finishing, a van rolled up. John thought they wanted to help and told them he had it covered. After confirming John's identity, the back of the vehicle opened up with a gunman inside. They proceeded to seemingly empty their clip as they sprayed John with gunfire before hitting the young mother.
Why John Might Be Dead: John was shot repeatedly, and he was bleeding when Yellowstone Season 3 ended. He went for his cell phone, but it was not working, which means his ability to call for help is in question. Rip is looking for him, but he could theoretically not make it in time.
Why John Might Be Alive: Just as I started to feel sweat form across my brow, Kevin Costner's character pulled out his cell phone and revealed that it had taken a critical bullet for John. If his cell phone spared him a mortal wound, John could be in the clear, depending on when someone finds him.
What does all of this mean? As wild as it is to say, I do not think anyone died during Yellowstone's Season 3 finale. If they did, I would be shocked. It is up to Taylor Sheridan to decide if his characters are worth more alive than dead. Jimmy, Beth, Kayce, and John are vital to Yellowstone, and it is impossible for me to imagine any of them dying.
Of course, the show is about doing the tough thing, and that would be killing off one of them. While you wait for Yellowstone Season 4 to arrive and reveal who (if anyone) died in the finale, keep your eyes out for this fall's premieres. Meanwhile, re-watch the first two seasons' more tranquil season-enders on NBCUniversal's new streamer, and be sure to vote in our poll below about the finale!
This poll is no longer available.
Your Daily Blend of Entertainment News
Like a contented Hallmark movie character, Britt happily lives in the same city she grew up in. Along with movies and television, she is passionate about competitive figure skating. She has been writing about entertainment for 5 years, and as you may suspect, still finds it as entertaining to do as when she began.
Your Daily Blend of Entertainment News
Thank you for signing up to CinemaBlend. You will receive a verification email shortly.
There was a problem. Please refresh the page and try again.