Yellowstone: 5 Shocking Ways The Season 3 Finale Set Up Season 4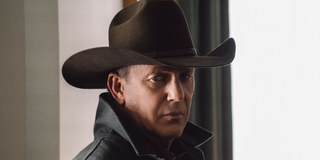 (Image credit: Paramount Network)
Warning! Spoilers for the Season 3 finale of Yellowstone, "The World is Purple," are discussed beyond this point.
Did everyone managed to close your mouths yet, or are your chins still next to mine on the floor? If you are still in the latter state described, I obviously understand. Kelsey Asbille teased a "jaw-dropping" Season 3 finale that left her wondering how Yellowstone will proceed, and she was right on the money.
Yellowstone started on an ominous note and managed to end even more ominously. The fate of not just one, two, or even three characters is in doubt, but rather FOUR characters' lives were left dangling by threads, while two other characters unexpectedly made it to the finish line unscathed. Or so it seemed, anyway.
Jamie survived, but not before sharing in some foreboding dialogue with his biological father, wherein Garrett Randall indicated that Jamie should "kill the king" to take his empire. Thereafter, viewers watched as Yellowstone's king faced his most brutal assault yet (and that is saying something). The poetic symmetry of the Season 3 finale beckoned its seemingly deadly closing moments. It's now time to dig into the five shocking ways the Season 3 finale set up Season 4.
Jimmy's Last Ride...Maybe
Facing mounting pressure from his girlfriend Mia, Jimmy decided to literally get back on the horse to pursue his rodeo dreams. That went down despite him almost dying earlier in Season 3, and Jimmy wearing John's brand. Mia lost a lot of points with me for that move, but more on that at another time. Pressured by his girlfriend, Jimmy mounted a steed and managed to hold onto it for a bit.
Naturally, the horse then whipped him right off its back and onto the ground, and Jimmy did not seem to move after that. Is he dead for real this time? It wouldn't make much sense for Yellowstone to use Jimmy as a death cliffhanger twice in the same season, only to reveal he survived both times. It feels too bait-y for the hit Western, so I'm quite worried that Jimmy is indeed a goner this time.
Beth Got Blown Up
Beth got fired in last week's episode, only to get blown up in the follow-up installment. Yellowstone was not holding back by also putting Beth on the potential chopping block in its Season 3 finale. As Beth and her assistant were packing up her office, the assistant picked up a box, and as soon as I rhetorically exclaimed, "It could be a bomb," an explosion tore through Beth's office.
A similar thing happened on another series that I binged on Netflix which will go unnamed, and those main characters all survived, so I suppose that is a ray of hope that not all TV explosions equal major deaths. Kelly Reilly's brash character is one of the series' breakouts, and Yellowstone would not be the same without her, especially after learning so much more about her past this season. Hopefully, she pulls through and gets some revenge.
A Gunman Came For Kayce
Kayce has just finished listening to an incredibly persuasive pitch for him to run for Governor of Montana, and then boom, his life got threatened. No wonder fans cannot relax where Monica and Kayce are concerned, since one half of their coupledom is always in harm's way. Kayce was on the phone with Monica when Yellowstone flexed its deadly muscle, as a gunman entered Kayce's office, and shots rang out as Monica frantically called her husband's name over the phone.
Kayce has survived a lot of close calls this season, and the Season 3 finale let viewers know those hardships would not be ending any time soon. John's youngest son is arguably the heartbeat of the Dutton family, so I would be in shock if he were to meet his maker. Could he be seriously injured? Yes. Is Season 4 here yet to give us answers? Sadly, no.
John Gunned Down
It was a moment that many Yellowstone viewers probably felt coming as soon as John pulled his truck over to help a purportedly stranded mother and her son. Remember back in the Season 3 premiere, when John told his grandson Tate that he had been having a recurring nightmare about just such a situation?
A van rolled up, with the driver looking for John Dutton, and after John confirmed his identity, the van riders opened fire. John had indicated that the people he pulled over to help wanted "something else," so does that mean the stranded mother was helping the assassins? Yellowstone seemed to hint that could be the case, but then she was shot, too. The Season 3 finale ended with John possibly revealing that his cellphone had either stopped or stalled one of the bullets. Another near-death experience survived? I certainly hope so.
Rip: Remaining. In. Position.
There was no character I was more worried about heading into the Season 3 finale than Rip Wheeler. Thankfully, I was wrong about him dying. Despite a lot of foreboding dialogue and worrisome inferences, Rip actually survived the hour without incident. The same will not get said for whoever sent that bomb to Beth's office and opened fire on Rip's father-figure, though.
Hell, hath no fury like Rip Wheeler when his loved ones get scorned and targeted. While I am grateful that Rip is alive and well, I cannot be alone in wondering why. Rip is John Dutton's chief enforcer, so taking down Rip would likely destabilize the Duttons in the biggest way. Is Rip's turn coming? Did Yellowstone spare his turn for the Season 4 premiere?
Rip's exemption from the assassination attempts in the Season 3 finale seems to be a massive clue as to who the perpetrator is. They clearly have little inside knowledge about the inner workings of Yellowstone's eponymous ranch, or they would know that Rip has to go. That is unless a twist is coming that points to there being another specific reason why Rip was left alone.
It seems the hit squad only aimed for the biological Duttons (minus Tate). So, who is responsible for unleashing all of this mayhem? I hope to investigate that further in another story, so stay tuned to CinemaBlend. For now, take a chance to vote in the poll below, weighing in on who you think died in Yellowstone's shocking Season 3 finale.
This poll is no longer available.
That is a wrap on Season 3. A premiere date for Season 4 has not gotten announced yet. While you stay tuned for production updates on Season 4, keep your eyes out for this fall's premieres. Meanwhile, re-watch the first two seasons on NBCUniversal's new streamer, Peacock, with Season 3 likely hitting the service at some point in the future.
Like a contented Hallmark movie character, Britt happily lives in the same city she grew up in. Along with movies and television, she is passionate about competitive figure skating. She has been writing about entertainment for 5 years, and as you may suspect, still finds it as entertaining to do as when she began.