The Venture Brothers Cancelled By Adult Swim Ahead Of Season 8, But There's Hope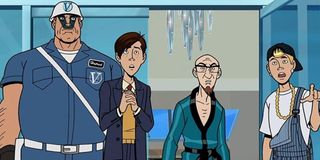 In its nearly two-decade existence, Adult Swim has given audiences plenty of notable shows ranging from Aqua Teen Hunger Force and Home Movies to Rick and Morty and The Boondocks. Another series that's been a staple of the adult programming block is The Venture Bros., which has been serving fans with plenty of action and comedy for over a decade. Unfortunately, we may now be witnessing the end of an era, as Adult Swim has cancelled the long-running series. But there may still be some light left at the end of the tunnel.
Series creator and producer Jackson Publick confirmed on Twitter that Adult Swim has opted to cancel The Venture Bros. and that he and his team were informed of the decision a few months ago. While the show's abrupt end is disappointing for Publick, he also took the time to thank the fans for their support over the years:
The Venture Bros. centers on the adventures of the Venture family, which is comprised of eccentric scientist Thaddeus "Rusty" Venture and his well-meaning (but somewhat incompetent) sons, Hank and Dean. Rounding out the main cast are the family's secret agent bodyguard Brock Samson and their archnemesis – and Venture's apparent half-brother – the Monarch.
The series, which is essentially a parody of vintage sci-fi content and adventure shows like Jonny Quest, has received considerable praise since it first debuted in 2004. Many have made specific note of how it plays on male, nerd culture.
Although fans are definitely reeling from the news, Adult Swim has released an encouraging message on social media, and it sounds like there may still be some hope for the future:
So it would seem that Adult Swim may have something in mind for The Venture Bros. moving forward, though its future may not be with the programming block. Some sources with intel have told trades like Variety that the show could migrate to HBO Max for new episodes. However, such a move is still said to be "far from being a reality."
With Jackson Publick and his team having already started work on Season 8 and Adult Swim wanting to continue with the property, there is reason to believe that this won't be the end. The fans' passionate response to Venture Bros. cancellation could also help to move things along. We'll just have to wait and see how things shake out for the dysfunctional and hilarious family of adventurers.
Covering superheroes, sci-fi, comedy, and almost anything else in film and TV. I eat more pizza than the Teenage Mutant Ninja Turtles.
Your Daily Blend of Entertainment News
Thank you for signing up to CinemaBlend. You will receive a verification email shortly.
There was a problem. Please refresh the page and try again.