How HBO Max Is Better Than Netflix, According To WarnerMedia Boss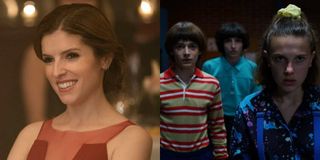 The number of mainstream streaming services has been steadily increasing over the years. The year 2020 alone has already seen the launch of Jeffrey Katzenberg's Quibi, NBCUniversal's Peacock, and WarnerMedia's HBO Max. The latter has dug into its deep content library, balancing its original series by offering TV shows and movies from across its various existing platforms, including DC Universe series like Harley Quinn and HBO originals like Curb Your Enthusiasm. WarnerMedia newest CEO Jason Kilar went on to share why he already thinks HBO Max is better than Netflix.
HBO Max still has a ways to go to catch up in terms of original content, but Jason Kilar believes the streamer already offers one thing that Netflix doesn't. Here's what he told Bloomberg:
As WarnerMedia entered the world of streaming with HBO Max, Netflix was perhaps its biggest competitor. That's not surprising, considering that Netflix has been leading the streaming market in recent years, launching a huge number of original series and expanding its content library by spreading its influence across the globe. HBO Max functions a bit differently in that it already has a slew of content from its parent company, though the Anna Kendrick-starring series Love Life has been its only original series to gain a sizable buzz so far. That said, critics and viewers have adored other exclusive content such as the new Looney Tunes Cartoons, Search Party Season 3, Close Enough and more.
Jason Kilar was definitely throwing some shade at Netflix, but he sounds quite confident in HBO Max's "quality bar." For some context, Jason Kilar recently fired Bob Greenblatt, who helped launch HBO Max. Casey Bloys, who was previously in charge of HBO programming, will now oversee HBO Max's original content. (Meanwhile, Toby Emmerich and Peter Roth are chairmen of Warner Bros. movies and TV, respectively.) With Bloys' responsibilities overseeing the streaming content, it seems like Kilar is definitely investing in more HBO Max originals. That said, Kilar explains that Greenblatt and other top executives being fired "had nothing to do with performance."
All that said, HBO Max is still a streaming infant when compared to Netflix, but that hasn't stopped comparisons over subscriber numbers from being made. Since launching in May, HBO Max reportedly has a little over four million subscribers. Meanwhile, Netflix's most recently report pegged its base at around 193 million. Despite the major differences, Jason Kilar isn't too worried about HBO Max's performance. Here's what he had to say about it:
What's more, Jason Kilar believes Netflix "leaned heavily" into its global market, which has absolutely helped the streamer along in growing its subscriber numbers beyond U.S. customers. For HBO Max, subscribers should "expect to see Latin America as a first focus" in global content. That said, it might be awhile before we see any new original content given that TV productions have only recently started to resume.
Stay tuned to CinemaBlend for updates on all things HBO Max, Netflix, and more. In the meantime, be sure to check out what's currently streaming on HBO Max, as well as what's coming to TV later this fall.
Your Daily Blend of Entertainment News
Your Daily Blend of Entertainment News
Thank you for signing up to CinemaBlend. You will receive a verification email shortly.
There was a problem. Please refresh the page and try again.