The Goldbergs Had To Recast A Character Ahead Of Season 8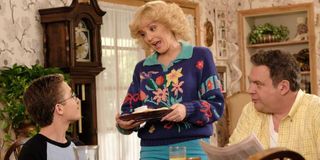 The Goldbergs introduced Kelli Berglund's Ren in Season 7. The character appeared in just five episodes, but she was established as Erica's friend at the University of Philadelphia and quickly went on to become Barry's love interest on the ABC sitcom. Though Berglund was all set up to return for The Goldbergs Season 8, the role had to be recast, for better or worse, with another actress getting cast to play the role of Ren moving forward.
Carrie Wampler (Big Little Lies) will be joining the cast of The Goldbergs in Season 8 in order to replace Kelli Berglund as Ren. According to Deadline, Berglund is now having to drop the sitcom role due to another major work commitment. The actress was also previously cast for a leading role in the upcoming Starz wrestling drama Heels, where she will be playing the character Crystal opposite Arrow's Stephen Amell. While the production-schedule timing might have worked out in her favor when Berglund first agreed to the dual roles, COVID obviously knocked things for a loop, thus making it impossible for her to continue on with The Goldbergs.
Prior to landing The Goldbergs, Carrie Wampler played Lori in two episodes of HBO's Big Little Lies and has appeared in numerous other shows, including Parks and Recreation, Tales of Titans, 9-1-1, and more. However, Wampler is perhaps most famous for playing Brooke in Disney Channel's Austin & Ally.
Carrie Wampler has some sizable shoes to fill on The Goldbergs, and I'm sure a lot of pressure comes with assuming the role that another actor originated. That said, I think Wampler will do a great job as Ren. Considering that Kelli Berglund only appeared in a handful of episodes last season, I'd wager that the audience hadn't gotten so wildly attached to Berglund's portrayal of Ren that they won't stand for a switcheroo. And hey, it's Hollywood, where recastings are par for the course at this point.
In the case of The Goldbergs, it's certainly not the first time the show has undergone a recast. Girl Meets World's Rowan Blanchard played Jackie Geary, Adam Goldberg's love interest, for 11 episodes throughout Season 4 and Season 5, but was later replaced by Alexis G. Zall in the role for Season 6. Blanchard went on to appear in Splitting Up Together and TNT's Snowpiercer. Not to mention showrunner Adam F. Goldberg stepping down and being replaced by Chris Bishop & Alex Barnow.
Recasting any role can be tricky because audience members do (obviously) notice that it's not the same actor in the role. However, that hasn't prevented even the most popular shows, including The Fresh Prince of Bel-Air and Game of Thrones, from recasting characters for one reason or another – whether it's behind-the-scenes issues, scheduling conflicts, etc. - and carrying on like nothing's happened. The show must go on and all that jazz! Or if not jazz, then synthy '80s pop.
The Goldbergs Season 8 is scheduled to debut at some point this fall on ABC. However, there is currently no premiere date set for the sitcom. Stay tuned to CinemaBlend for updates, and be sure to check out our 2020 fall TV premiere guide for more on what to watch.