Reese Witherspoon Shares Behind-The-Scenes Big Little Lies Pic To Remind Us Of A Time Pre-Social Distancing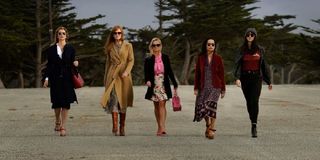 It's been over a year since Big Little Lies began airing Season 2 on HBO. It's no secret that the cast of the popular show enjoy each other's company outside of work. Laura Dern even appeared on Reese Witherspoon's YouTube channel to discuss a variety of different topics, including which Big Little Lies characters they're most like. Now, Witherspoon has shared a behind-the-scenes picture, and it's a reminder of a pre-social distancing times.
Reese Witherspoon posted a picture to Instagram that had the cast — Nicole Kidman, Laura Dern, Zoë Kravitz, and Shailene Woodley — alongside the director and cinematographer posing in very close quarters. The picture was a throwback to when they were filming Big Little Lies Season 1 and the contrast to our lives now is very different. Oh, the nostalgia. Check out Witherspoon's post below:
Social distancing is still very much in effect, despite the fact that many businesses are reopening. In a time when friends haven't seen each other in some time and happy hours are conducted over Zoom calls, one would hope that the Monterey Five are enjoying their wine and chit chat from a safe distance. Perhaps Meryl Streep's Mary Louise Wright is even attempting to eavesdrop on the video call. I can definitely imagine her doing something like that given how nosy she is.
Big Little Lies Season 1 ended with the death of Celeste's abusive husband Perry. Season 2 followed up on that life-changing night for the Monterey Five by exploring their feelings, the aftermath, and their need to keep it all a secret from the authorities. The Season 2 finale saw the group of friends headed into the police station together, presumably to tell the truth of what really happened the night of Perry's death.
Will the Monterey Five reunite for Season 3 of the HBO series? It did return for Season 2 despite it being meant as a limited series adaptation, so I'd like to think that Big Little Lies could come back for another season. However, nothing has been confirmed yet.
All that said, HBO president Casey Bloys didn't think there was an "obvious way to go" for the story. However, he said he was more than willing to listen to the show's creative team if they had a good enough take for Season 3. Until anything official is announced (if at all), we'll always have Reese Witherspoon's lovely Instagram photo to come back to and enjoy simpler times.
Both seasons of Big Little Lies are currently available to stream on HBO Max. For more on what to watch, be sure to check out our 2020 summer TV premiere guide. If you want to skip ahead to find out what's debuting later this year, then swing by our handy fall premiere schedule for more options.
Your Daily Blend of Entertainment News