Last Man Standing: 8 Things You Should Not Overthink About The Show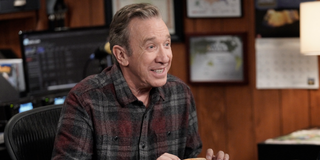 (Image credit: Fox)
Last Man Standing is one of the sitcoms that no one can keep down. A network cancellation and subsequent revival on Fox have kept the Tim Allen-led comedy standing proud. There are a few things that LMS fans probably should not overthink too much about the show, though. Like any series, it has some complicated angles that should make some viewers do a double-take.
Throughout its eight seasons, Last Man Standing has evolved both as a show and a mythos. Tim Allen even reminisced on how things have changed over the years. Now that it has cemented nearly a decade of impressive storytelling, it is time to get into the things viewers accept without needing to overthink.
Kyle Dated Kristin
At this point, it is nearly impossible to imagine Kyle with anyone other than Mandy and Kristin with anyone except Ryan. They are Last Man Standing's inextricable couplings. What is not talked about too often is that Kristin used to date her now-brother-in-law, and pretty seriously.
At one point, Kristin moved herself and Boyd in with Kyle, and Kyle even proposed to her. It is slightly strange that someone as competitive as Mandy would let herself fall for her sister's ex. Plus -- the backstory could still make for an awkward family occasion. If it is cool with the Baxter sisters, it should be cool with fans.
Several Characters Have New Faces
Ryan, Kristin, Mandy, Boyd, and Carol all have different faces than they used to on Last Man Standing. Nick Jonas (of the Jonas Brothers) originally played Ryan before Jordan Masterson took over the role. Alexandra Krosney played Kristin until Amanda Fuller took over in Season 2.
Mandy, Boyd, and Carol all got recast during the network switch. Last Man Standing had fun with the Mandy switch, but it is weird to not even talk about how everyone has a different face. Why should fans not overthink it? Everybody who has taken over their current roles does such a great job that it is impossible to complain.
Boyd Is Slowly Fading Away
Boyd was once a prominent part of Last Man Standing's storyline. Remember that time Mike took Boyd trick-r-treating without Kristin's blessing? Exactly. In Season 8, Boyd slipped further away from the show's focus despite being the son of one of the main characters, and Mike's beloved grandson.
Boyd only popped up when feeling left out over the upcoming arrival of his little sister. In real-life, Boyd would arguably be a lot more active in Mike and Vanessa's life. That said, Last Man Standing viewers do not need to overthink it too much. Grandkids often lead busy lives growing up. Perhaps, Boyd is busy with his extracurriculars?
Vanessa Once Claimed To Have A Heart Attack
When it comes to the morality of Last Man Standing, Mike tends to take heat for his. Remember how he convolutedly (and hilariously) tried to get out of celebrating Halloween? Well, the recently political Vanessa is not always on the high side of moral ground either.
Vanessa once faked having a heart attack, which landed her in the hospital. Mike's dad would actually die from one in Season 7. No one got horribly hurt because of it, but it is a pretty big lie, and it took a hospital bed from someone who needed it. I love Vanessa, but it is food for thought, and something fans should accordingly not overthink.
Mandy Is Not Good Enough For Kyle
Mike and Vanessa's middle daughter is one of Last Man Standing's fantastic characters. She is also notoriously terse, self-obsessed, and shallow. Kyle is the exact opposite, and Mandy does not really deserve him. She almost ruined their wedding day because of it.
While I ship them, I cannot help thinking that Mandy has not proven herself worthy of Kyle's adoration. That is part of Last Man Standing's comedy, though. If you think too much about it, Mandy and Kyle's marriage can seem one-sided, and therefore troubling. Of course, Mandy has shown adoration for Kyle's sweet nature. Hence, not worth overthinking it.
Kyle Has Gotten More Naïve With Time
On the topic of Kyle and Mandy, it is time to address something viewers who have not watched older episodes of Last Man Standing may have forgotten. Kyle was not always as gullible or naïve as he is heading into Season 9. It is a trend that has gotten more emphasized as the show has moved forward.
A lot has changed since Last Man Standing started, and that is not a bad thing. Most shows tend to fine-tune things as they advance. Kyle's naivety provides the backbone to many of the returning series' best moments, so it is not worth overthinking why he has grown all the sweeter with time.
Eve Is Not Very Nice
Eve is a fan-favorite with snappy one-liners galore, but it is hard to say that she is nice. She is continuously combative with her sisters and her mother. Eve has had some sweet moments, for instance, in the Season 8 finale with her parents. Otherwise, Eve can be a cantankerous handful.
While Mandy is no walk in the park, Eve's jabs at her sister have often been cruel. Kristin has not gotten off much easier. To be fair to Eve, Mike is her role model, and harsh barbs are part of his job description. In the universe of Last Man Standing, feelings that have gotten seriously hurt have gotten addressed. Hence, no need to overthink.
The Baxters Are Rich
Mike Baxter has a hugely profitable position at Outdoor Man, the fictional sporting goods chain. Vanessa used to work at an energy company before becoming a high school teacher, getting laid off, and starting an extraordinarily successful tutoring company before pursuing her political career. Between their dual salaries, the Baxters are more than a little flush with cash.
I am not saying that Last Man Standing's central couple is as wealthy as the family in Schitt's Creek once were. That said, the Baxters have more than a little in the way of a disposable income, and the show never really delves into how much they have.
Last Man Standing is heading back with more things not to overthink in Season 9. The beloved comedy is hoping to bring back Kaitlyn Dever next season, so there is a lot to anticipate. Between Kristin and Ryan's new baby girl and Kyle and Mandy, expecting their first baby should bring a lot of laughs. I am ready for it!
Tim Allen will eventually be back on-screen with the rest of the Last Man Standing cast for the series' ninth season on FOX. Time will tell if the fan-favorite sitcom manages to make it as one of this fall's premieres.
Your Daily Blend of Entertainment News
Like a contented Hallmark movie character, Britt happily lives in the same city she grew up in. Along with movies and television, she is passionate about competitive figure skating. She has been writing about entertainment for 5 years, and as you may suspect, still finds it as entertaining to do as when she began.
Your Daily Blend of Entertainment News
Thank you for signing up to CinemaBlend. You will receive a verification email shortly.
There was a problem. Please refresh the page and try again.