7 MCU Easter Eggs That Would Be Cool To See In WandaVision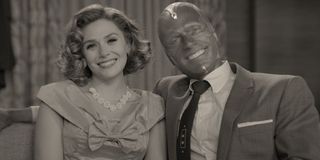 This has been a slow year for Marvel Cinematic Universe fans, with most of Marvel Studios' projects having been delayed due to recent events. But behold… WandaVision has swooped in to save the day, as the show is still set to hit its 2020 premiere date. And following the release of the show's first full trailer, we now have a (slightly) better idea of what to expect from Disney+'s first MCU TV series. The footage also showcased a slew of some sweet Easter Eggs for sitcom fans but, in typical Marvel fashion, you can bet the show will include some that connect to the larger cinematic universe.
As Elizabeth Olsen's Wanda Maximoff and Paul Bettany's Vision live out their ideal lives in suburbia, they're bound to come across a few people, places or objects that have links to other parts of the MCU. Some will likely bring joy, while others could cause pain for both the characters and the viewers. With that, it's time to examine some Easter Eggs that could pop up in this "surreal" new show:
That Fateful Day In Wakanda
We're not yet clear on where Wanda Maximoff will be – both geographically and mentally – at the start of WandaVision, yet there's a strong chance she may still be mourning Vision. And of course, a memory that probably still haunts her is his death in Wakanda. As you might remember, Wanda not only had to kill him herself, but she also had to watch in horror as Thanos revived her love and destroyed him all over again.
It wouldn't be crazy to think that the images still run rampant in Wanda's mind and that she even dreams about them. Given this, a flashback or dream sequence would be a way to revisit this key Infinity War moment. Sure, seeing it wouldn't be pleasant for the MCU faithful, as many of us are still recovering over two years later. Nevertheless, having a sequence like this would be a firm way to help sum up the sorrow Wanda is likely feeling.
More On Those Meetings In Scotland
During the two-year gap between Captain America: Civil War and Avengers: Infinity War, Wanda – a fugitive at the time – would occasionally meet up with Vision for alone time in Edinburgh. This is, of course, where we find them when they first come onto the scene in Infinity War.
Not much has been said about Wanda and Vision's exploits in Scotland thus far, so it would be nice to get a flashback or two to those moments in the Disney+ series. The two heroes were still in a mostly platonic relationship in Civil War, so their Scottish trysts more than likely played a major role in developing their romance. A look back at one of those meetings could serve as a source of true comfort in what could very well be a heartbreaking show.
Monica Tries To Call Captain Marvel
One of the most exciting prospects of WandaVision is that it will reacquaint audiences with Monica Rambeau, the sweet and optimistic young girl we met in last year's Captain Marvel. However, this Monica will be a full-fledged adult played by Teyonah Parris. Next to nothing is known about her exact role in the series but, based on the trailer, she's going to find herself wrapped up in the craziness as well. As a result, she may try to call in an old friend for help.
In light of the unusual circumstances, Monica (who's rumored to be a S.W.O.R.D. agent) could try to reach out to Carol Danvers for some assistance. Admittedly, the chances of her actually getting a hold of Danvers would probably be slim to none given that the hero may be consumed with cosmic activities. But it would be nice to see "Lt. Trouble" try to reach out to her mother's best friend. But if she does, let's hope she doesn't have to use a pager.
An Update On Jane Foster
Another MCU character that will be making a return for WandaVision is Kat Dennings' Darcy Lewis, who fans know as the comic relief of the Thor franchise. The sarcastic (yet loyal) intern hasn't been seen since 2013's Thor: The Dark World, so it's safe to assume that a lot has happened since she helped the God of Thunder defeat the Dark Elves. The same is also likely to be true for her friend and colleague, Jane Foster.
We know Jane has a huge future ahead of her, as she's set to wield Mjölnir in Thor: Love and Thunder. So it would be cool if Darcy mentioned her current status, which could, in turn, set up her next appearance. We wouldn't need a massive explanation, just a quick line or two that gives us a sense of what's going on with her and possibly alludes to what's coming down the line. And such a reference could even give us a clue as to whether or not Darcy will also show up in Love and Thunder.
The Return of Quicksilver
Pietro Maximoff's death is a storytelling choice that still doesn't sit well with a sum of MCU fans. Many were hoping the young speedster would stick around and join the ranks of Earth's Mightiest Heroes like his sister. Yet Marvel ultimately chose to write him out, despite shooting an alternate ending which saw him survive. Wanda seems to be mostly at peace about her brother's heroic sacrifice at this point. However, in this "perfect world," could Pietro be as alive and well as Vision is?
We still don't know exactly who or what is responsible for creating the reality the two main characters will be inhabiting, but it's clear that it's designed to be a sort of utopia for them. With this in mind, it wouldn't be crazy to think that Pietro exists and pays his sister and brother-in-law the occasional visit. It may seem like a long shot, but it would be nice to see him zip in for at least one scene.
Vision's Resting Place
While this may be a tragic detail to consider, it's completely valid. At the end of Avengers: Infinity War, we saw Thanos rip the Mind Stone from Vision's forehead, leaving his lifeless body on the ground for the snapped Wanda to mourn over. Vision's body is never seen in Avengers: Endgame, though one would have to believe the Avengers would've found a proper way to memorialize him. They may have buried him near the Avengers facility, or they may have chosen a place that's a bit more private. Let's hope for the latter, especially since the Avengers' base and the surrounding area was essentially decimated during Endgame's third act.
How things pan out for the superhero couple by the end of the show is far from clear, but it would be nice to see Wanda pay a visit to Vision's grave at some point. If her love truly is gone by the end of the series, a scene in which Wanda goes to see him may help to provide her with a bit of closure. A moment like this would not only be incredibly moving but also a pivotal step in her character development.
A Doctor Strange Cameo
There are still plenty of things we don't know about WandaVision, but one tidbit we do know is that the show will somehow tie into the events of the upcoming film Doctor Strange in the Multiverse of Madness. Wanda is set to appear in the film, which will no doubt see the potential Sorcerer Supreme brave the perils of the multiverse. So, in typical MCU fashion, it would make sense to have a post-credits scene or even a closing shot that teases Wanda's next adventure. And if this is the case, having Stephen Strange show up in the closing moments of the series would be perfect.
Since Doctor Strange constantly monitors reality, it wouldn't be crazy to think that the events of WandaVision get on his radar immediately. A post-credits scene could cut to him in the Sanctum Sanctorum, during which he's trying to gauge what's happened. Or, in an even more exciting possibility, he could actually pay Wanda Maximoff a visit or vice versa. Of course, this all depends on how the show leaves things. Whatever the case, the connection between the film and TV series makes a Doctor Strange cameo almost too perfect to pass up, and adding one would only increase the hype for his next big-screen outing.
So what kinds of MCU Easter Eggs are you hoping to see in WandaVision? Be sure to let us know in the comments! And keep it tuned to CinemaBlend for updates on the show as well as other news from the world of TV and movies.
Your Daily Blend of Entertainment News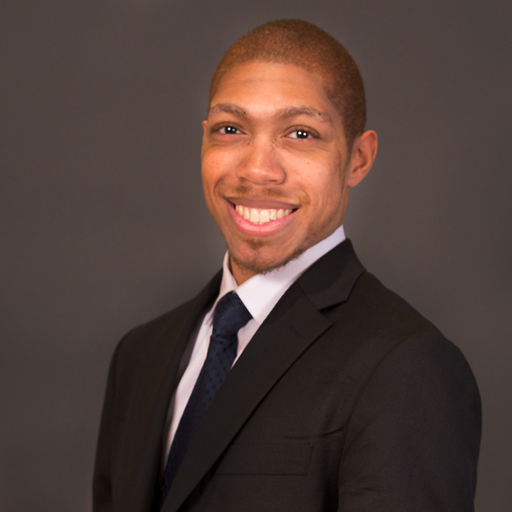 Covering superheroes, sci-fi, comedy, and almost anything else in film and TV. I eat more pizza than the Teenage Mutant Ninja Turtles.