This Is Us' Boss Shares Fantastic First Look At Mandy Moore And Milo Ventimiglia In Season 5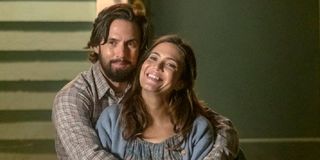 Fall TV is shaping up quite nicely. It was initially presumed that production delays for major shows would leave huge gaps in the TV schedule. However, despite the production shutdowns in March, our favorite shows are returning sooner than expected, and This is Us is no exception. The NBC drama has officially started production on its (slightly delayed) fifth season, and This is Us boss Dan Fogelman shared a fantastic first-look picture at Mandy Moore and Milo Ventimiglia in Season 5.
Social distancing and mask-wearing requirements have sent Mandy Moore and Milo Ventimiglia to opposite sides of the studio lot where they film This is Us. Shortly after it was announced that This is Us Season 5 was premiering two weeks in advance of its original date, showrunner Dan Fogelman took to Twitter to share an image of Moore and Ventimiglia and had a joke prepared, too. Check out the photo and caption below:
The image perfectly describes the year 2020 in my opinion. Dan Fogelman's caption is pretty on point because we've seen how the nature of filming on-screen sex scenes has changed during the pandemic. The Bold and the Beautiful filmed intimate scenes using latex mannequins, though I'm not sure if This is Us will employ such tactics. In addition to getting tested for COVID-19, the cast of Riverdale is washing the inside of their mouths before having to kiss each other on screen.
Who knows? Maybe Mandy Moore and Milo Ventimiglia will have to do the same thing before they get intimate on camera, but I suppose we'll find out soon enough if they'll be kissing at all when the show premieres. I'm just happy the series is back in production because it feels like forever since we've seen the Pearson family.
Mandy Moore's Rebecca and Milo Ventimiglia's Jack have been beloved by fans since the premiere of This is Us. While there's no telling how the implementation of COVID-19 safety measures and restrictions will change their on-screen dynamic, the series will actually be tackling a pandemic storyline in the present timeline. So there's a good chance actors will actually be wearing mask when they appear in their scenes as well.
This is Us was originally scheduled to premiere on November 10 before getting moved up to an October premiere. That change means that the series is returning only a month after the typical end-of-September premieres of past seasons. That's not so bad considering all the production delays, an ongoing pandemic, and a new set rules for cast and crew to follow.
This is Us will air its two-hour Season 5 premiere on Tuesday, October 27 at 9:00 p.m. ET on NBC. There are plenty more TV shows returning this fall, so be sure to check out our updated 2020 guide for more on what to watch.
Your Daily Blend of Entertainment News
Thank you for signing up to CinemaBlend. You will receive a verification email shortly.
There was a problem. Please refresh the page and try again.