Supergirl Season 6: 7 Things That Need To Happen In The Final Season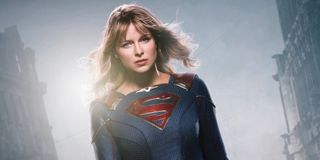 Supergirl will hang up her cape in 2021. It was announced last month that Supergirl Season 6 would be its last. The cancellation news was a bit unexpected, but I suppose now's as good a time as any to end Supergirl on a high note. The series, which initially debuted on CBS before moving to The CW for Season 2, has brought a lot of joy to the Arrowverse and it will be sad to say goodbye.
However, we're not in the final stretch of the show just yet and there are still plenty of storylines and character moments that need to happen before Supergirl goes up, up and away for the final time. Supergirl Season 6 will likely pick up where the shortened Season 5 left off. Ahead of Supergirl's sixth and final season, here are seven things that I think need to happen before the closing credits roll.
7. Supergirl Needs To Reveal What Happened To President Marsdin
In Season 4, Lynda Carter's President Olivia Marsdin was outed as an alien from the planet Durla. She was ultimately forced to resign from her position, though The Flash's Cisco did confirm that Marsdin had also been the United States president of Earth Prime in the aftermath of "Crisis on Infinite Earths."
However, Lynda Carter hasn't reprised her role since Supergirl's fourth season and I'd like to know what happened to Marsdin, who seemed like a kind and compassionate person. Did Marsdin go back to Durla? Is she hiding out? Either way, we need answers and it'd be a bonus to see Carter on the show once more.
6. Kara Needs To Have More Romance In Her Life
Of all the Arrowverse shows, Supergirl is the only one consistently lacking a stable romance for its lead. Melissa Benoist's Kara was romantically interested in pursuing a relationship with James Olsen in Season 1. However, the series went in a different direction in Season 2 when the pair decided to stay friends. Kara then dated Mon-El for most of Season 2 before he left.
In Season 5, Kara briefly dated fellow reporter William Dey, but Supergirl doesn't seem too keen to dive into this relationship either. Hell, I don't even know if they're still going out because their status is unclear. What gives? It doesn't sit right with me that Arrow, The Flash, and even Legends of Tomorrow have had quite a bit of romance while the Girl of Steel gets paid dust in that department. Here's hoping that Season 6 can give Kara the romantic storyline she deserves.
5. Alex Danvers Should Finally Adopt A Baby
Alex Danvers has always wanted children. In fact, her wanting kids when her ex-fiancée Maggie Sawyer didn't was what ultimately led to them breaking off their engagement in Season 3. Shortly after, Alex began looking into adoption agencies and she was promoted to DEO director in the hopes that she would be able to balance her work and personal life (less field work and all).
However, Supergirl Season 5 pretty much swept this storyline under the rug. We got a glimpse of Alex holding a baby as an option in Obsidian's virtual reality simulation, but that's about it. Now that Alex is in a stable relationship with Kelly Olsen and things are going well, I think Alex should finally move forward with adopting a baby. Assuming Kelly wants children too, which I believe she does, then the final season provides the best opportunity for that to happen.
4. Martian Manhunter Should Return To Mars With M'gann
There is nothing that I would love more than for J'onn J'onzz to stick around on Earth and be space dad to Kara and Alex forever. However, after parting ways with the DEO and starting up his own business, the Martian Manhunter might need a break. Just because I want him to return to Mars in Supergirl's final season doesn't mean that it has to be permanent.
M'gann's unexpected (but welcome) appearance in Supergirl Season 5 served as a reminder that Mars is still very much a part of J'onn's identity and heart. I think it'd be nice if J'onn decided to visit Mars after so much pain and turmoil, and make his peace with his homeworld. Maybe he can even check in on his brother Malefic, especially now that things are peaceful between them.
3. Lex Needs To Be Defeated Once And For All
One of the best twists of Supergirl Season 4 was that Lex Luthor was the one pulling the strings, fanning the flames of Agent Liberty's hateful cause and using Red Daughter as his secret weapon against Supergirl. In Season 5, Lex was once again the mastermind, plotting to infiltrate Leviathan's ranks and screwing with Obsidian's VR systems on purpose.
Admittedly, Lex has been a thorn in everyone's sides since he showed up on Supergirl and he just keeps winning. Considering that the sixth season will be the superhero show's last, I think Lex needs to be defeated for good. Supergirl and Lena could even work together to do it, unifying the houses of El and Luthor in a unique way.
2. Supergirl And Superman Need To Team Up Again
By the time Supergirl crash-landed on Earth, her cousin Clark Kent was already an adult. That plot point was a great way to avoid questions about where he was because the answer would always be in Metropolis. However, he appeared in the Supergirl Season 2 premiere, and suffice it to say that his team-up with Kara was pretty amazing.
It wasn't the last time that Supergirl and Superman took flight together, but the Man of Steel's appearances on Supergirl have been few and far between (which I think is fine considering the show's title). That said, Supergirl's final season may be the last time we ever see Melissa Benoist playing Kara and I think it would be lovely if she and Tyler Hoechlin reunited for one last adventure together.
1. James Olsen And Cat Grant Should Return
Mehcad Brooks left Supergirl in early Season 5, while Calista Flockhart's Cat Grant was last seen in Season 3. With Jeremy Jordan's brief return to the series last season, it made me a bit nostalgic for the Season 1 characters. While Winn Schott is now in the future and less likely to return, I would absolutely love it if James and Cat returned for one final appearance on the show.
Plus, Cat was promoted to Press Secretary by President Marsdin, though it's unclear what that means for her now. See? She needs to come back to tie up loose plot threads at the very least. Perhaps there's a story so big that Kara calls James for help and Cat for advice? Obviously, I don't think they need a reason to drop in, but it sure would be nice to see them again before the end of the show.
It's hard to believe that Supergirl is ending. I still haven't quite wrapped my mind around it yet. However, there's plenty of time to wrap up the story and give the characters (and the fans) some closure before it's all said and done. Here's hoping that Season 6 will be the best yet.
Supergirl Season 6 doesn't have a scheduled premiere date yet, but it will debut at some point in 2021 on The CW. Stay tuned to CinemaBlend for updates and be sure to check out our 2020 fall TV premiere guide for more options on what to watch.
Your Daily Blend of Entertainment News