Shemar Moore Shares Cool Behind-The-Scenes Photo From Set As SWAT Finally Announces Fall Premiere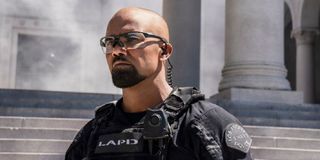 S.W.A.T. will be mirroring plenty of real-life situations when it returns to CBS for Season 4. For one, the drama's premiere will be revisiting the 1992 L.A. riots by way of flashbacks to Hondo's past. In addition, the CBS series will also be tackling storylines about COVID-19 and the 2020 Black Lives Matter protests. With the new season finally heading into production following months of shutdowns, star Shemar Moore got fans pumped about the recent Season 4 premiere date announcement by sharing a cool behind-the-scenes set photo.
Over the weekend, series star Shemar Moore went black-and-white on Instagram with a behind-the-scenes photo of the cast in full S.W.A.T. gear. In celebration of the premiere date news, Moore made sure to include the Season 4 release date and time in the caption for good measure. Take a look!
Beast mode all the way! It's hard to tell what scenes the cast may have been filming that day when the above pic was taken. Regardless, Shemar Moore and the rest of the S.W.A.T. crew look just about as ready as viewers likely are for new episodes to return for the new season.
S.W.A.T. is back in session and finally has a premiere date for Season 4, which I'd say is pretty great news considering that when CBS initially unveiled its 2020 Fall TV lineup back in May, the drama was set up to premiere during midseason debuts in 2021. However, that premiere date is now much closer than we previously believed, so mark your calendars for Wednesday, November 11!
In June, S.W.A.T. executive producer Aaron Rahsaan promised that the CBS series would continue to tell stories "that have explored themes of race and policing in minority communities" in Season 4. It seems like Rahsaan and the writers are delivering on that very promise as evidenced by the Season 4 trailer.
In the S.W.A.T. Season 4 trailer, tension quickly sets in as Hondo declares that "history says we're a year overdue for another storm." At one point, Shemar Moore's character finds himself in the middle of a Black Lives Matter protest, and soon puts on his mask to join the protestors. Later, he stops to look at the faces of George Floyd, Breonna Taylor and others painted onto a wall, and the moment is sure to give some fans goosebumps. Watch the trailer below!
The Season 4 trailer is certainly intense, right? There's a lot going on and the S.W.A.T. team definitely has a lot on their plate to look serious about. With storylines about police brutality, the L.A. riots, and the pandemic lined up for Season 4, I only hope that S.W.A.T. tackles these plots with depth and compassion. Beyond hoping that Shemar Moore continues to give fans sneak peeks at what's yet to come.
S.W.A.T. will have its two-hour Season 4 premiere on Wednesday, November 11 at 9:00 p.m. ET on CBS. For more on what to watch in the meantime, be sure to check out our 2020 fall TV premiere schedule.
Your Daily Blend of Entertainment News
Your Daily Blend of Entertainment News
Thank you for signing up to CinemaBlend. You will receive a verification email shortly.
There was a problem. Please refresh the page and try again.