You Season 3: 8 Quick Things We Know About The Netflix Series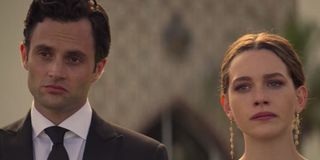 Netflix struck gold again when it took over the production of You. The former Lifetime series has been a huge hit for the streaming service, gaining fans who would literally die for Joe Goldberg (Penn Badgley). You Season 2 brought even more fans to the twisted world of Joe and his quest for true love. It's been nearly a year since the second season premiered and fans are on edge waiting for You Season 3.
Netflix announced plans for another season of You in early January 2020, but there has not been a large amount of information released about the upcoming season. Netflix is trying to keep us surprised about what's to come for Joe's world, but we do know a few details about You Season 3, let's take a quick look at what's been revealed so far.
The You Season 3 Writing Team Assembled In March
The You writer's room began their virtual session in March 2020, which likely means that they planned to begin filming in the summer of 2020, but it was one of the many series that had to delay production due to the Coronavirus. The last time the You writers posted about their virtual writing room was in June, so it's likely that they have wrapped up the writing portion of the season.
According to The Sun, entertainment insider Daniel Richtman revealed on his Patreon page that You will film from November 2020 to April 2021. However, we won't have an official confirmation about the possible November filming until we see the cast or crew mention this date.
You Season 3 Will Be Available To Stream In 2021
Netflix announced in January with the You Season 3 renewal announcement that the new season would air in 2021. You's original season premiered on Lifetime on September 9, 2018. You Season 2 premiered on Netflix on December 26, 2019. If You Season 3 follows the pattern of previous seasons, then it will air in the fall of 2021, likely between the months of September and December 2021. Of course, it's entirely possible it'll arrive sooner than that. We'll have to wait for an official announcement on the exact premiere date.
You Season 3 Will Have 10 Episodes
Season 1 and Season 2 of You both had ten episodes and with Netflix's initial renewal announcement, they also revealed that they would continue the tradition of ten episodes per season. So You fans will have ten episodes to dig into Joe's latest deadly drama.
Victoria Pedretti Returns As Love
Joe met his match when he found Love Quinn (Victoria Pedretti) in You Season 2. Slight spoiler alert ahead... with a baby on the way, Love and Joe are tied to each other for better or worse, and it's likely going to be worse. Netflix immediately announced that Victoria Pedretti would be back along with Joe in You Season 3.
Recently, Pedretti spoke with Collider about what she'd like to see for Love in You Season 3.
I think exploring who is the craziest one between Joe and Love could be a fun direction for their storyline in Season 3.
Scott Speedman And Other New Actors Are Joining The You Cast
You has announced several new characters and cast members for the upcoming season. Netflix announced that NCIS: New Orleans Shalita Grant will be part of the cast along with The Last Ship's Travis Van Winkle. According to Netflix Queue, Grant plays Sherry, a mom influencer who at first seems down to earth, but soon reveals herself to be a mean girl. She's only fake nice to Love.
Van Winkle's character Cary will target Joe. He's wealthy and brings Joe into his inner crew.
Deadline announced that former Felicity and Animal Kingdom star Scott Speedman will also be crossing paths with Love and Joe in You Season 3. He plays a character named Matthew. He's wealthy, a father, and husband, but he's mysterious and distant. The season will tap into Matthew's emotional depth.
All of the new characters sound interesting, so I'm curious to see what complications Joe and Love bring into their lives, and who actually survives their interactions with the pair.
A New You Book Will Be Released In 2021
The You TV series is based on books by Caroline Kepnes. You Season 1 followed Kepnes' book fairly faithfully, with a few added characters and changes here and there. You Season 2 was based on the second Joe Goldberg book Hidden Bodies and the show took a bit more liberties with the story and characters.
On April 6, 2021, the latest You book, You Love Me, will hit bookstores around the country. According to the book's description, Joe ditches Love and finds himself yet another new love interest, Mary Kay DiMarco.
He tries to actually settle down with her and her child. You Love Me will likely be published after You Season 3 finishes production (if we go by the rumored production dates), but the book has been available to advance readers for a few months. Therefore, we can probably assume that someone in the You TV series production team has likely read the book.
So the writer's room may take notes from the new book, but I believe that the show will finally take a big step away from the books with this season and go down a completely different path, especially because we know Love plays a big part in this season and doesn't seem relevant in the third book (at least not from the description).
The Neighbor Has A Major Role in You Season 3
The biggest mystery going into You Season 3 is who is the neighbor? Joe found himself watching yet another woman at the end of the season. Many have speculated that the woman could be Joe's mom. However, it's also possible that Joe has just found a new woman to obsess over. If the show takes any cues from You Love Me, the neighbor could be Mary Kay DiMarco, and we might watch Joe try to be with her while hiding it from Love.
Whoever the neighbor is, she'll have a major role in You Season 3. In a video chat interview for TVGuide, Penn Badgley and showrunner Sera Gamble ended their chat with Gamble saying "there's a lot to come with that neighbor." We can't wait to find out more about the neighbor and what she brings to season 3.
Characters From Joe's Past May Return To His Life
Not everyone Joe has encountered has ended up dead. Some characters have just disappeared for the time being, like Ellie (Jenna Ortega). Ellie may not know Joe's involvement in Delilah (Carmela Zumbado)'s death, but she knows that something is up with Joe.
Jenna Ortega spoke with People Magazine about what she believed might be in store for Ellie and the possibility of her returning for Season 3.
If Ellie does return, I suspect the writers will do as Ortega predicts and surprise viewers with her coming back ready to disrupt Joe's new life.
We still have a while to wait for the return of You, but I'm super excited to see where Joe and Love's story heads next season. You can stream the first two seasons of You on Netflix.
Your Daily Blend of Entertainment News
Spent most of my life in various parts of Illinois, including attending college in Evanston. I have been a life long lover of pop culture, especially television, turned that passion into writing about all things entertainment related. When I'm not writing about pop culture, I can be found channeling Gordon Ramsay by kicking people out the kitchen.