Netflix Just Revealed How Big Of A Hit Cobra Kai Was, And Wow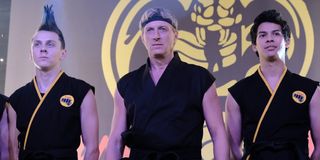 After initially airing on YouTube, the first two seasons of Cobra Kai were acquired by Netflix earlier this year, and I definitely think it was the right decision. The series began streaming on its new home in September and it's already getting confirmed for a third and fourth season, which is great news for stalwart fans of the show. Now, Netflix execs have released the viewing numbers for Cobra Kai that prove the action series has been an incredibly massive hit already.
For instance, the most recent tallies showed that Ryan Murphy's Ratched reportedly garnered a whopping 48 million views in its first 28 days after release. That number is definitely impressive for a show in its first season, but the period thriller has actually been bested by Daniel, Johnny and everyone else in Cobra Kai. Per The Hollywood Reporter, the karate drama was reportedly viewed by 50 million accounts in its first 28 days, going by Netflix's rather specific rating system. Wow!
On the occasion that Netflix's viewership numbers are made public, the streamer's execs will usually (and obviously) showcase the series that are ranked highest. In addition to Cobra Kai and Ratched's powerful viewing numbers, Netflix's The Umbrella Academy and Lucifer rounded out the top rankings, with 43 million and 38 million accounts having respectively watched each show.
I think those numbers bode quite well for Cobra Kai's future. With Netflix cancelling several of its original shows lately (including ones that were already renewed), the high viewing numbers for Cobra Kai could mean that the series will be allowed to carry on uninterrupted.
Just because Cobra Kai has already been renewed for Season 4 doesn't necessarily mean it's safe, considering all of the pandemic-related cancellations that have been happening this year, and not just at Netflix.. That said, Cobra Kai seems more popular with viewers than other originals were, and both seasons likely eclipsed the numbers they pulled in on YouTube. As such, I don't think Netflix would tout the series so hard only to pull the plug on it afterwards.
Of course, the streaming service doesn't release its viewership numbers for each and every one of its original series, and the ways in which Netflix measures its viewership is a little suspicious if you ask me. The metric is based on how many accounts click on any given title and it's counted if a subscriber watches at least two minutes of a film or TV show episode. So by all means, some of those 48 million viewers may have just accidentally let Cobra Kai play for a few minutes before turning it off.
Meanwhile, Nielsen has been tracking Netflix's numbers as well. I'd argue that the ratings company's stats are far more accurate, since Nielsen measures the total amount of minutes viewers watched of the whole series instead of just those first two minutes. As of the week ending September 20, 964 million minutes of Cobra Kai's 20 episodes had been watched in total. That's a whole lot of minutes, and that's not even counting October yet. I'd say that Cobra Kai is a huge hit no matter if it's Netflix or Nielsen doing the measuring.
The first two seasons of Cobra Kai are currently streaming on Netflix. Season 3 is expected to premiere on January 8, 2021. For more on what to watch, be sure to check out our 2020 fall TV premiere schedule.
Your Daily Blend of Entertainment News