The Stand EP Breaks Silence On Marilyn Manson Rumors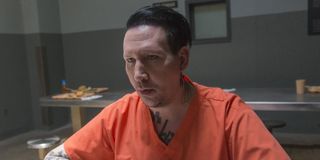 Speculation surrounding Marilyn Manson's involvement in CBS All Access' The Stand miniseries circulated for months before it became clear the shock rocker isn't involved. The singer was initially rumored to be playing the role of the Trashcan Man in the upcoming adaptation of Stephen King's post-apocalyptic 1978 novel, which was debunked by Ezra Miller's shocking first look as that very character. Now, The Stand's executive producer Josh Boone personally addressed the Manson rumors to set the record straight.
While conjecture suggested that Marilyn Manson had previously filmed footage for The Stand, he was reportedly never actually up for the role of the Trashcan Man — a role that was officially offered to (and accepted by) Fantastic Beasts franchise actor Ezra Miller. However, the rumors did have some grain of truth to them. According to Josh Boone, Manson was approached about playing The Kid, a minor antagonist from the unabridged version of Stephen King's novel. Here's what The New Mutants director told EW:
Well, there you have it! While Josh Boone would have welcomed Marilyn Manson's involvement on The Stand, it turns out the Grammy-nominated musician never filmed any scenes for the role at all. It is definitely unfortunate that Manson's schedule, combined with the series' limited budget, meant that neither he nor The Kid could make the cut.
Television productions are tricky and complicated to put together, so not everything Josh Boone & Co. hoped to include made it into the series. Of course, The Kid isn't very essential to the main narrative, so his absence won't make that much of a difference. However, it would've been pretty cool to have seen Marilyn Manson take on the role, since it's high time he showed up in a Stephen King adaptation. Better luck next time, I suppose.
All that said, it's also a shame that Marilyn Manson and Shooter Jennings' cover of The Doors' "The End" won't be making it into The Stand. Manson confirmed that he'd recorded the song for the upcoming series all the way back in July of 2019, so it's a bit disappointing that viewers won't get to hear it at any point in the show. Here's hoping that Josh Boone fulfills his dream to work with the goth singer at some point again in the future. (Manson had a voice role in The New Mutants.)
The Stand is scheduled to premiere on Thursday, December 17 on CBS All Access. The miniseries will consist of nine episodes that will air weekly. For more on what to watch in the meantime, be sure to check out our fall TV premiere guide and our 2021 winter and spring schedule.
Your Daily Blend of Entertainment News
Thank you for signing up to CinemaBlend. You will receive a verification email shortly.
There was a problem. Please refresh the page and try again.