My Big Fat Fabulous Life Spoilers: What We Know About Whitney And Chase's Broken Engagement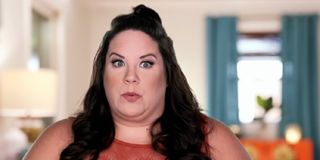 My Big Fat Fabulous Life may be having its most dramatic season to date, and unfortunately, that's not a good thing for Whitney Way Thore or Chase Severino. The two had some major relationship troubles in 2020, and cameras were rolling for the events that ultimately led to the end of their engagement.
For those curious about the details that led to this high-profile breakup, the following is a breakdown of everything we know from the show, interviews, and social media since it all went down. Obviously, spoilers are ahead, so be warned and dive in on the messy situation TLC has served up for audiences this fall season.
Chase And Whitney Got Engaged, But Friends And Family Thought It Was Too Soon
Chase Severino's proposal to Whitney Way Thore in France was romantic but in the eyes of those closest to them, a bit surprising. Whitney's business manager and Chase's best friend Ryan Andreas admitted in a confessional on My Big Fat Fabulous Life that he didn't see the proposal coming, while Whitney's mother and father both expressed their concern as to whether or not the two had really thought the logistics of their relationship through enough to consider marriage.
Perhaps the loudest critic of the relationship was Whitney's good friend Buddy Bell, who ended up creating some friction on a cabin weekend. It seemed to be an open secret that Chase and Buddy weren't the best of friends, and Whitney's efforts to change her dynamic with her friend caused a big blowup between the two of them. Buddy sounded like a jealous lover in the Season 8 premiere, though in hindsight looks like the guy who saw through it all.
Chase Was Supposed To Move To Charlotte, But Instead Asked Whitney To Move To Wilmington
Whitney Way Thore and Chase Severino had grand plans, and as My Big Fat Fabulous Life fans know, those plans were in Charlotte. Chase was allegedly all on board to move to Charlotte, but when a bar he helped get started became a success, Chase balked at the idea of moving.
Chase tried to offer a compromise by suggesting that she instead move in with him in Wilmington, but Whitney was less than thrilled by the idea. Still, she seemed to keep an open mind, but all plans were put on hold when COVID-19 hit. In the present, it's unclear whether or not either would've really moved had the relationship lasted to that point, though at this stage, perhaps the answer would be a moot point.
Whitney And Chase Did Not Quarantine Together
Whitney Way Thore and Chase Severino were engaged during quarantine, but due to the distance between them, did not quarantine together. It's a decision that, while understandable given the distance between the couple geographically, potentially shows that there were some issues going on between the couple even before it was obvious on My Big Fat Fabulous Life.
Chase's reason for not moving to Charlotte was due to the success of his bar, but after a bit of research, it was revealed that his bar was closed (like many movie theaters) right after Whitney visited it for the first time. All bars in North Carolina remained closed until October, so technically, Chase could've quarantined with Whitney if he wanted to. Of course, Chase was also working in construction at the time, which may have been his reason for staying, but there's definitely a sense from Whitney's perspective that Chase could've spent those months with her in Charlotte if he wanted to.
Chase Confessed To Whitney He Cheated On Her And Had A Child On The Way
As Whitney and Chase had their arguments about moving and other future plans, Chase cheated on her with another woman. In an interview with E! News, Whitney revealed that she went on a trip to Europe without him in December 2019, which is around the time when the cheating incident in question happened. The woman Chase Severino got pregnant has not been identified, but according to Whitney Way Thore, is someone that Chase has known for a long time.
While we can only speculate as to what that means specifically, it appears this pregnancy wasn't the result of someone he just happened to meet at his bar, and may have even been a relationship that had been carrying on while he was with Whitney. It's possible this is the reason why Chase did not quarantine with Whitney. In either case, Chase ended up breaking the news about his infidelity and cheating on Whitney with a phone call, though Whitney did say he wanted to meet in person and that she wouldn't due to the lockdown.
Whitney Called Off Engagement, And The Two Officially Split
Whitney Way Thore took to Instagram on May 22, 2020, to announce that her engagement to Chase Severino was over. In a lengthy post, Whitney added that Chase's child was to be born in October, which would've been the year anniversary from when the couple first got engaged. Whitney added she didn't wish fans to react negatively towards Chase for the situation, and that everyone's privacy be respected in the situation.
The two have not reconciled since November of 2020, and all signs seem to show that they are done for good. The good news is that neither one seems to be dwelling on it in the public eye, which can always make situations for reality shows even messier when fans get involved.
Chase Is Raising His Child, And Whitney Quarantines With Buddy
As mentioned, Chase Severino welcomed his daughter Aurora, though she was born about a month early in September. Based on his social media accounts, Chase seems to love being a father and has spent a fair deal of time with her towards the end of 2020. Chase has been relatively quiet on social media since My Big Fat Fabulous Life returned, however, so updates haven't been quite as frequent from him.
Whitney Way Thore apparently got closer with her friend Buddy Bell during quarantine, and the two stayed together for a period of time. Despite that, and the fact that Whitney says Buddy has seen her naked a lot, the two are not a couple and will probably remain friends. For now, it looks like love is off the table for Whitney.
My Big Fat Fabulous Life airs on TLC Tuesdays at 9:00 p.m. ET. Continue to stick with CinemaBlend for more on the series, and for the latest news happening in television and movies.
Mick likes good television, but also reality television. He grew up on Star Wars, DC, Marvel, and pro wrestling and loves to discuss and dissect most of it. He's been writing online for over a decade and never dreamed he'd be in the position he is today.
Your Daily Blend of Entertainment News
Thank you for signing up to CinemaBlend. You will receive a verification email shortly.
There was a problem. Please refresh the page and try again.