NFL Fans Are Confused Why NBC Is Calling Wednesday's Game Sunday Night Football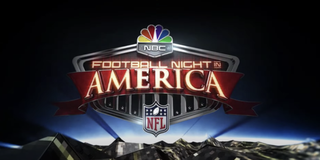 The current season of NFL action has been unconventional to say the least, but the latest Sunday Night Football broadcast on NBC was apparently bizarre enough even by 2020 standards that viewers were left confused. And for good reason! The latest Sunday Night Football game on December 2 didn't happen on a Sunday at all, but rather on a Wednesday, and NBC went ahead with referring to it as a Sunday Night Football game anyway.
The reason for the Sunday Night Football game between the Pittsburgh Steelers and the Baltimore Ravens airing on a Wednesday and therefore confusing viewers is a little bit complicated, so I think NFL fans can be excused for not knowing what exactly was going on. The Steelers were originally supposed to play the Ravens on Thanksgiving day, but positive COVID tests resulted in the game being pushed to the following Sunday, which was then pushed to Tuesday. It finally made the move to Wednesday.
The game would have aired on Sunday (and probably done well) if not for some of the delays, and viewers wouldn't have been taken aback by a Sunday game being hyped on a Wednesday afternoon. Sunday Night Football even acknowledged the strangeness of the Wednesday game with a post on Twitter:
Not all viewers were glued to social media enough to get the Sunday Night Football memo that a special broadcast was going to air on a Wednesday, so the SNF logo all over NBC on Wednesday afternoon was more than a little puzzling to some. Just take a look:
Harnessing the power of a cringing Chrissy Teigen gif definitely sends a message about Sunday Night Football on a Wednesday afternoon, and not a very good one! That said, not everybody reacted to the strangeness with negativity. In fact, some were amused as well as confused.
"Lol" is a pretty great way to roll with the weirdness of the Wednesday installment of Sunday Night Football, not least because of all the schedule changes that ultimately led to the Ravens vs. Steelers showdown on December 2. In fact, for another person on social media, the schedule switcheroo was par for the course of this year:
In the grand scheme of things, some people seemed to get a kick out of the complicated journey of this highly-anticipated NFL game to actually make it to the airwaves, on a Wednesday afternoon on NBC of all times. Not even primetime!
There actually is a reason why the Ravens vs. Steelers game aired on a Wednesday afternoon rather than in primetime on NBC. The network decided to hold its primetime slots for some Christmas celebrations, with The 88th Annual Christmas In Rockefeller Center and Christmas Spectacular with the Rockettes from 8-11 p.m. ET. So, the NFL game was bumped to the afternoon, and it made for a strange day of football.
The Steelers and the Ravens finally got to face each other with this Wednesday afternoon game, but Pittsburgh fans are probably a lot more satisfied than any who were rooting for Baltimore. The Steelers continued their undefeated streak with a 19-14 victory over the Ravens. Maybe Wednesday just isn't the Ravens' day!
The 2020-2021 NFL season isn't over yet, but further delays due to positive COVID tests are still entirely possible. For more viewing options now and in the coming weeks, check out our 2020 fall TV premiere lineup and our 2021 winter and spring premiere schedule.
Resident of One Chicago, Bachelor Nation, and Cleveland. Has opinions about crossovers, Star Wars, and superheroes. Will not time travel.
Your Daily Blend of Entertainment News
Thank you for signing up to CinemaBlend. You will receive a verification email shortly.
There was a problem. Please refresh the page and try again.