Hallmark's Christmas Waltz: Is It Worth A Watch?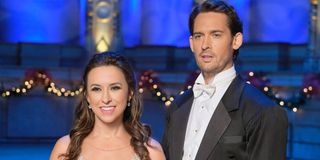 Every year, the Hallmark Channel and Hallmark Movies & Mysteries give us dozens of new films to enjoy, but the holiday season is really the time when the networks shine. From late October through right around Christmas, we're gifted with not only pretty much 24/7 holiday marathons of Hallmark movies from previous years, but new premieres, as well. This season has, thankfully, already brought us several wonderful new films, and seeing as how many of the movies share some basic ingredients (which fans will know well), we thought we'd break down one of the 2020 entries, Christmas Waltz, to see how it stacks up!
Starring Hallmark frequent players Lacey Chabert and Will Kemp, Christmas Waltz focuses on Avery (Chabert), who decides to step out of her comfort zone and take the dance lessons which had been scheduled for her now-cancelled wedding. She and her instructor, Roman (Kemp), soon find themselves becoming more and more involved in each other's lives, on the dance floor and off. Well, I'm being kinda coy there, but if you've watched even just one Hallmark holiday movie, you know what I'm getting at. So, let's see how Christmas Waltz fares in some of the common elements that all Hallmark fans know and love!
Leading Chemistry
Well, this category is a biggie, right? As I mentioned above, there are several actors who have made multiple Hallmark romances and holiday movies, and while some have worked together to great effect before, there are always new combinations (and new actors) who can play our falling-in-love leads. So, of the utmost importance is whether or not they feel right as a potential couple on screen. Christmas Waltz is the second time Will Kemp and Lacey Chabert have co-starred in a Hallmark movie, and it's the second time you root for the two of them from the minute they show up on camera in the same scene.
Avery and Roman start off with a professional relationship that has the beginnings of great banter, and only picks up steam from there. Avery is a long-time perfectionist who's trying to let go a bit, and Roman (who's all wink and twinkle) is the perfect person to help her loosen up and just enjoy the season. Basically, when you see these two together, you're going to wish that Hallmark were at least a little bit more like Starz, and don't act like you don't know what I mean by that!
Score: 5/5
Small Town Representation
It's truly hard to find a Hallmark movie, Christmas-themed or not, that isn't filled with some serious small town feels. Usually, a high-powered man or woman from the big city (any of them!) ends up stranded in said small town, or is there to visit family, or has even been sent there by their boss to do some business. But! Christmas Waltz deeply bucks this long-held trend, my friends. Unless you consider New York City, and the nearby areas of Brooklyn and Brighton Beach, to be "small town," you will be totally out of luck here. Not having small town representation was fine for this particular city-dweller, but if you need that in your Hallmark holiday movie, this one might not be for you.
Score: 1/5
Tragic Backstory
Those of us who've been Hallmark diehards for even just a couple of years will know that it's not unusual to find lead characters in these films with a whole host of really sad back stories. Christmas Waltz heads down a slightly different track, veering far away from deceased parents and other major losses, to give us Avery, who was set to be married just a few days before Christmas, but has now seen her wedding unexpectedly cancelled. This might not seem like a huge deal, but when you're as much of a perfectionist as she is, and had your whole future planned out, well, it does rank as a tragedy. Until a certain dance instructor comes Roman-ing into her life, anyway. (Don't look at me like that. The pun works!)
Score: 3/5
Christmas Feel
Come on, holidays! We need snow, snowfall, Christmas decorations, family gatherings, hot cocoa, and more, right? Well, Christmas Waltz has everything you could want. We've got lots of good coats, in shades of red and green to boot. There's a snowball fight at one point. We get the leads dancing along the sidewalk among pretty, multicolored holiday lights and piles of (totally clean!) snow. Within this film, you can watch a tree-trimming, lovely scenes of New York in the winter, children dancing a hip hop nutcracker, and what might be the most realistic, guaranteed-to-make-you-miss-your-family holiday party I've ever seen in any movie. I. Love. It. So. MUCH! If our rating system went up to 2.5 million, that's what I would give this category.
Score: 5/5
Teachable Moment
Contrary to what you may be thinking, in Hallmark holiday movies, the "teachable moment" is not about some moral or social lesson of greater responsibility or meaning in life. Oh, no, my friends. This moment is all about that time when our leads, who are falling in love but probably trying not to (see "Tragic Backstory" above) need to touch each other so that one of them can actually teach the other how to do something fun / important. Roman is teaching Avery how to waltz, so guess what? They be touchin' ALL THE TIME, YO! And, it's a wonderful, beautiful thing, too.
Score: 5/5
Last Minute Complication
Oh, dear! Our leads are already unsure if they're in love, or if they want to be in love, or whether or not the other person is in love with them, and now we have the dreaded "last minute complication" to get in the way and pull our lovebirds even further apart. Technically, this moment (which is usually based on a miscommunication, mistaken assumption or no longer held belief of one of the leads) doesn't truly come in the very last minute (that's for something much more exciting we'll get to in a bit), but roughly 20 to 30 minutes before the movie ends. And, we get a very satisfying complication in Christmas Waltz.
Score: 5/5
The Hallmark Kiss
Here we go, folks. Theoretically, these categories aren't really in any particular order, but how could I not bring out the big guns last? Hallmark movies are undeniably sweet, so when our leads finally acknowledge their love for one another, it would be a tremendous let down if they didn't at least kiss, right? In the last moments of Christmas Waltz, Avery and Roman do exactly that, and in the perfect place.
Score: 5/5
All in all, with 29 points out of a possible 35, you cannot go wrong with turning on your holiday lights, fixing yourself a hot beverage, cozying up with your best blanket and sitting down to watch Christmas Waltz. It's set to air on the Hallmark Channel again on Tuesday, December 8, at 8 p.m. EST, but it will be sure to air plenty of times over the next several weeks, so be sure to check listings so you don't miss it!
Your Daily Blend of Entertainment News
Yennefer's apprentice, Gilmore Girl; will Vulcan nerve pinch pretty much anyone if prompted with cheese...Yes, even Jamie Fraser.