Blue Bloods EP Explains Season 11's Unexpected Approach To The Pandemic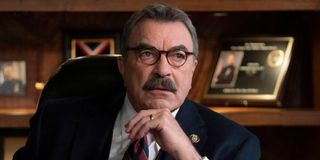 After a months-long delay, Blue Bloods finally returned to CBS with new episodes. With a reduced episode count in Season 11, Blue Bloods wasted no time addressing topics regarding police brutality and the COVID-19 pandemic in the premiere. Unlike most other returning shows, however, the CBS drama approached the pandemic a bit differently, and executive producer Kevin Wade recently explained the reason behind the decision.
During the Season 11 premiere, Blue Bloods tackled COVID-19 through a storyline that saw Eddie assisting a woman whose father had died from COVID, but his body had been lost amongst the mass deaths. While the pair eventually found him, the Blue Bloods episode was technically set in a world that had moved on from the deadly virus. So why was the series not as current as other shows? Here's what Kevin Wade told Deadline:
Kevin Wade makes some valid points. Realistically speaking, the pandemic won't go on forever, especially now that plans are emerging for a COVID vaccine rollout. It sounds like Wade doesn't want Blue Bloods to be stuck in a certain time period when viewers sit down to watch the series down the line.
On the other hand, Blue Bloods is still tackling other timely social issues regarding police brutality, so the COVID argument seems a bit contradictory, in my opinion. That said, I'd argue that police brutality has always been, and will continue to be, a relevant topic. Kevin Wade says the post-COVID approach was purposeful and the decision ultimately boiled down to a couple of things. Here's how he explained it:
I'll admit that watching masked actors on shows like The Good Doctor and Superstore has become par for the course. Considering that we're still in the midst of the pandemic means mask-wearing is still essential to people's health and safety. All told, Kevin Wade just didn't think that "Blue Bloods in a pandemic" was something viewers wanted to watch.
New episodes of Blue Bloods Season 11 air Fridays at 10:00 p.m. ET on CBS. For more on what to watch in the coming months, be sure to check out our hand 2021 winter and spring TV premiere schedule.
Your Daily Blend of Entertainment News