NCIS: Los Angeles' Eric Christian Olsen Is Bringing Two New Shows To CBS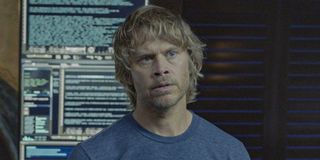 Eric Christian Olsen has been a very busy man. In addition to starring in NCIS: Los Angeles, Olsen also founded a production company called Cloud Nine Productions, and it's already produced Woke, which premiered on Hulu earlier this year. Now, Olsen's Cloud Nine is developing two new series over at CBS and one new series set at Hulu, and they all sound pretty promising.
Currently in the pipeline over at CBS is First Lady, a drama about the First Lady of the United States. The series will follow her as she divorces her husband while he's still in office and goes her own way, rejuvenating her career as a lawyer in Philadelphia. Per Deadline, First Lady is from writers Jessica Grasl and Corinne Brinkerhoff. Grasl has worked on ABC's The Good Doctor, Designated Survivor, and the Jennifer Lopez-starring drama Shades of Blue. Meanwhile, Brinkerhoff has previously written for the Emmy-nominated series The Good Wife.
The second series Eric Christian Olsen's production company is developing at CBS is a multi-camera sitcom called Dadholes. Inspired by the web series by Chris Wylde, Dadholes is about two fathers who have absolutely nothing in common. However, they have to start hanging out together when their kids become friends in kindergarten. The comedy is executive produced by Brian Keith Etheridge, who also produced and wrote for the sitcoms The Neighbors, The Ranch, and Mike and Molly.
It's unclear if these series will be picked up by CBS, but it's possible that they are being set to premiere in the fall of 2021, pending official pilot orders. If these two CBS shows don't end up getting series orders, Eric Christian Olsen's Cloud Nine Productions has a third show, a comedy in development over at Hulu called Fruit Man.
The sitcom is about a man from Brooklyn who believes that the Tree of Knowledge is growing in front of his home and uses its supposed power to his advantage. The premise sounds pretty unique, if you ask me. Fruit Man is set to star the Emmy-nominated comedian Daniel Koren, who will also write and executive produce the sitcom. Cloud Nine Productions most recently sold a sitcom called Big Dummie to Peacock, NBC's streaming service.
Eric Christian Olsen continues to star in NCIS: Los Angeles, which aired five episodes of Season 12 before getting to its midseason finale. The fall finale offered a solution for Olsen's Deeks, who had previously lost his job as an NCIS liaison. The series, like all shows, was shut down for months due to the ongoing pandemic but finally returned to filming earlier in the fall.
Stay tuned to find out which of Eric Christian Olsen's shows for CBS get picked up. In the meantime, be sure to check out our 2021 winter and spring TV premiere schedule for more on what to watch in the coming months.
Your Daily Blend of Entertainment News
Thank you for signing up to CinemaBlend. You will receive a verification email shortly.
There was a problem. Please refresh the page and try again.