Katy Perry Totally Used To Pretend To Be Zooey Deschanel To Hit The Clubs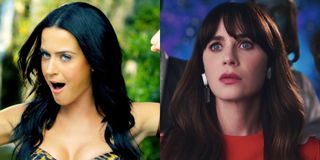 Some like to say that everyone has a doppelgänger somewhere in the world and, while that may sound crazy to some, there is some truth to it. It wouldn't be crazy to think that many of us have come into contact with someone who physically resembles us. This is definitely the case for a number of celebrities like Bryce Dallas Howard and Jessica Chastain or Javier Bardem and Jeffrey Dean Morgan. Two of the most famous "twins" in Hollywood would have to be Katy Perry and Zooey Deschanel and, as it so happens, Perry initially used this to her advantage when it came to clubbing:
So it sounds like Katy Perry didn't hesitate to enjoy the perks that came with resembling Zooey Deschanel, who was already well known around Hollywood at the time. What Perry did may sound a bit devious on the surface, but how many of us honestly wouldn't take advantage of a such a situation if given the chance?
Zooey Deschanel recently worked with Katy Perry on the music video for her song, "Not the End of the World" and, after Perry made admitted her past misdeed during their joint Instagram Live chat, Deschanel admitted that she was well aware of what the singer was doing:
But ultimately, Deschanel holds no hard feelings about Perry's impersonation antics. As it turns out, she felt a bit of relief about it when she first met Perry:
It's interesting to see the odd situations that can result from a case of mistaken identity. For instance, Kelly Clarkson was once mistaken for Carrie Underwood and, in the process, Clarkson ended up doing something that may or may not have been illegal.
Thankfully, Katy Perry and Zooey Deschanel seem to be more than cool with their status as celebrity lookalikes, and it's great to see they're also having a bit of fun with it.
Covering superheroes, sci-fi, comedy, and almost anything else in film and TV. I eat more pizza than the Teenage Mutant Ninja Turtles.
Your Daily Blend of Entertainment News
Thank you for signing up to CinemaBlend. You will receive a verification email shortly.
There was a problem. Please refresh the page and try again.