Marvel's Echo: Everything You Need To Know About Disney+'s Hawkeye Character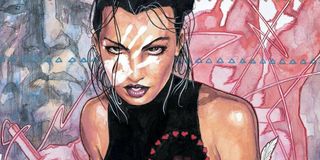 CinemaBlend participates in affiliate programs with various companies. We may earn a commission when you click on or make purchases via links.
In December, it was announced that Disney+'s Marvel Cinematic Universe spin-off series, Hawkeye, will serve as the small-screen introduction to Echo, a deaf Native American superheroine who has worked with the title character in the past. Played by Alaqua Cox, this character will hopefully serve as another way to bring representation into the always-expanding MCU, while also giving a great platform for this up-and-coming talent in this major new series.
Introduced back in 1999, Echo's profile continues to rise, and Disney+'s Hawkeye will bring more attention to the comic character. If you want to learn more about Echo and her backstory, we're here to help. Here's what you should know about Marvel's Echo.
Echo And Hawkeye Are Both Members Of The New Avengers And Share The Ronin Identity
For many comic book fans, they might be familiar with Echo through her connection to the New Avengers and, subsequently, Hawkeye. She was involved in the superheroic group, though the heroine felt unable to join due to a refusal to tarnish the reputations of heroes, which eventually lead to her donning a suit, disguising her identity and gender, and becoming Ronin, i.e. "Masterless Samurai." Eventually, after some time, Echo hands the Ronin identity over to Hawkeye, which will likely play a part in this streaming series and why she might be involved. That would be the simplest explanation, particularly as we briefly saw Hawkeye adopting the Ronin role in Avengers: Endgame.
But hopefully, Marvel has more planned for Echo and will incorporate Alaqua Cox into other connected MCU properties, in addition to this one, in the not-too-distant future.
Maya Lopez Is A Martial Artist, Highly Skilled Acrobat, An Olympic-Level Athlete, And She Has Photographic Reflexes
While Echo doesn't have any superpowers per se, she's exceptionally gifted with adaptable capabilities. Most notably, she possesses photographic reflexes, which means that she's capable of perfectly duplicating any physical movement or action she sees someone else do with perfection, even after only watching it once. Thus, when she's in combat, even with a skilled fighter, Echo can quickly grow and adapt and give her opponent a taste of their own medicine. Also, Echo is a highly-skilled acrobat, an Olympic-level athlete, an expert marksman, and a well-trained martial artist.
Additionally, Echo is an exceptionally gifted pianist, which is even more extraordinary given her hearing impairment. Furthermore, she's an excellent dancer, which can be helpful when she's in combat as well. That said, one of her greatest weaknesses is darkness, as she can't properly mimic that which she can't see.
Echo Is Half Cheyenne And Half Latina
As noted before, Echo is among the most prominent Native American characters inside Marvel lore. A mixed-race character, as she is both Cheyenne and Latina, the character's introduction into Marvel's expanding universe continued the comic company's commitment to representation in their pages. Certainly, that tradition will continue in the MCU as well, as Alaqua Cox, a Native American actress, will play the part of Echo in Hawkeye.
She's One Of The Very Few Deaf Comic Book Characters
Among the most notable and distinctive aspects of Echo's character, especially for Marvel, is that she's among the very few deaf characters in comic book history. This is one aspect of her character that's often discussed and distinguished since the creators have gone to great lengths to make her character dynamic and developed, thus hoping to avoid the one-dimensional cliches and stereotypes made about deaf characters in various mediums, as The Guardian noted. It should be noted that Echo can read lips, which allows her to communicate with Marvel characters who don't wear masks or who keep their mouths uncovered. That said, Echo can read the lips of some mask-wearers, like Spider-Man, if the fabric is thin enough.
It's certainly laudable to bring representation in the ever-evolving Marvel history, and having Echo inside the MCU is certainly a tremendous way to continue bringing representation into the constantly-expanding movie and television universe. Furthermore, Alaqua Cox will bring representation to the deaf community through this high-profile streaming series, as the actress is also deaf.
Echo Has A History With Moon Knight
In addition to her connection with Hawkeye, Echo has a history with Moon Knight, too, who's also set to get his own Disney+ MCU streaming show.
Specifically, Echo showed up in the fourth Moon Knight series, where she saved Marc Spector (and subsequently blew her cover) while working under the guise of a stripper. Later, Moon Knight proposes that they join forces against the West Coast Kingpin. Quickly, Moon Knight begins to form feelings for Echo, and it's believed Echo might have feelings for Spector too. But it's not long into their correspondence that Echo meets a sorry end from the hand of Count Nefaria, a man who tries to be the new West Coast Kingpin. But later in the comics, Echo is brought back to life through mysterious circumstances. Given the characters' history, it's reasonable to assume that Echo might make an appearance in this upcoming Moon Knight series.
She's Typically A Daredevil Supporting Character And She Was Raised By Kingpin, Who Killed Her Father
While Echo does have an established past with both Hawkeye and Moon Knight in the comics, as well as Captain Marvel, Hulk, and several other Avengers, this Marvel personality is most commonly known for her involvement in the Daredevil series. Notably, Maya Lopez was raised by the villainous Kingpin, who killed her father, and the character eventually adopted her Echo persona when she was tracking down Daredevil and learning his moves. Ultimately, Lopez proves to be quite a match for the blind superfighter, forming a close partnership with the character that leads to Echo shooting and blinding her paternal figure.
There's more to Echo's connection to Daredevil, but it should be noted that, if this character is intensely tied to this Marvel crime-stopper, there's a decent enough chance that the MCU may find a way to reconnect the Man without Fear back under their umbrella after the Netflix show was canceled. That's still left uncertain, but this might be a way for it to happen.
Are you excited to see Echo in Disney+'s Hawkeye? Let us know in the comments!
Your Daily Blend of Entertainment News
Will is an entertainment writer based in Pittsburgh, PA. His writing can also be found in The Playlist, Cut Print Film, We Got This Covered, The Young Folks, Slate and other outlets. He also co-hosts the weekly film/TV podcast Cinemaholics with Jon Negroni and he likes to think he's a professional Garfield enthusiast.