What The Glee Cast Is Doing Now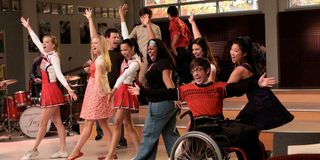 Glee is a series that had a strong start, but then kind of slipped off. However, it's a series that, whether you love or hate it, has forever made its mark on the television world. It produced tons of memorable musical moments and made stars of its cast, including Lea Michele, Naya Rivera, Amber Riley, and Darren Criss. The Glee cast includes many actors and actresses who went on to have successful careers beyond the series.
Show creator Ryan Murphy assembled a talented bunch of young actors who likely have a long future in the show business world. Let's take a look at what the Glee cast has been up to since the series ended.
Lea Michele (Rachel Berry)
Rachel Berry was the, slightly annoying overachiever whose talent spoke for itself. Even if Rachel wasn't the most likable character, you respected her talent and drive. Lea Michele stayed within Ryan Murphy's orbit after Glee, appearing in his horror-comedy Scream Queens as Hester. After Screen Queens was canceled after two seasons, Michele had a lead role on The Mayor. That series was also canceled after one season.
Lea Michele released two solo albums post-Glee, Places, and Christmas in the City. In 2019, she also appeared in the holiday movie Same Time, Next Christmas. In 2020, she gave birth to her first child with her husband Zandy Reich.
Chris Colfer (Kurt Hummel)
Kurt was Rachel's biggest competition in terms of ambition and need to be seen. Eventually, Kurt becomes part of Glee's most popular couple with Blaine (Darren Criss). Colfer has made some guest appearances on series like Julie's Greenroom, RuPaul's Drag Race: All-Stars, and Visible: Out on Television. However, most of Colfer's post-Glee life has been devoted to his writing career.
As of 2020, Colfer has written at least 15 books and six in his main book series, The Land of Stories. His most recent book is A Tale of Witchcraft.
Jane Lynch (Sue Sylvester)
Sue Sylvester appointed herself as the person who had to take down the Glee club, and especially Will Schuester (Matthew Morrison). Lynch has been one of the busiest former Glee cast members. She has appeared in the series The Mr. Peabody & Sherman Show, Angel from Hell, The Real O'Neals, The Stinky & Dirty Show, and Will & Grace.
Lynch has also appeared in multiple episodes of The Marvelous Mrs. Maisel, The Good Fight, and Space Force. She now hosts the new version of The Weakest Link. Lynch has appeared in the films The Late Bloomers, Mascots, Ralph Breaks the Internet and UglyDolls.
Matthew Morrison (Will Schuester)
Will was a teacher and coach of the McKinley High's glee club, New Directions. His questionable involvement and teaching methods helped the Glee team win many championships. Morrison has had recurring roles on The Good Wife and Grey's Anatomy. He also teamed up with Ryan Murphy again in American Horror Story: 1984.
Morrison returned to the theater world in 2015. He played J.M Barrie in the original Broadway run of Finding Neverland. He also appeared in the movies Tulip Fever and Crazy Alien. The Grinch fans were either treated or traumatized when he played The Grinch for NBC's version of Dr. Seuss' The Grinch Musical Live!
Kevin McHale (Artie Abrams)
Artie was a male vocalist in the Glee club, who also happened to be in a wheelchair. He sometimes made attempts to rap. Kevin McHale appeared in the miniseries When We Rise. In 2019, he was a contestant on the UK X-Factor spin-off, The X Factor: Celebrity. He made it to the quarter-finals.
Hale appeared in episodes of Elite and the Darren Criss Quibi series, Royalties. In 2019, he released an EP called Boy.
Jenna Ushkowitz (Tina Cohen-Chang)
Tina Cohen-Chang was a little shy, but she used music to come out of her shell. Jenna Ushkowitz appeared in the films Yellow Fever, Hello Again, and 1 Night in San Diego.
Ushkowitz also returned to theater life post-Glee. She had roles in Broadway productions of The Wedding Singer, Waitress, and The 24 Hour Plays. Ushkowitz has gained her most success as a producer. She has produced Once on the Island, Be More Chill, and The Inheritance. She won a Tony award for Once on the Island.
Amber Riley (Mercedes Jones)
Mercedes Jones was one of the best vocalists in the Glee club, and just as deserving of leads, though it seemed like Rachel tended to get most of the vocal leads. Amber Riley appeared in NBC's production of The Wiz Live! as Addaperie, and ABC's production of The Little Mermaid Live! as Emcee. She also appeared in the series Crazy Ex-Girlfriend and A Black Lady Sketch Show. Riley has appeared in the films Nobody's Fool and Infamous.
Riley has also appeared in the theater productions of Dreamgirls and Little Shop of Horrors. She played Effie White in Dreamgirls and Audrey II in Little Shop of Horrors. In 2020, Riley was cast as the lead in NBC's upcoming musical comedy series Dream. She also released an EP called RILEY in 2020.
Heather Morris (Brittany S. Pierce)
Brittany was a little bit on the unique side of things. She hosted a series with a cat and had some crazy theories. Brittany was also part of another popular LGBTQ+ couple with Santana (Naya Rivera). Heather Morris competed on Dancing with the Stars Season 24.
Morris then appeared on the series Glow, The Troup, and Raven's Home. She appeared in the TV movies Psycho Wedding Crasher and Pretty Little Stalker. She also appeared in the movies Most Likely to Die, Folk Hero & Funny Guy, and the upcoming film Moon Manor. In 2020,She started her own Instagram series called Hubbell Home, which is basically just a short look at her and her husband Taylor Hubbell's life and their DIY home projects.
Chord Overstreet (Sam Evans)
Sam Evans joined New Directions in Season 2 of Glee, then he became a main character in Season 4. Sam was also not the brightest bulb in the box, but he was a sweet kid who ended up having romances with many of the female Glee characters.
Chord Overstreet appeared in the series Pickle and Peanut, The Bold Type, and Royalties. In 2020, he appeared in the film The Swing of Things. The cast of The Swing of Things also included Olivia Culpo, Adelaide Kane, and Luke Wilson. It's about a groom who accidentally books his honeymoon at a swingers' resort. Overstreet has released two albums since Glee. They are Tree House Tapes and Hold On. He also released a single called Water Into Wine in 2020.
Darren Criss (Blaine Anderson)
Blaine Anderson started off Glee as a member of the Warblers, a rival glee club of the New Directions. Eventually, Blaine and Kurt fall in love and become one of the most popular couples on Glee. Darren Cris reunited with Ryan Murphy for several projects.
He appeared in a couple of episodes of American Horror Story: Hotel. He teamed up with Murphy for The Assassination of Gianni Versace: American Crime Story, and he won an Emmy for that role. In 2020, he was one of the leads in Murphy's Hollywood. Criss also teamed up with some of his former Glee co-stars by playing Music Meister in Supergirl and The Flash. Also in 2020, Criss had his own Quibi series called Royalties. It also featured some appearances by former Glee cast members.
In 2020, Criss launched a Podcast and web series called Wayward Guide for the Untrained Eye. Post-Glee Criss also appeared in the film Midway, returned to Broadway in Hedwig and the Angry Inch, and recorded an EP called Homework.
Harry Shum Jr. (Mike Chang)
Mike Chang started Glee as more of a background dancer but as the show went on, he became more of a main figure in New Directions. Harry Shum Jr. played Magnus Bane on Shadowhunters from 2016 to 2018. He then appeared in the second season of Kevin Williamson's series Tell Me A Story. Shum also appeared in an episode of Awkwafina is Nora from Queens.
Harry Shum Jr. appeared in the popular film Crazy Rich Asians and in the films Burn and Escape Plan: The Extractors. In 2020, he appeared in All My Life. Also in 2020, it was announced that Shum will appear in Netflix's rom-com Love Hard.
Dianna Agron (Quinn Fabray)
Quinn Fabray was the typical queen bee but became more than just a mean girl and teen mom. Dianna Agron has lent her voice to Robot Chicken and Wreck-It Ralph: Ralph Breaks the Internet. She has appeared in the films Against the Clock, Berlin, I Love You, Shiva Baby, and upcoming The Laureate.
She also appeared in the stage production of McQueen and a virtual performance of Is Edward Snowden Single?
Naya Rivera (Santana Lopez)
Santana was the mean girl, who could hurt every member of New Directions' feelings in two-seconds flat, but you also knew there was some truth to her quick jabs. She was never afraid to deflate Rachel's ego or bully Mr. Schuester.
Naya Rivera appeared in the film Mad Families in 2017. She also had a main role in the Step Up TV series. Tragically, in 2020, Rivera went missing after renting a boat with her son. Days later, Rivera's body was found, and she was pronounced dead from accidental drowning.
Mark Salling (Noah Puck Puckerman)
Puck was McKinley High School's resident bad boy. He ends up sleeping with his best friend Finn (Cory Monteith)'s girlfriend Quinn and impregnates her. Mark Salling hadn't appeared in any shows or movies post-Glee. In 2015, the actor was arrested on suspicion of possession of child pornography, for which he later pled guilty and in 2018, he committed suicide by hanging.
Cory Monteith (Finn Hudson)
Finn Hudson was another Glee character that was kind but not that smart. He was a football player who loved singing. He was Rachel Berry's main love interest throughout Glee. While appearing in Glee, Cory Monteith also appeared in the films All the Wrong Reasons, McCanick, and had a guest appearance on MasterChef.
Cory Monteith last appeared on Glee in 2013. Sadly, he died in July 2013 from a toxic mixture of drugs and alcohol, before the series ended.
Glee aired from 2009 to 2015. If you're in the mood to rewatch some of your favorite Glee characters, the series is available to stream on Netflix. Stream it here.
Your Daily Blend of Entertainment News
Spent most of my life in various parts of Illinois, including attending college in Evanston. I have been a life long lover of pop culture, especially television, turned that passion into writing about all things entertainment related. When I'm not writing about pop culture, I can be found channeling Gordon Ramsay by kicking people out the kitchen.