Why A Sansa Stark Game Of Thrones Sequel Series Needs To Happen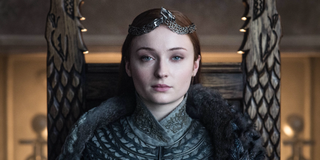 (Image credit: Helen Sloan / HBO)
It has been a year since Game of Thrones ended, and many fans are still trying to figure out how they feel about everything. There is one thing that I am definitely sure about a year later and will continue to be moving forward. Now that the Targaryen-centric, Fire and Blood is a-go, Sansa Stark needs a sequel series.
Despite fans clamoring for a sequel series chronicling the adventures of Sansa Stark's sister and HBO telling them why one will not happen, I still hope one about Sansa does. Sansa is one of Game of Thrones' most complicated characters, and when the show ended, she was ending on one of its most triumphant notes.
After pushing for the North's independence and it subsequently being granted by her brother, King Bran of the Six Kingdoms, Sansa was named the Queen in the North. Thus, becoming the ruler that Game of Thrones had long-hinted, she would be. It is time for a sequel series to delve into her reign, and this is why.
Sansa Has A Lot Left To Live
Game of Thrones' ending was just the beginning for Sansa, and she is one of the few characters that could say that when all was said and done. The Targaryens (and their dragons) are set to receive yet another deep dive with Fire and Blood, but it is time for Game of Thrones to look to the future. In other words, life after that ending.
Sansa has a life as a ruler, potential wife, mother, and sister to look forward to. I am incredibly curious if Sansa and her siblings will never really see each other again as Game of Thrones' ending sort of implied. Unlike Sophie Turner, I do think it is possible that Sansa would embrace a role as wife and mother, along with one as a monarch. She would not be the first queen to do so.
Sansa As A Monarch
After watching all that Sansa endured on her way to becoming a monarch, the least the Game of Thrones franchise can do is show viewers the results. Sansa may have dreamed about finally calling the shots, but what is that actually like? Cue the sequel series, which could show how reality dawns on Sansa as the full weight of the crown does too.
Let the aftermath of Daenerys' power-crazed ending soak in on Sansa as she tries to rule her kingdom without reaching Daenerys' level of tyrannical leadership. Remember, the two shared some iconic scenes during Game of Thrones' final season. A silver lining that pointed to Sansa's skills as a leader not willing to submit or throw tantrums when she is questioned. I think Sansa's rule, filled with mistakes and successes, could be nothing shy of compelling.
Sophie Turner's Next Big Role
Sophie Turner readily moved on with her career after Game of Thrones, and there is no doubt that she could find success in a non-Game of Thrones career in the future. Turner has also said that it would take a lot of money for her to do more Game of Thrones. Well, I say pay her whatever she wants because it would be worth it.
Sophie Turner returning as Sansa Stark for a sequel series would be huge for fans and Turner's career. Sansa was already a remarkably intriguing character, and her life as a young person ruling would make Sansa even more so. Turner has the ability to delve into the territory Rebecca Ferguson did to career-making results on The White Queen. Hence, a sequel series would be a winning opportunity and combination for Turner if you ask me.
If Not Sophie Turner, Laura Haddock
If you have had the pleasure of binge-watching White Lines on Netflix, you may have noticed the startling resemblance that Laura Haddock (who plays Zoe, pictured center) has to Sophie Turner. It was while watching that series, Haddock's performance convinced me that she had more than Turner's looks, she is also a marvelously skilled actress. One who can affably and easily carry on the role of Sansa.
My pitch for a Laura Haddock-led Sansa Stark sequel series would pick up with a now thirty-something Sansa, a decade after the events that concluded Game of Thrones. Gwendoline Christie should like that timeline! Haddock has what it takes to convey the varying emotions of Sansa, and her natural charisma would only help ease the complementary fit between the actresses. She has what it takes to carry on Sophie Turner's mantle.
The Starks Deserve A Sequel
It is not lost on this Game of Thrones fan that the direwolves were supposedly not given as much on-screen love because of Daenerys' dragons. It is also not lost on this fan that Fire and Blood is not about the Starks, it is about the Targaryens. After watching the Starks play second fiddle on Game of Thrones, I am ready for a spinoff that centers on the Starks.
Sansa is one of two leaders from House Stark, which means a series led by a Stark. If that is not enough "Starkness" for you, Game of Thrones indicated that Sansa would be ruling from the Starks' ancestral home, Winterfell. So, it would not be out of the question for Jon Snow, Bran, or Arya to stop by. They just have to do it. I am looking at you, Arya.
Besides how excellent watching the next chapter of Sansa's journey would be, there is also the familiarity of having a piece of Game of Thrones live on. I miss Sansa's siblings, Tyrion, and many others. It would be a relief to have their world live on, which the Targaryen-centric Fire and Blood (while exciting) will not quite offer.
I am not sure if a Sansa Stark sequel series will ever happen but darn it, I hope there is one. Sansa is just too rich of a character not to explore with her own show. The Game of Thrones franchise letting such a series go would be personally inconceivable.
You can still watch the original Sansa do her thing on Game of Thrones on HBO Max. Otherwise, lots of summer premieres are coming to television, and eventually, the upcoming Game of Thrones spinoff, House of the Dragon, will be too. Stay tuned!
Your Daily Blend of Entertainment News
Like a contented Hallmark movie character, Britt happily lives in the same city she grew up in. Along with movies and television, she is passionate about competitive figure skating. She has been writing about entertainment for 5 years, and as you may suspect, still finds it as entertaining to do as when she began.