Bridgerton Ending Explained: How Season 1 Wrapped Up For Each Character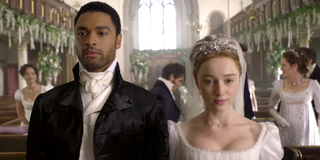 It's always lovely when you find a show you enjoy and can just sit right down and binge, so many people got a wonderful gift from Netflix when the streamer released Bridgerton, the first series from Shonda Rhimes' deal with the company, on Christmas day. The period drama, which is based on the uber-successful, long-running series of novels by Julia Quinn, had been highly anticipated, and with the response it received from audiences, it appears to have done a lot to fulfill fans wishes for the show. Now that you've (hopefully) finished the eight episodes available, though, you might want a handy reminder how the Bridgerton Season 1 ending wrapped up for each character, and we're here to help!
Will Daphne Bridgerton and Simon, the Duke of Hastings, live happily ever after? Do Eloise and Queen Charlotte find out who Lady Whistledown is? Is Marina Thompson's man going to come for her and the baby? Can Benedict Bridgerton loosen up? Does Anthony Bridgerton bang more than one lovely lass up against a tree? There are very romantic and dramatic spoilers ahead, but here's everything you need to know about where Bridgerton Season 1 left all of the main characters in the finale!
Daphne And Simon Had A Baby!
Well, obviously! If you've read more than a couple of historical romance novels, you will know the power and prevalence of the baby epilogue, and fans got a big one in the Bridgerton Season 1 finale. As you may recall, Simon was determined not to marry or have children so that he could screw over his not-so-dearly departed dad. The old man only cared about continuing the ducal line, and after how he treated his boy as a child, Simon was in no mood to assist.
But, after he marries Daphne (and they bang the living daylights out of every available second) she becomes suspicious about his claims that he can't procreate. Her realization that Simon's planned no-baby future was actually a won't leads to a lot of tension, but they work it out and have a son in the end.
Anthony Has Sworn Off Love!
Who didn't see this one coming? When we first meet Anthony he's not just trying to find a suitable match for little sister Daphne, but also carrying on a (sorta) secret affair with opera singer Siena Rosso. The two are clearly tree-bangingly smitten with one another, but as Season 1 continues, Anthony's desire to fill his father's shoes as the Viscount continually disrupt their happiness. Anthony is concerned because he's expected to marry someone among his social class, and Siena doesn't fit that requirement. Plus, she's uninterested in trying to become a dutiful society wife. In the end, Siena takes up with another man who, seemingly, appreciates her as she is, and after that final dump-ation, Anthony tells Daphne and Simon that love is not for him.
Penelope Is Lady Whistledown!
Some viewers were totally shocked by this big fat reveal, but others probably noticed quite a few signs that our shy, put-upon, lovesick Penelope Featherington was actually the one behind the gossip rag all along. Not only is Pen at every event discussed in Lady Whistledown's missives, but she's good friends with Eloise Bridgerton, so any important gossip can come her way from her BFF, as well. On top of that, Pen doesn't much like her family, so she was more than happy to spill all about her cousin Marina's pregnancy to keep her unrequited love, Colin Bridgerton, from running off with the lady whom he had no clue was already with child. Never piss off a writer!
Eloise Is Preparing For The Season!
Eloise got up to some minor mischief during Bridgerton Season 1, which mostly involved trying to find out how ladies got pregnant (she didn't) and investigating the identity of Lady Whistledown, partially at the behest of Queen Charlotte. While she was left without realizing that her best friend Penelope was the famed gossip, Eloise still admired the woman and the idea of being able to make her own money and chart her own course through life. But, by the finale, the young woman was all dressed up for Daphne and Simon's ball, because her mother is determined that she make her debut in society and find a husband.
Marina Has Found A Father For Her Baby!
Poor Marina! While it was doubtful during the season that she would be able to reunite with the father of her unborn child, it was especially heartbreaking to find out that he'd actually died in battle. As mentioned earlier, Marina had managed to convince Colin to run off and marry her, without telling him the truth, but Penelope put an end to her deception. When the brother of Marina's fallen lover discovered her correspondence and that she was knocked up, he offered to marry her, and, eventually, she accepted.
Colin Has Left Town!
Colin was left stunned by the revelation that Marina was pregnant when the news showed up in Lady Whistledown's gossip sheet. He was also, likely, quite embarrassed, and even told Marina that he cared so much for her that he would have still married her if she'd told him. Devastated, the finale saw Colin take off for Greece to have some adventures, which will probably include visiting a lady of the evening or twelve.
Benedict Is Enjoying His Freedom!
It's hard not to love the friendship between Benedict and his younger sister, Eloise, seeing as how both Bridgertons want something different out of life. Benedict would also like to get away from society's expectations of him as the second oldest son in the family, and, as Eloise told him, he has more freedom to do so than any of his sisters. So, Benedict begins going to events at the home of another high society second son, has a rousing ménages à trois with two women, and decides to try making art his full time career.
The Featheringtons Have Suffered A Loss!
Lord Featherington, we hardly knew ye! The family patriarch seemed mostly uninterested in the goings on around his household for much of the season, and it turned out that a lot of that was due to the fear associated with him gambling a lot, and eventually losing all of the family's money, even his daughter's dowries. In the finale, he went to Simon's boxer friend, Will, and convinced the upstanding man to throw his next fight, but it appears that the decision led to Featherington being set upon by gamblers much more dangerous than he, as his wife and daughters were lamenting his sudden death by the very end.
These are the biggest reveals for each main character in Bridgerton Season 1, but if you'd like to relive all of the scandal, you can always head back to Netflix for a repeated viewing!
This poll is no longer available.
Your Daily Blend of Entertainment News
Yennefer's apprentice, Gilmore Girl; will Vulcan nerve pinch pretty much anyone if prompted with cheese...Yes, even Jamie Fraser.