Dwayne Johnson Gives Perfect Response To Michael B. Jordan Being Named Sexiest Man Alive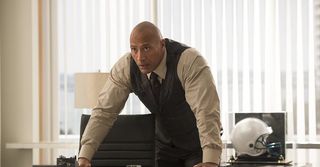 There are very few men who can say they have officially been named the sexiest in the world. Dwayne Johnson is one of them, and he was just joined by none other than Michael B. Jordan, after People named him this year's Sexiest Man Alive. His reaction to the news was, predictably, somewhere between sincere and silly -- and may have even included a subtle nod to the current state of affairs.
It's been a few years (four, to be exact) since Dwayne Johnson held the title for Sexiest Man Alive. Still, once you've been crowned with such an esteemed honor, it is fair to say you get to hang onto bragging rights for the rest of your life. It seems he certainly has, if his reaction to Michael B. Jordan taking the year is any indication. Take a look at what he posted on Instagram:
In typical Dwayne Johnson fashion, this post seems like a genuine form of congratulations for the man now wearing the "sexiest crown." But he's also performing a subtle flex, reminding fans that he, too, has reached the upper echelons of sexiness. That last bit, where he says he "concedes nothing," is especially interesting, given that it feels somewhat relative to what's going on in the world of US politics.
As 2020's Sexiest Man Alive, Michael B. Jordan not only joins Dwayne Johnson, but also Idris Elba, Chris Hemsworth, and Ryan Reynolds, as well as a whole host of other legendary stars. People Magazine first began giving the accolade out in 1985. John Legend most recently held the title before Jordan was elected.
Despite not being named Sexiest Man of 2020, Dwayne Johnson has a pretty big year. He made the most of his quarantine time after production on his Netflix film, Red Notice, was halted. Though he and his family contracted COVID-19, he used it as a teachable moment for his fans and helpd spread awareness about the importance of taking precautions.
He even took time out to celebrate a huge win for his Moana song "You're Welcome" on the Billboard charts. The entertainment mogul also has plenty of other projects in the pipeline, like Jungle Cruise and Black Adam, some of which have been delayed due to COVID and others that are still in the early stages.
Michael B. Jordan, too, has been making some significant moves. He started the year promoting Just Mercy, and it appears he's finally gearing up to start work on Creed 3. He was also named one of TIME's most influential people of the year. Being the kind of actor that makes as big of an impact on screen as they do off screen is definitely a sexy move. So it's easy to see why People gave him the title.
Your Daily Blend of Entertainment News
Thank you for signing up to CinemaBlend. You will receive a verification email shortly.
There was a problem. Please refresh the page and try again.