NFL Announcer Troy Aikman Is Not Happy About Accusations He Has An Agenda During Broadcasts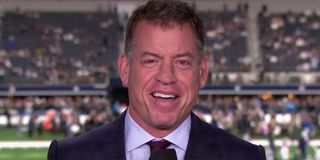 The NFL Is normally all Super Bowl talk this time of year, but the focus on the upcoming Big Game (and the commercials) was interrupted this past weekend with an unexpected blockbuster trade. Rams quarterback Jared Goff (and some draft picks) and Lions quarterback Matt Stafford were swapped for each other. Plenty of hot takes about what happened were written afterwards including one that pointed to NFL announcer Troy Aikman's negative coverage of Goff during a few broadcasts late in the season. Not surprisingly, Aikman, a former Cowboys quarterback and Super Bowl winner, was not too happy about the insinuation and dropped a pretty aggressive statement defending himself.
Let's back up real quick and get all the players on the field here. Following the Goff/ Stafford trade, writer Michael Silver wrote a column on NFL.com (opens in new tab). In said column, he defended Goff and said he was "routinely trashed on Fox telecasts, specifically those with Troy Aikman as lead analyst." He went on to say Goff likely inferred his coach Sean McVay had "far from glowing" things to say about him while speaking with Aikman during production meetings ahead of games with the implication being Aikman was swayed by his negativity and it came out in broadcasts.
That's a sneaky big allegation against both a coach and a broadcaster, who is, at least on national telecasts, supposed to be as objective as possible. Sports Illustrated later wrote a column on the story, and Troy Aikman dropped a pretty aggressive quote defending himself. You can check out his words below…
Much of the publicity around NFL broadcasting the last few years has been about the emergence of Tony Romo, who will be doing this weekend's Super Bowl. The affable former quarterback has settled in nicely opposite Jim Nantz and looks to be turning into the best analyst in the business, but Troy Aikman is quietly very, very good too. He's very honest and sometimes critical of what's happening, but he never comes across as mean or unfair (at least not to me). He works well with partner Joe Buck, and the two are typically given the highest profile assignments at Fox including six Super Bowls, the most recent of which was last year.
Much like evaluating players, people are going to have their own perspectives on broadcasters. Smart people can and will disagree about who does the best job. With production meetings with coaches ahead of each broadcast, I am sure there are times in which something the coach says causes the talking heads to look at a player in a different way, but between Al Michaels, Kevin Harlan and all those mentioned above, the talent announcing NFL games is really high. It takes a long time for most people to progress to that level, and the quality across the board is really sharp. For me, Aikman is in that top tier of broadcasters, and I've rarely felt his opinions about specific players were unfair. It's nice to see her prides himself on striving for that objectivity.
Enthusiastic about Clue, case-of-the-week mysteries, the NBA and cookies at Disney World. Less enthusiastic about the pricing structure of cable, loud noises and Tuesdays.
Your Daily Blend of Entertainment News
Thank you for signing up to CinemaBlend. You will receive a verification email shortly.
There was a problem. Please refresh the page and try again.