Were Darcy Lewis And Jimmy Woo Blipped At The End Of Infinity War? Kat Dennings And Randall Park Weigh In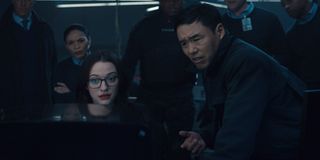 In 2019, half of the characters in the Marvel Cinematic Universe disappeared. As seen in Avengers: Infinity War, Thanos successfully assembled the full Infinity Gauntlet, and when he snapped his fingers half of all life in existence turned to dust. Everyone eventually came back in Avengers: Endgame thanks to the efforts of Earth's Mightiest Heroes, but still it has left a big question lingering in the canon: who got "blipped" and who didn't?
Since the end of Avengers: Infinity War and seeing heroes like Black Panther, Scarlet Witch, Spider-Man, and Nick Fury fade away in the moment, we have gotten confirmation about a number key individuals who did and didn't go away – including Shuri, The Wasp, Peter Parker's friends, and WandaVision's Monica Rambeau – but still there are many whose specific experiences remain unexamined. Kat Dennings' Darcy Lewis and Randall Park's Jimmy Woo are two good examples, but at the very least we now have the actors' own takes on what happened to their characters following the Mad Titan's snap.
Both Kat Dennings and Randall Park made big Marvel Cinematic Universe comebacks this past week, reprising their respective Thor/Thor: The Dark World and Ant-Man And The Wasp roles on WandaVision, and while their separate arrivals on the show didn't confirm whether or not Darcy and Jimmy were blipped, I felt compelled to ask them for their thoughts when I interviewed them yesterday afternoon. As seen in the video above, I spoke with them both during a virtual press day for the Disney+ series, and starting with Dennings she confirmed that she believes that Darcy didn't get blipped:
When you really think about it, Darcy Lewis not being blipped really does make the most sense. Fans may remember that when we first met her in Kenneth Branagh's Thor she was hanging out with a couple of astrophysicists (a.k.a. Natalie Portman's Jane Foster and Stellan Skarsgard's Erik Selvig), but she herself was only an intern, and a political science major to boot. Clearly her time with the God of Thunder made her rethink her life goals, as shown via her increased scientific acumen in Thor: The Dark World, but in WandaVision she is reintroduced as "Dr. Darcy Lewis."
Getting a degree like that takes a fair amount of time, so it stands to reason that Darcy was not only not blipped, but used the five year gap to further her education and earn her doctorate. Which is objectively awesome.
As for FBI Agent Jimmy Woo, Randall Park was equally curious about whether or not he got blipped. In the making of WandaVision it was something that he too asked the writers about – though he didn't quite get the same kind of confirmation as Kat Dennings. Said Park,
For those who don't immediately register the reference, Jimmy Woo's arrival on the scene in WandaVision sees him do a little sleight of hand trick with his business card – which Ant-Man And The Wasp fans will remember was a little hobby that he was inspired to pick up following his time monitoring Scott Lang.
Joking aside, it certainly would be believable that Jimmy has been around for the last five years just because of how well adjusted he seems in the face of all the craziness that WandaVision is throwing at him. It's understandable that the official Marvel canon might want to keep his "blipped or not blipped" situation open ended just in case there is a specific idea that a filmmaker wants to pursue, but for now I think it's safe to take Randall Park's take on the matter and say that he wasn't a victim of Thanos.
While it took until the fourth episode of WandaVision for them to arrive, Darcy Lewis and Jimmy Woo both appear to have some key roles to play in the rest of the mysterious Disney+ series, and we can't wait to see what else they get up to. The next episode will be live on the streaming service at midnight on Friday, and while we have next to no idea what to expect (an extension of the show's mysterious nature) we can't wait to watch it unfold.
NJ native who calls LA home; lives in a Dreamatorium. A decade-plus CinemaBlend veteran; endlessly enthusiastic about the career he's dreamt of since seventh grade.
Your Daily Blend of Entertainment News
Thank you for signing up to CinemaBlend. You will receive a verification email shortly.
There was a problem. Please refresh the page and try again.